Collector's Corner: Interview with DC Collectibles Artist Joe Ledbetter
Sep 03, 2018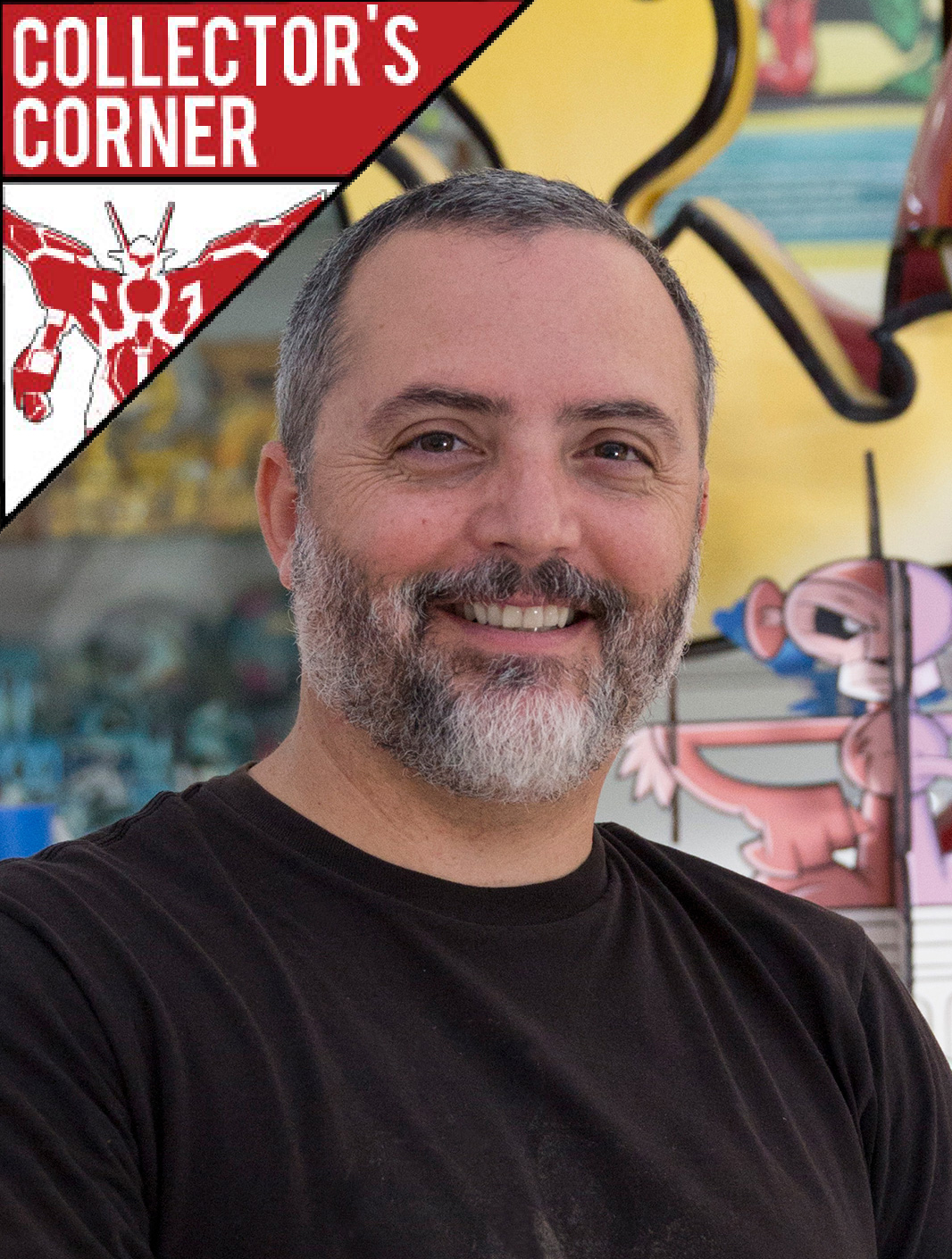 PREVIEWSworld ToyChest proudly introduces Collector's Corner! Here, we'll highlight anyone and everyone with a love of toys and collectibles. Whether it's a hardcore collector with no room on their display case or a veteran sculptor who makes a living in the industry, we'll talk to anyone who lives and breathes toys!
This week, we talk to Joe Ledbetter, a designer who worked with DC Collectibles for their Artist Alley figures.
Learn about his unique art style, his inspirations and more!
---
Can you explain your design process on the Artist Alley figures?
It began as a conversation with Art Director Brian Walters at DC Collectibles. Once we agreed what DC characters to take on, I began rough concept sketches for all 4 characters; Batman, Robin, Penguin and Catwoman. After all the concepts were approved, I then moved on to the turnaround drawings of each character. These are detailed drawings of all angles of the figures in order to give as much information to the sculptor as possible. Joe Menna was the sculptor on this project and once he got underway I went back and forth with him to get the sculpt just right. I always like to insert myself into the process as much as possible. Together we made all kinds of tweaks and adjustments to make it even better than planned. Menna's expertise and skills were invaluable to the project, not only to bring the characters to life, but also finding great solutions to a few tricky problem areas. Once the sculpts are finished I made the paint samples of each of the figures (hand painted with acrylic paint), so the factory has a clear example of how the artwork on the finished pieces should look.
What was your experience like working with DC Collectibles?
This was the most fun I've ever had working on a toy project, and I've been involved in over 200 toy designs to date. One reason for this is that everyone involved is truly excellent at what they do. When your surrounded by all-stars everything is easier, more fun and the results are just better. It is the best situation any artist can ask for, and I'm so grateful to have worked with this team.
Putting anthropomorphic characters (Bat as Batman, Cat as Catwoman) was an interesting spin.. What was your thought process on that?
All my work is anthropomorphic and so it's a natural fit. However, I was very tempted to make Batman into a human, but that initial concept art just wasn't working. For whatever reason, whenever I incorporate human characters in my work it just doesn't read as my signature style. This was definitely the case with Batman, and DC was quick to nudge me in the direction of Batman as a bat. I think there is something truly refreshing and amusing about taking their nicknames a bit too literally like this.
What were some challenges you had to overcome during the design process?
Once we had established that each of the figures would be depicted as their animal namesakes, most of the designs fell into place. Catwoman, however was the most challenging. She's such a complicated character and I wanted the figure to reflect that. She is often depicted as super sexy, so I wanted steer away from that, giving her more of a strong athletic physique - yet keeping her very much a feline. It was tricky to find that balance and get her proportions just right, but in the end, I couldn't be happier with the results. Sculptor Joe Menna did a fantastic job nailing the pose and adding a lot of subtle muscle structure which really contributed to the believability of the figure.
You have a unique art style… How did you develop it and how would you describe it?
I often describe my work as geometric cartoon style with heavy linework representing themes from daily life, absurdity and word play. I've been drawing and painting in a cartoon style since early age and always dreamed about becoming an animator. My style developed from those animation aspirations, and the more I drew and created, the more my specific style began to emerge. When young artists ask me how to develop their own unique style, I always tell them to draw everyday - whatever excites them. Make it your lifestyle to create daily and before you know it you'll have a style and technique as unique as your own fingerprints.
Did you have any apprehension about applying your vibrant and bright art style to Batman, a character some would say is dark and gritty?
Not at all, in fact I wanted to take Batman back to the colorful days of the 60's tv show, the Super Friends cartoon series and the Super Powers toys. All stuff deeply entwined in my childhood. This was such a thrilling project to work on, I couldn't wait to sink my teeth into it.
What are some of your inspirations?
The common thread behind work that inspires me is amazing character design. Characters throughout classic animation like Looney Tunes, Disney, Don Bluth, Spike and Mike's Sick and Twisted animation festivals, mascots from Japan, 1980's video game characters, and throughout the work of artists like Todd Schorr, Gary Baseman, Tim Biskup, Camille Rose Garcia, Ed "Big Daddy" Roth, Rick Griffin, and skateboard graphics by the likes of Jim Phillips and Ed Templeton, just to name a few.
How was your experience at San Diego Comic-Con this year?
Fantastic! It was quite a thrill to participate at the DC Collectibles panel with the outstanding DC team; Jim Fletcher, Travis Hastback, sculptor Paul Harding, artist Chrissie Zullo, and the master special effects make-up legend Rick Baker. I had a great time and gleaned as much as I could from all that talent on the panel. Aside from the panel, had a great time at SDCC checking out all the exciting new figures, and catching up with old friends in the toy world I don't see very often. It's always a blast, but one day is enough for me - I don't last very long in large crowds.