Diamond Select Toys August PREVIEWS Roundup
Aug 05, 2018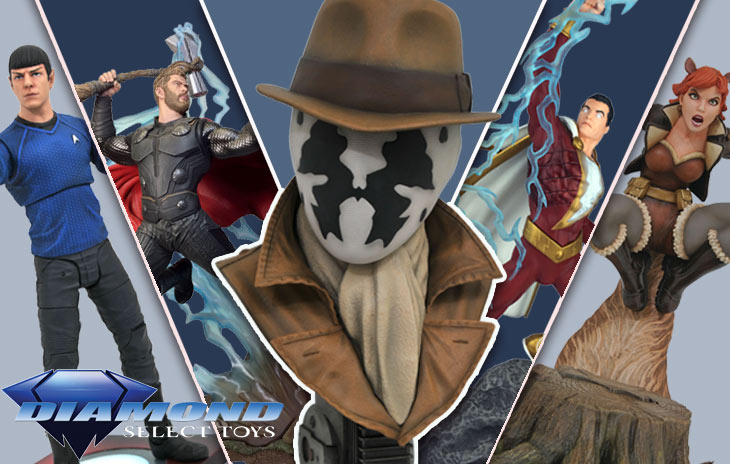 Diamond Select Toys is offering tons of new exciting releases in the August PREVIEWS catalog.
From new Vinimates and Minimates featuring Sonic The Hedgehog, Kingdom Hearts and more to new Squirrel Girl, Shazam and Aquaman Gallery statues, check out everything available to pre-order at your local comic shop here.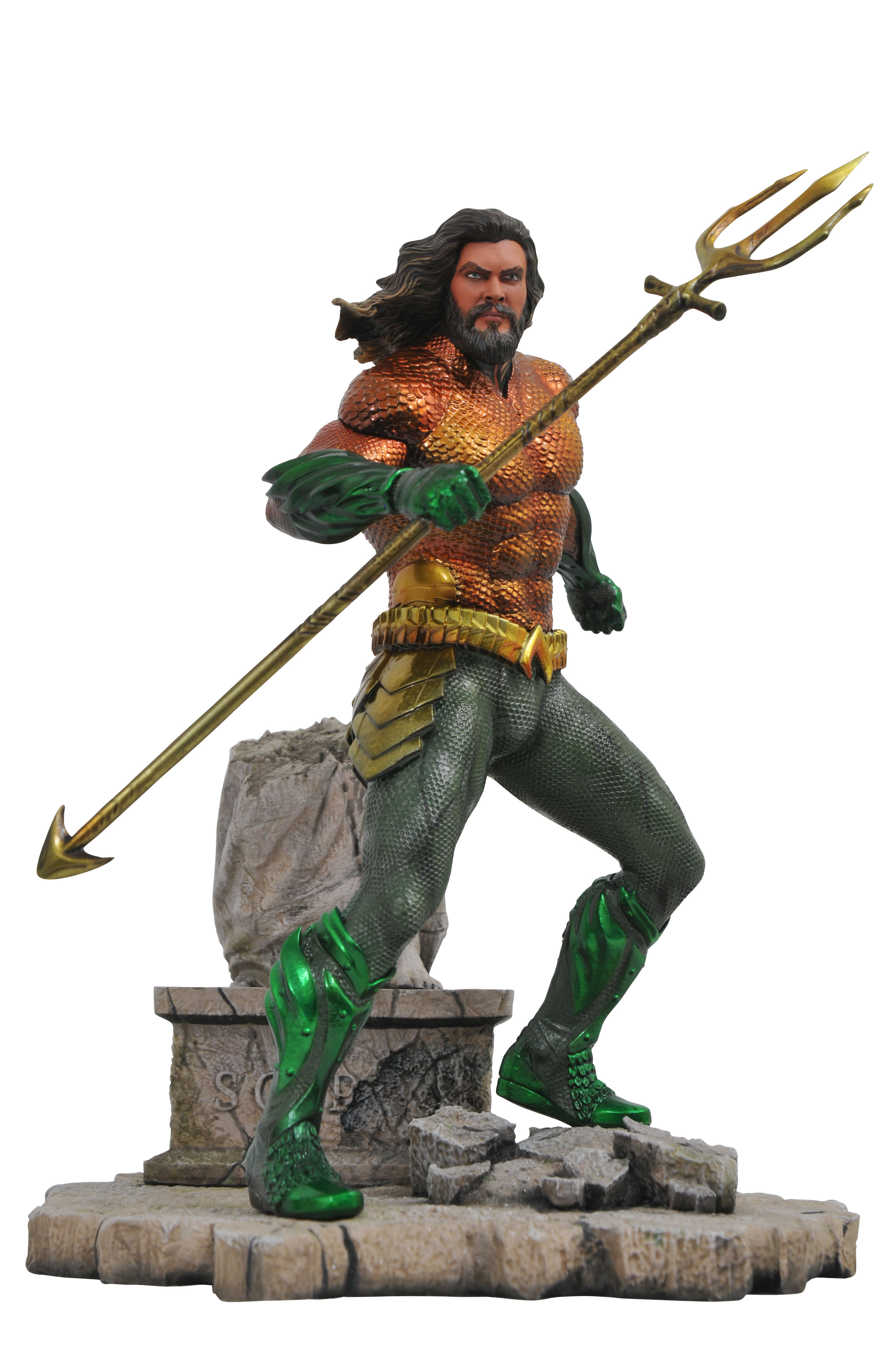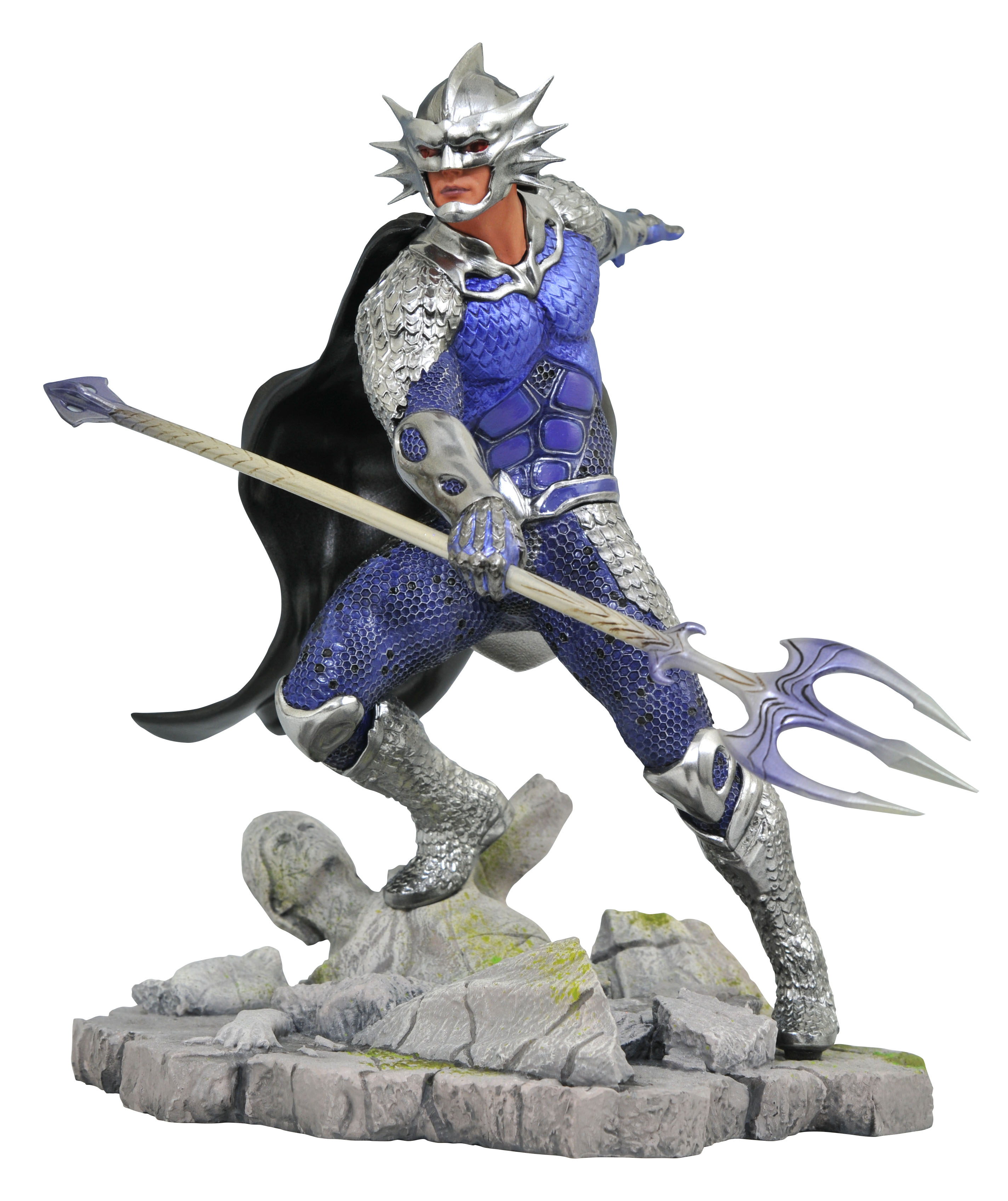 AQUAMAN MOVIE GALLERY AQUAMAN PVC FIGURE (AUG182575, $45.00), AQUAMAN MOVIE GALLERY OCEAN MASTER PVC FIGURE (AUG182576, $45.00)
In the wake of Justice League, the highly anticipated Aquaman movie is on our sonar, and DST is offering two new PVC dioramas based on the film! Arthur Curry, the Aquaman, faces off with the Ocean Master in these two 9-inch PVC sculptures. Featuring detailed sculpting by Rocco Tartamella based on designs by Mark Wong, each features actor likeness and fine paintwork that compares with a high-end resin statue. Each diorama is in scale to all other DC Movie Gallery PVC dioramas, and comes packaged in a full-color window box.
AQUAMAN MOVIE AQUAMAN VINIMATE (AUG182577, $9.99), AQUAMAN MOVIE BLACK MANTA VINIMATE (AUG182578, $9.99), AQUAMAN MOVIE OCEAN MASTER VINIMATE (AUG182579, $9.99)
DC Vinimates are taking the ocean by storm! These 4-inch vinyl figures capture the undersea world of the Aquaman movie in their signature blockish style, striking dynamic poses inspired by the film! Aquaman, Black Manta and Ocean Master comprise the first assortment, and they are in scale to all other DC Vinimates. Each comes packaged in a full-color window box.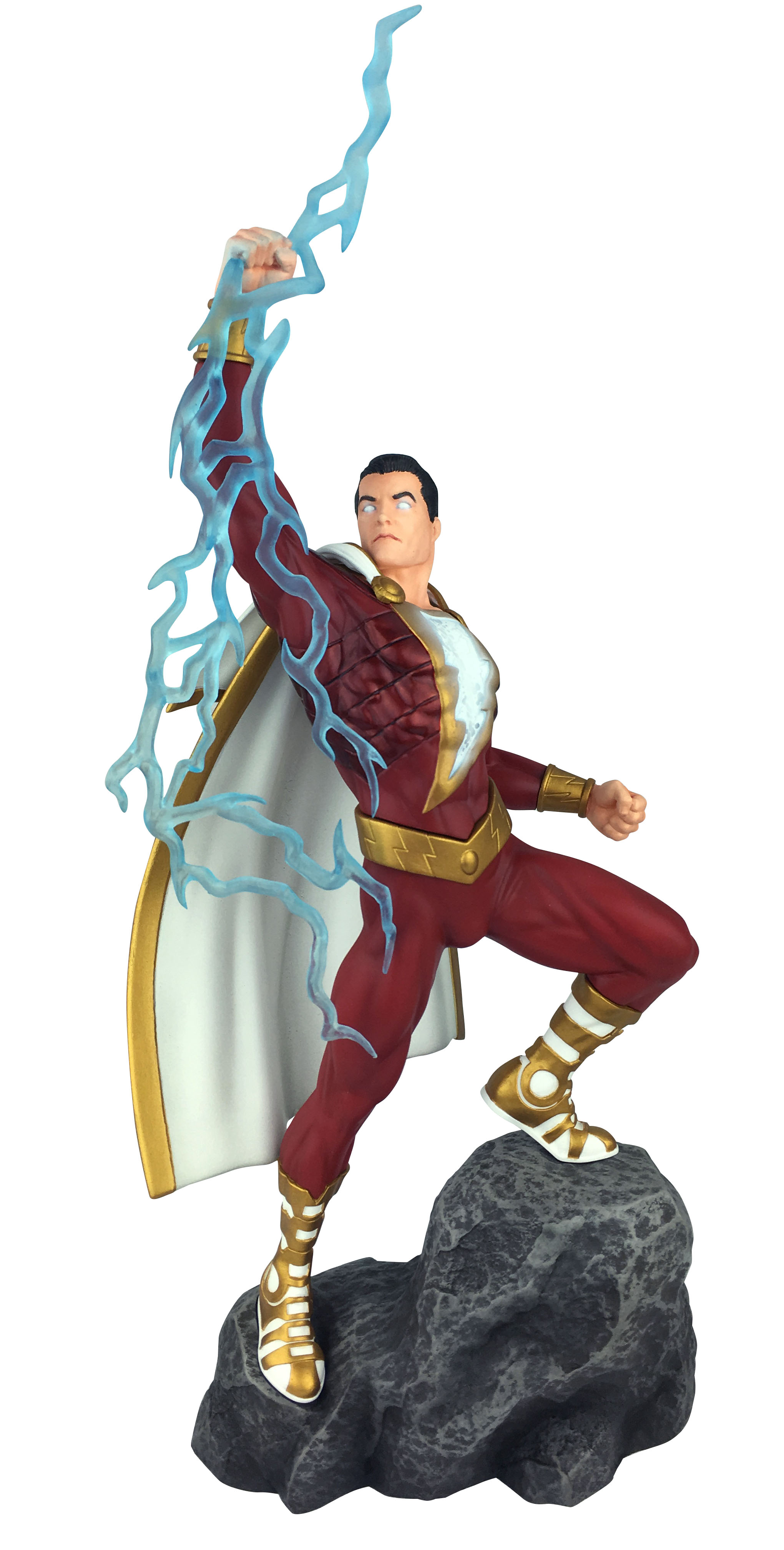 DC GALLERY SHAZAM COMIC PVC FIGURE (AUG182580, $45.00)
The Wisdom of Solomon! The Strength of Hercules! Billy Batson's alter ego Shazam is the next entry in the DC Gallery line of PVC Dioramas, and this approximately 11-inch sculpture captures the hero in a split-second, grabbing a bolt of lightning on its way to the ground. With a feature film in the works, Shazam is poised to ride that lightning back to stardom, and this amazing sculpture celebrates the character's godlike power! Sculpted by Joe Menna based on a design by Shawn Knapp. Packaged in a full-color window box.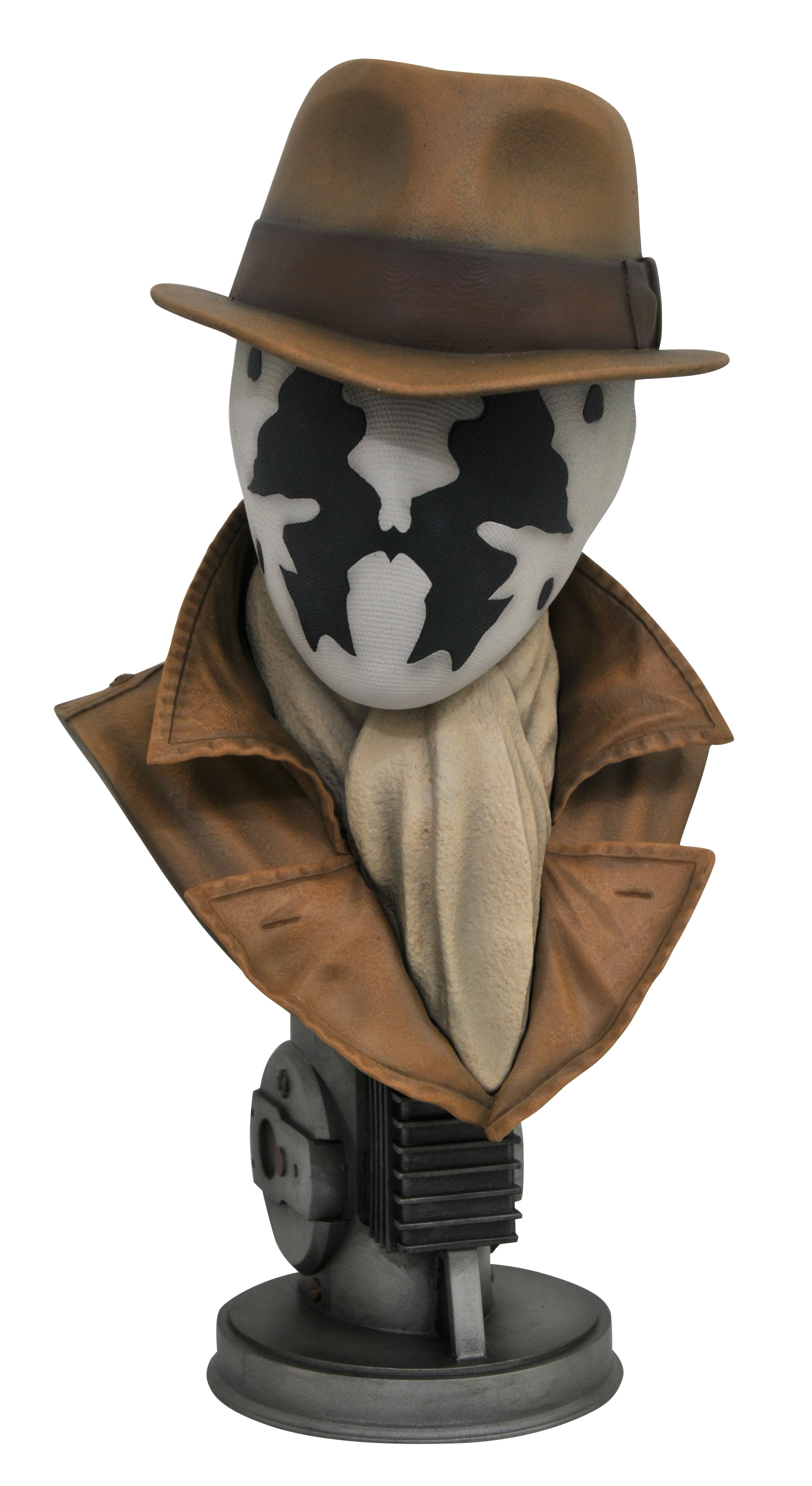 LEGENDARY FILM WATCHMEN RORSCHACH 1/2 SCALE BUST (AUG182581, $150.00)
The conspiracy is real! Diamond Select Toys and Legends in Three Dimensions have colluded on a line of colossal half-scale busts of pop-culture icons, and up next is the ultimate whistle-blower, Rorschach! The anti-hero of the Watchmen movie is now an epic 10" bust, with detailed sculpting by Rocco Tartamella. Limited to only 1,000 pieces, it's the ultimate Watchmen collectible! Bust comes packaged in a full-color, hand-numbered box with a numbered base and a certificate of authenticity.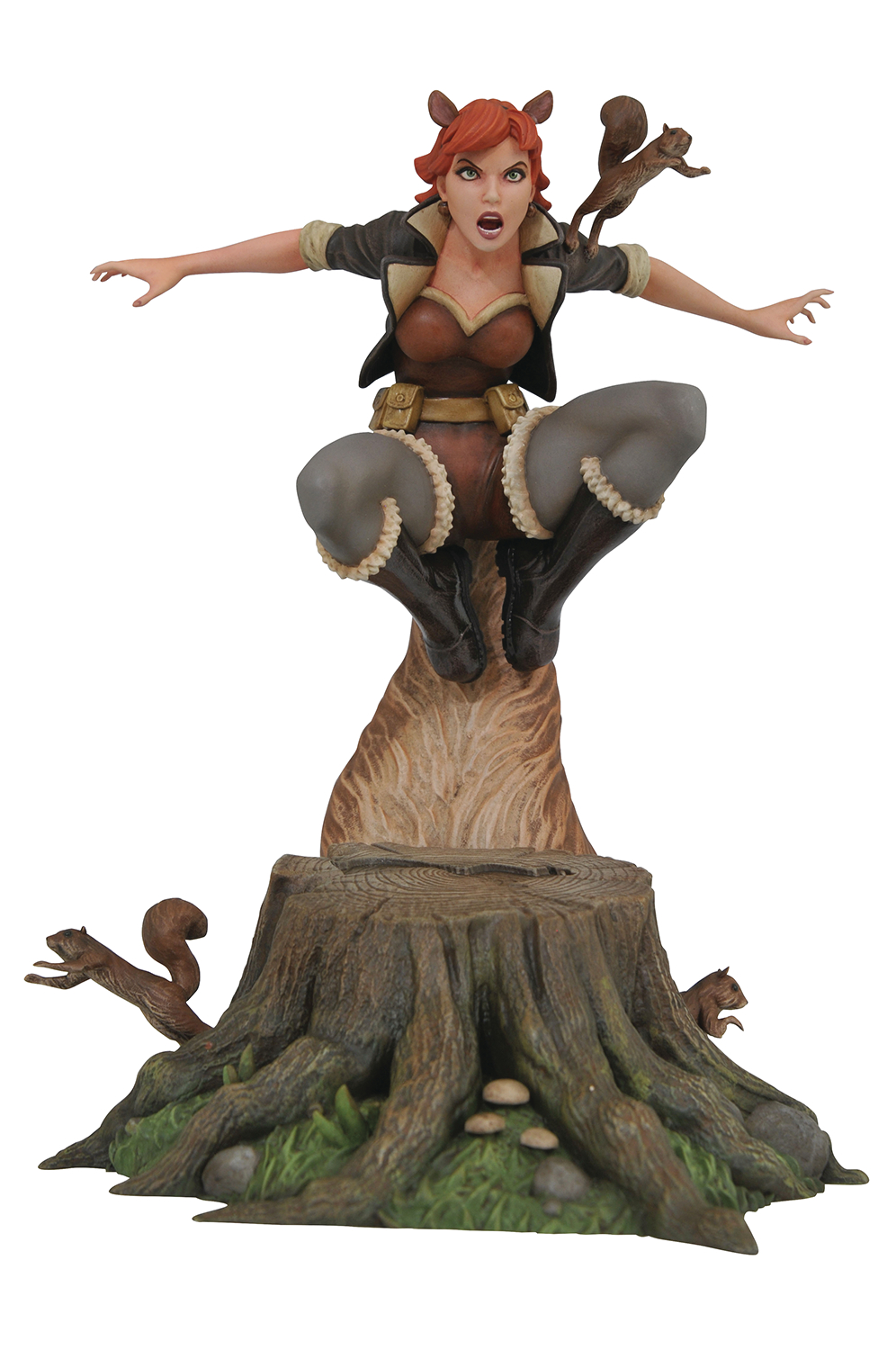 MARVEL GALLERY SQUIRREL GIRL COMIC PVC FIGURE (AUG182582, $45.00)
Release the Squirrels! And then hurry up and release this Squirrel Girl PVC Diorama, featuring the superheroine who eats nuts and kicks butts! Doreen Green has a long and varied history in the Marvel Comics Universe, but today she's enjoying the height of her popularity as the Unbeatable Squirrel Girl. This detailed 10-inch sculpture depicts her leaping over a tree stump with Tippy-Toe and her other squirrel allies, with meticulous sculpting by Sam Greenwell based on a design by Uriel Caton. Packaged in a full-color window box!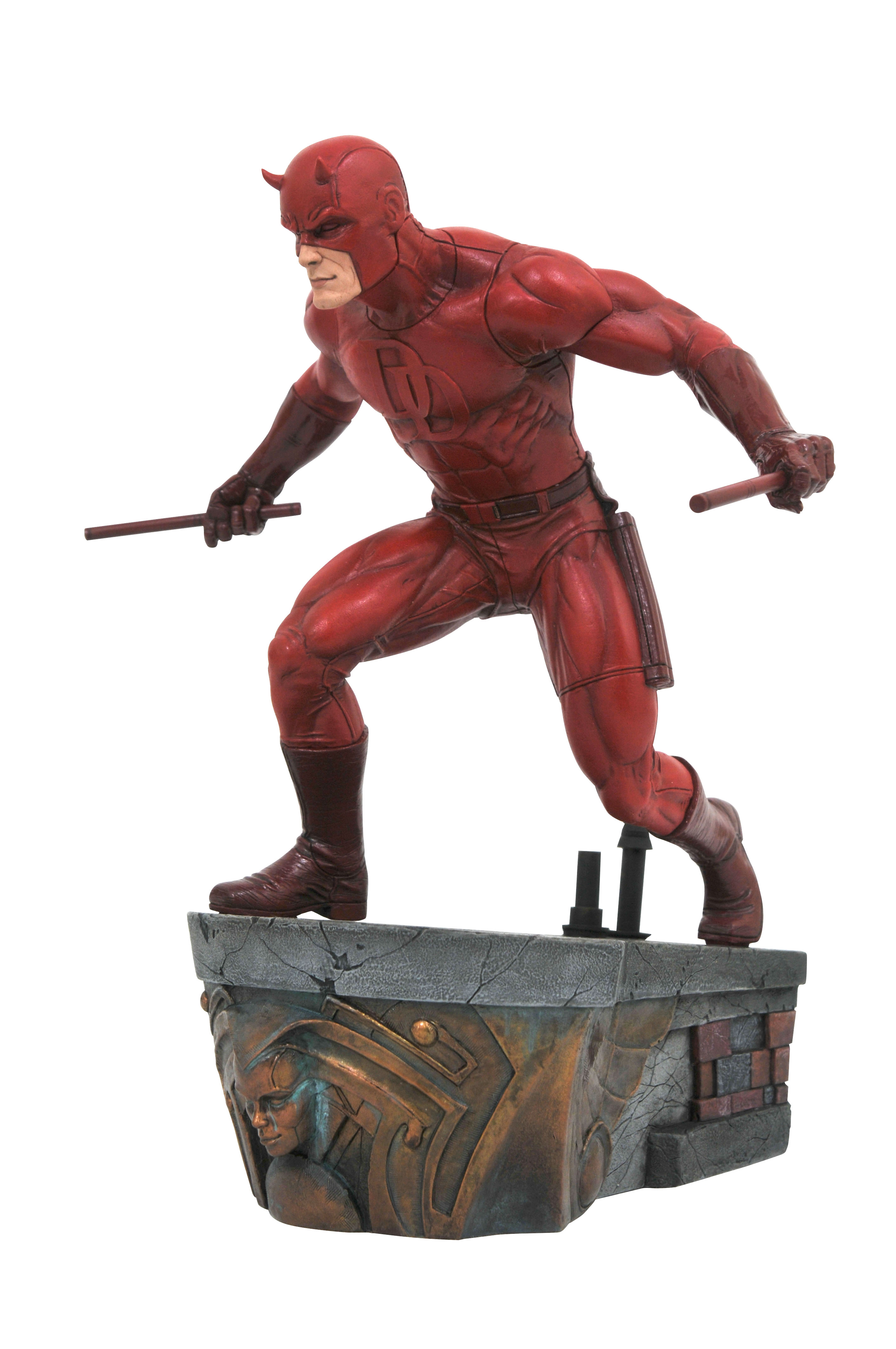 MARVEL PREMIER DAREDEVIL COMIC STATUE (AUG182583, $150.00)
What is the sound of one hand clapping? We don't know, because we need both hands to applaud this amazing statue of Daredevil! Hand-sculpted by Jean St. Jean based on a design by Caesar, this 12" scale statue of Matt Murdock's alter ego captures the vigilante overlooking the city streets with his batons in hand, the perfect embodiment of the watchful hometown hero. Limited to only 3,000 pieces, this statue comes packaged in a hand-numbered, full-color box with a certificate of authenticity. A must-have piece for any Daredevil fan!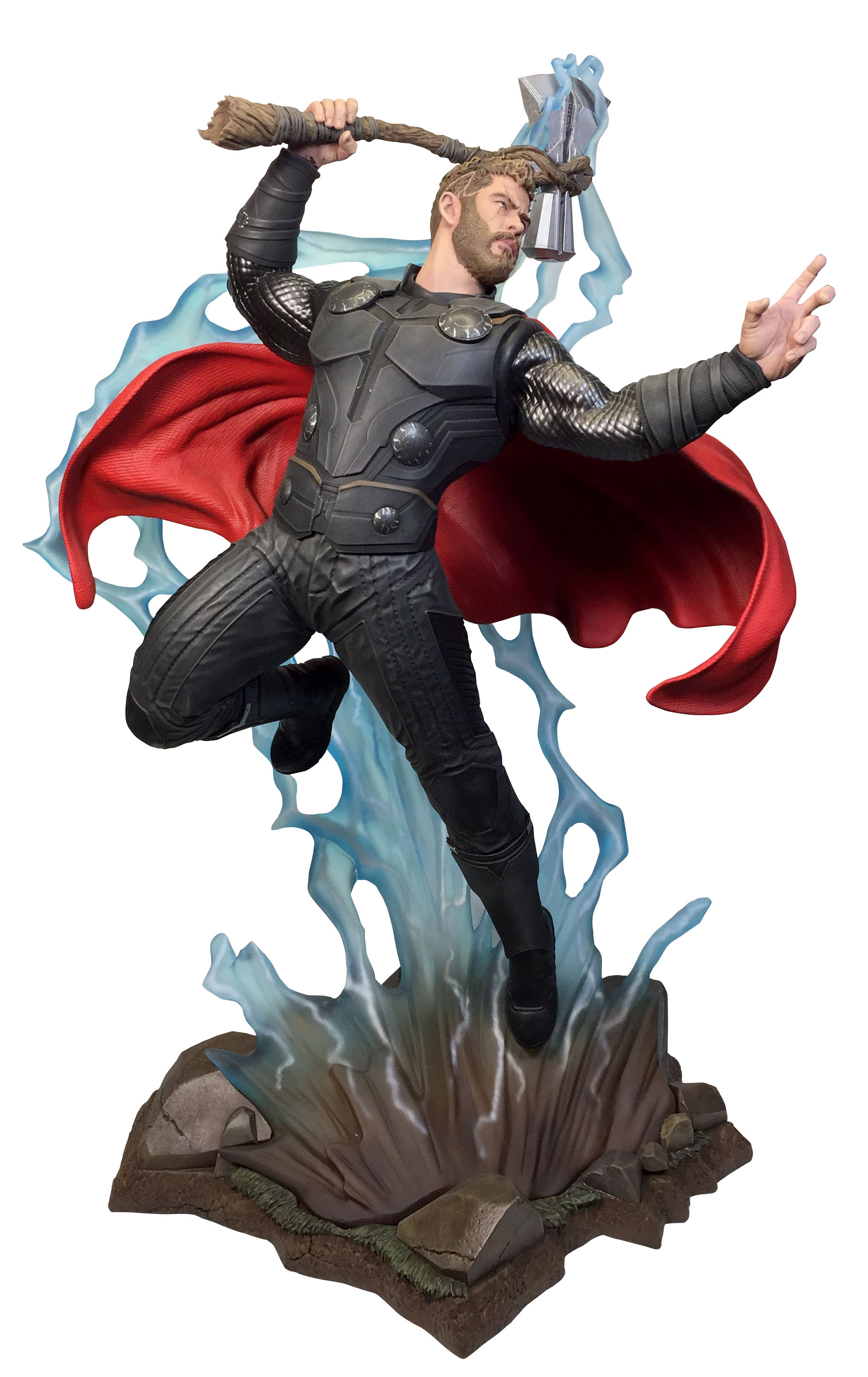 MARVEL MILESTONES AVENGERS 3 THOR STATUE (AUG182584, $250.00)
You guys are in trouble now! Thor has arrived on the scene, in his look from the end of Avengers: Infinity War, and the Black Order had better run! This approximately 16" statue shows Thor raising his new hammer, Stormbreaker, over his head as lightning strikes the ground beneath him. Limited to only 1,000 pieces, it is in scale to other Marvel Movie Milestones statues, and comes packaged in a full-color box with a certificate of authenticity.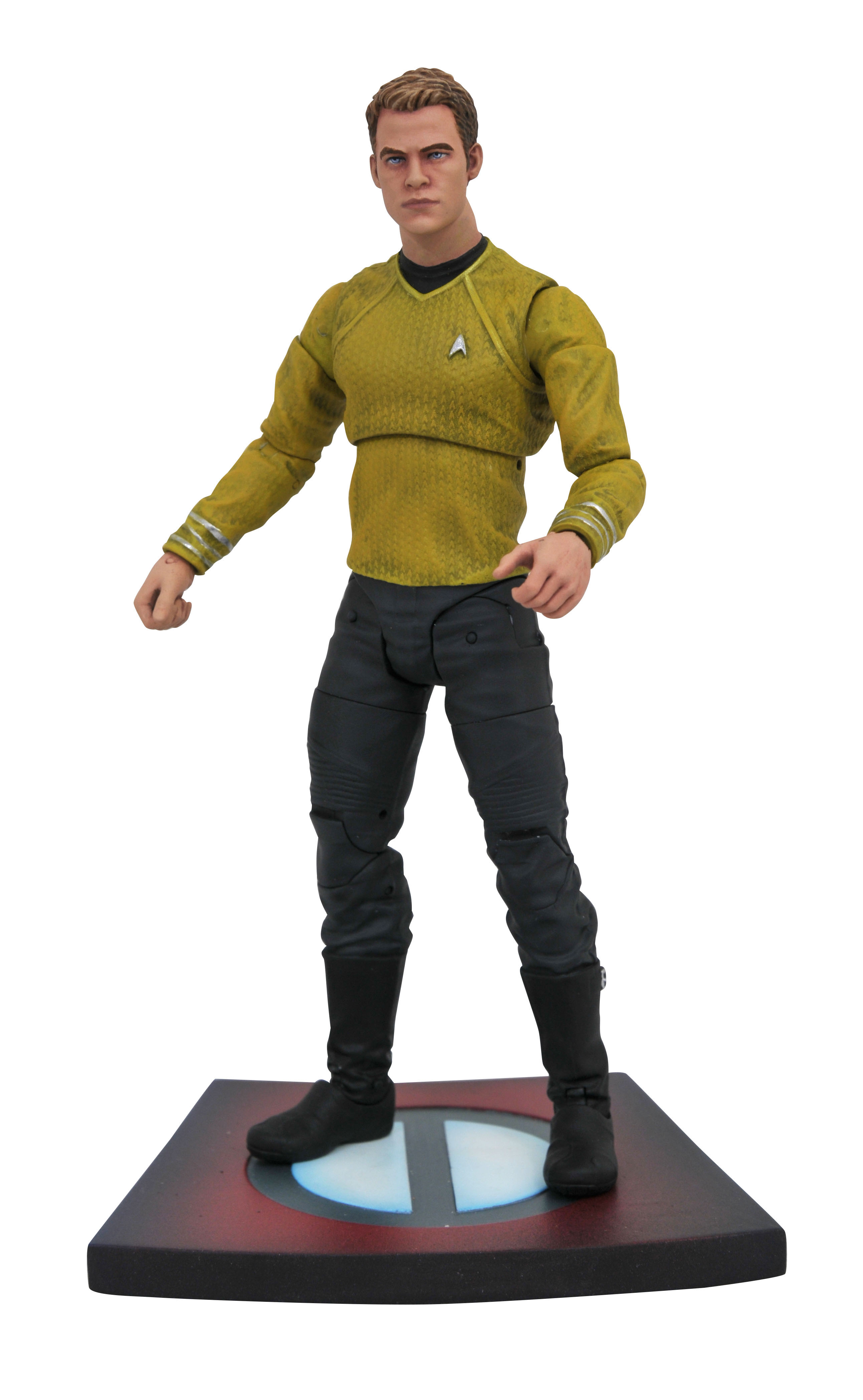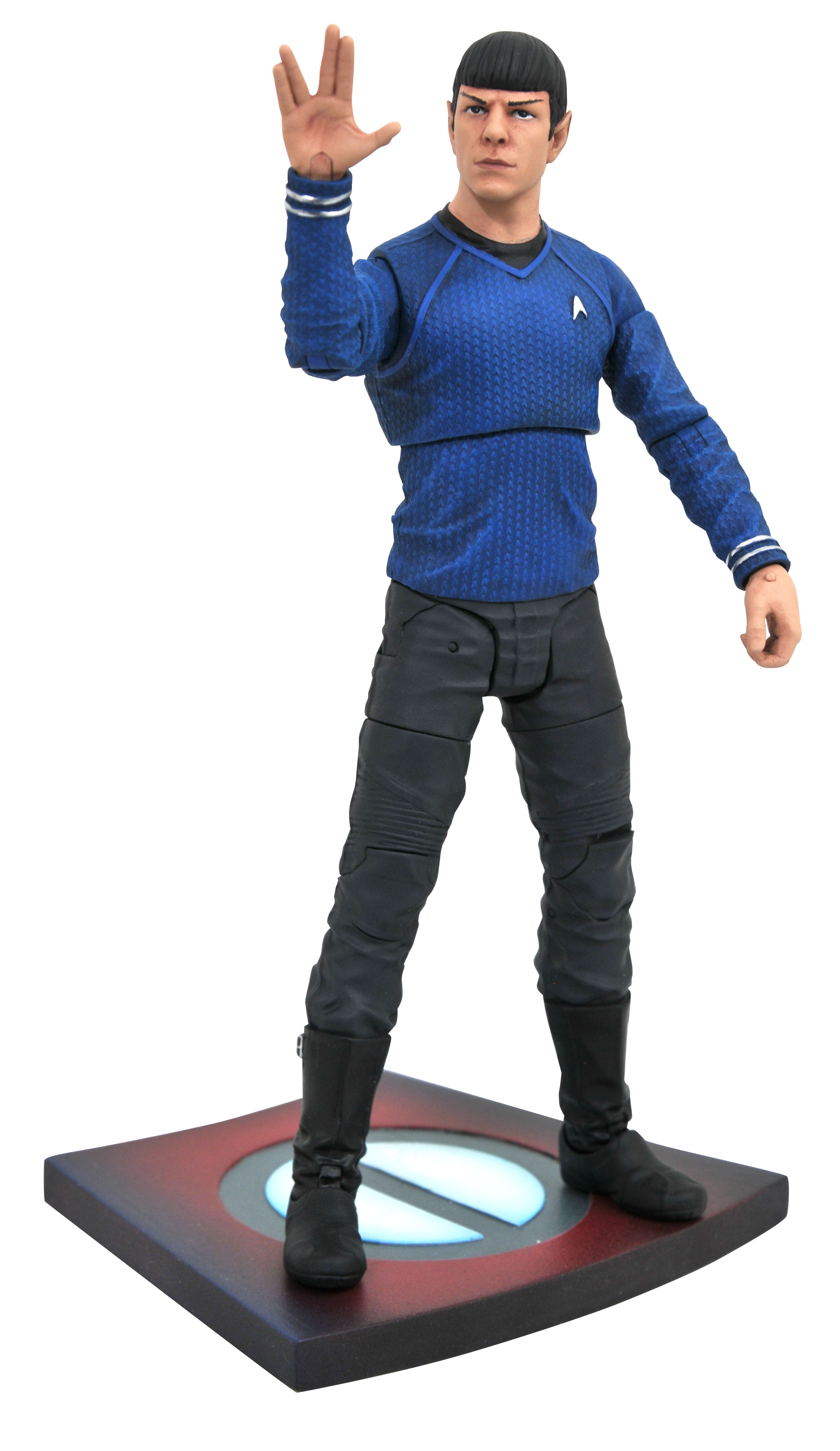 STAR TREK INTO DARKNESS SELECT AF ASST (AUG182585, $24.99)
The toy line everyone's waited for is finally here! Since J.J. Abrams debuted his new Star Trek universe (the "Kelvin Timeline") in 2009, fans have asked for a screen-accurate, 7" scale, fully articulated line of toys. Now, DST has brought the new timeline to the world of Select action figures! These screen-accurate figures of Kirk and Spock capture the costumes and faces of the new movies, and each features approximately 16 points of articulation, as well as multiple accessories and connecting transporter pads. Packaged in display-ready Select action figure packaging with side-panel artwork for shelf reference.
KINGDOM HEARTS TOY STORY DONALD VINIMATE (AUG182586, $9.99), KINGDOM HEARTS TOY STORY GOOFY VINIMATE (AUG182587, $9.99), KINGDOM HEARTS TOY STORY SORA VINIMATE (AUG182588, $9.99),
The highly anticipated sequel to Kingdom Hearts is almost here, and DST is joining in on the excitement with new toys based on Kingdom Hearts 3! This new assortment of VInimates vinyl figures captures the upcoming game's protagonists - Sora, Donald and Goofy -- in their Toy Story World looks, making these toys... of toys! Each 4" vinyl figure strikes a pose from the game and features a fully articulated neck to customize each dynamic pose.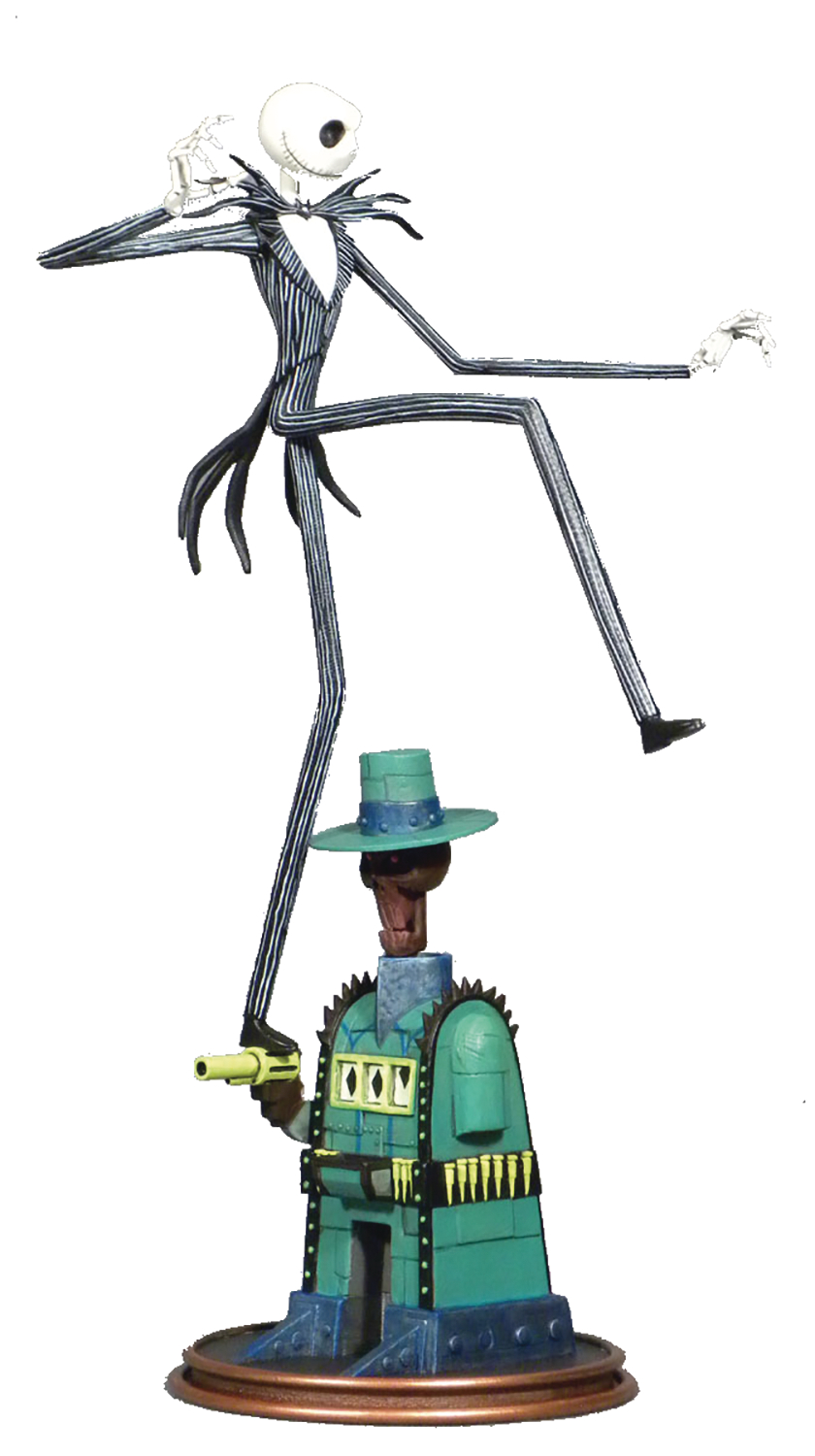 NBX GALLERY OOGIES LAIR JACK PVC FIGURE (AUG182589, $45.00)
Jack is back, in an all-new diorama! The hero of Tim Burton's Nightmare Before Christmas, Jack Skellington stars in this new PVC sculpture, capturing a scene from his climactic raid on Oogie Boogie's lair. Stepping over a skeletal cowboy slot machine to save Sally and Santa from the spooky sack of insects, Jack balances on one foot in this beautifully balanced sculpt by Cortes Studio. Based on a design by Joe Allard! Packaged in a full-color window box.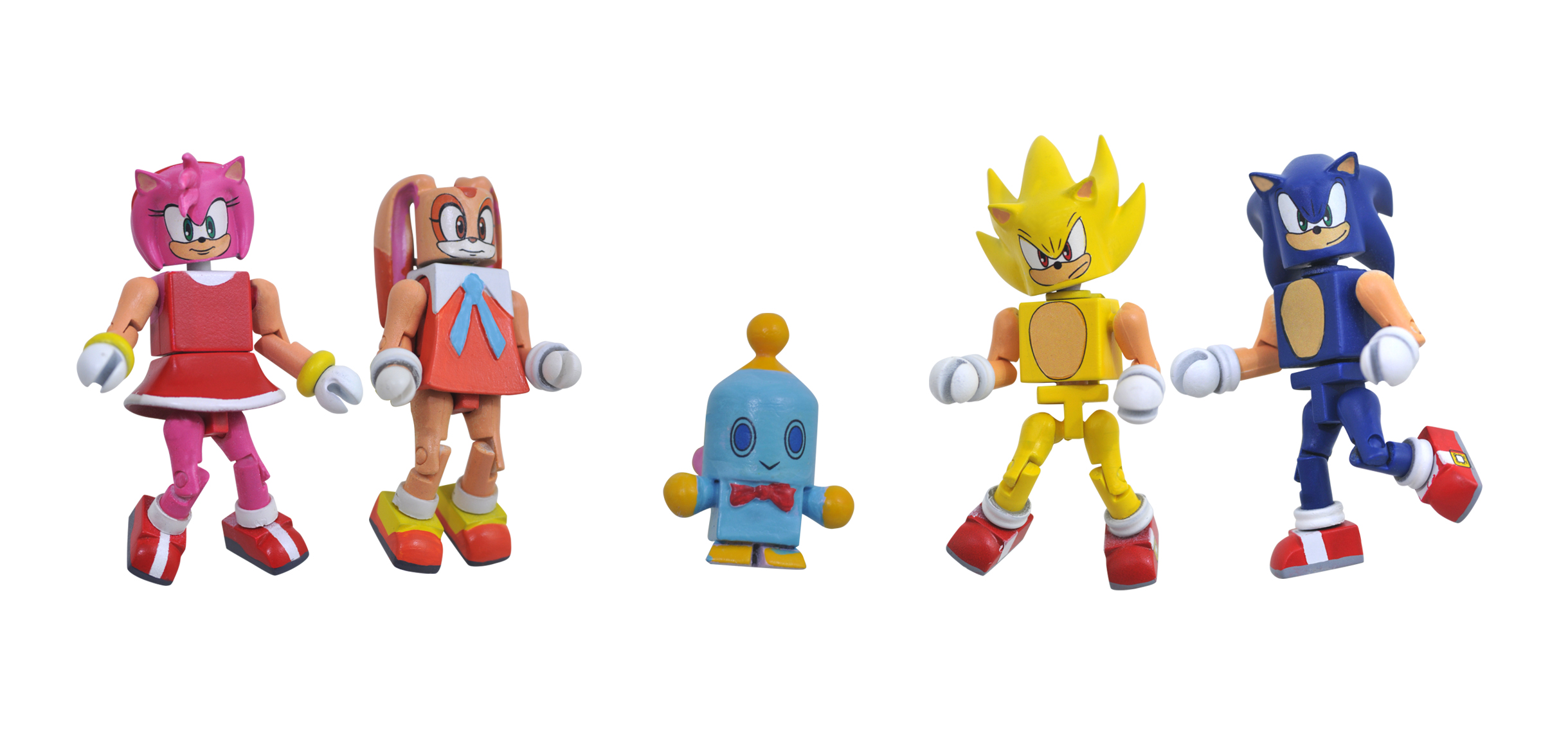 SONIC SERIES 1 MINIMATES BOX SET (AUG182590, $24.99)
Hurry up, it's time to order the first set of Sonic the Hedgehog Minimates! Based on the long-running, smash hit video game series, the Sonic line kicks off with a bang, as Sonic, Tails, Amy Rose, and the evil Doctor Eggman! Each two-inch mini-figure features 14 points of articulation and fully interchangeable parts, and includes a clear display stand.