Collector's Corner: Interview with Jeremy Mathsen
Apr 16, 2018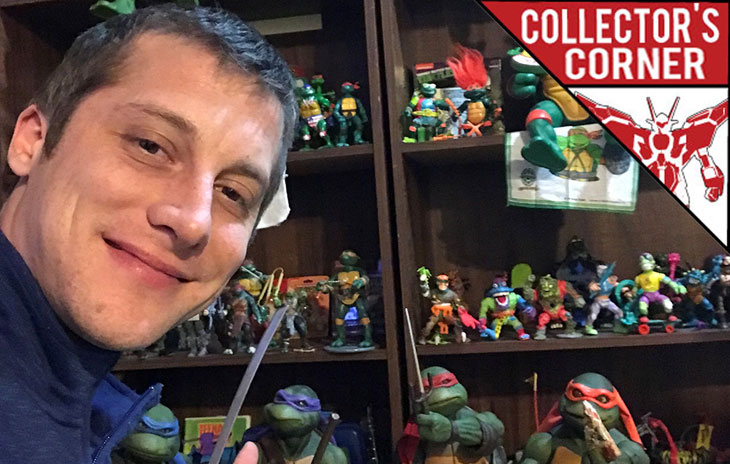 PREVIEWSworld ToyChest proudly introduces Collector's Corner! Here, we'll highlight anyone and everyone with a love of toys and collectibles. Whether it's a hardcore collector with no room on their display case or a veteran sculptor who makes a living in the industry, we'll talk to anyone who lives and breathes toys!
This week, we talked to Jeremy Mathsen, a producer for a local news station in Vermont who is also a collector of vintage Teenage Mutant Ninja Turtles toys. He is a native of New York and has a wife and a newborn daughter.
Learn how Jeremy started his collection and take a look at some of his favorite pieces!
---
WHEN DID YOU BOTH START COLLECTING?
I started collecting TMNT in July of 2016. I have been collecting legitimately for under two years, and I am proud of the collection I've built in that small amount of time.
WHAT SPURRED YOU INTEREST IN TOY COLLECTING?
I went to Vermont Comic Con in 2016 and saw a "pizza thrower" vehicle from Teenage Mutant Ninja Turtles. Having this piece in my hand made me instantly flash back to my childhood when I was playing with it, shooting pizzas in the living room of where we were living at the time. I went on eBay and ordered the pizza thrower that weekend. Which led into me going down the "rabbit hole" of TMNT collectibles. I had to have a turtle to shoot the pizzas and I had to have a bad guy to shoot it at, right? So, I went and started adding figures. Groups on Facebook really helped me get a better understanding of TMNT collecting and I got some great deals.
WHY DID YOU START COLLECTING TEENAGE MUTANT NINJA TURTLES?
I started collecting TMNT because that is the line of action toys/cartoons I was into as a kid. It basically boils down to one word: Nostalgia. I get small hits of my childhood when I see and play with some of these toys I had as a child. That is an invaluable feeling and nostalgia is always in. But, I also realize there is a good market for TMNT, and other collectors are looking to add to their collection, so I saw it as a fun way to collect and make side-hustle income for my family. I call my eBay store/basement "Werm's Warehouse" after a high school nickname.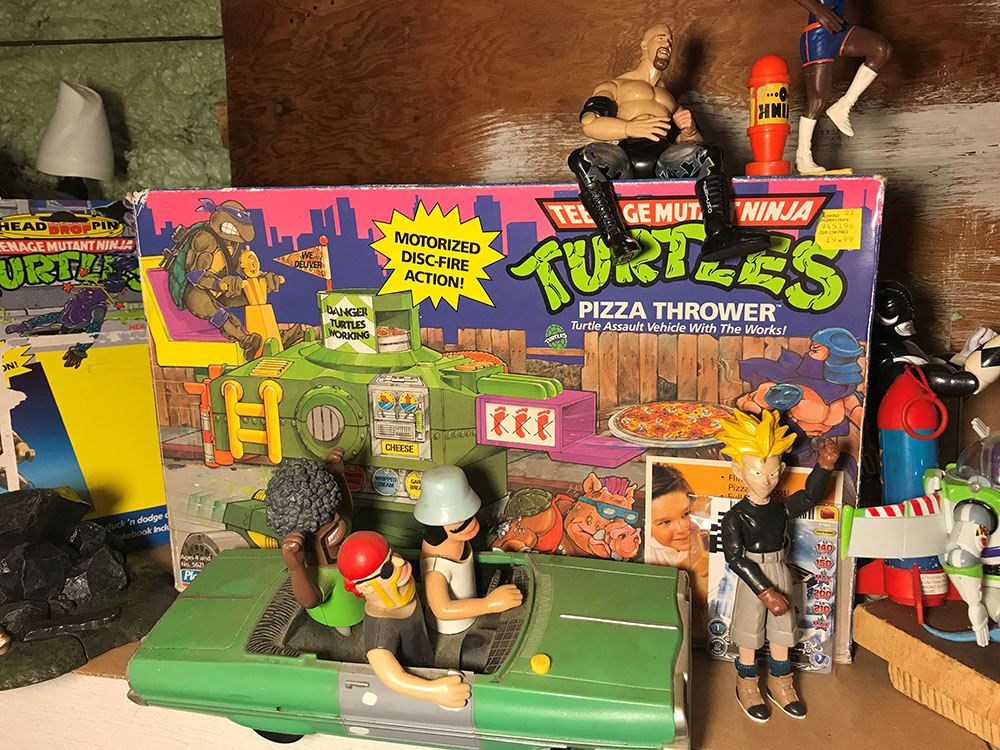 WHEN AND WHY DID YOU START GOING TO COMIC CONS?
I started going to Comic Cons in 2015 for work. I was focusing mainly on promoting our CW brand at the time, and what better a place to promote that superhero brand, than at a comicon. The vibe I got at these events was one of family, and friendship. Everyone was welcoming, and open to talking about "what they are into." I continue to go, to meet artists, get signatures, talk to creators, and take pictures and have awesome moments with "celebrities."
WHAT ARE YOUR FAVORITE PIECES?
My favorite pieces are my top-shelf 1988 original "10-back" figures, loose complete. I like to collect loose items because kids can enjoy them, and I am a big kid, so I always want to be "hands on" when I am showing off my collection. I also love my 4 loose TMNT "giants" and the 4 loose complete TMNT Trolls (small versions.) The trolls are a double hit of that "nostalgia" I alluded to earlier, and what better than a troll AND a ninja turtle in one?
WHAT IS YOUR 'HOLY GRAIL' COLLECTIBLE?
I collect loose, but I would really like all original "10 back" (10 figures) from the 1988 line MOC (mint on card./unopened). I have a 1988 "fan club flyer" Michelangelo, and a 1988 April O'Neill MOC. But I'd like to complete the set of original 10 backs, eventually if it doesn't break the bank.
One holy grail collectible I want, and have already had for a little while is "Scratch the cat." but I got that figure signed by TMNT creator Kevin Eastman, and up-sold it to a very kind international loose figure collector. I ended up selling Scratch for vacation money. My wife and I plan to enjoy that vacation! But I don't need to have anything I don't have already, because I like the turtles, and don't really need this "jail cat" they call scratch. He's just rare, not as cool as the turtles, in my opinion.
One personal grail I do have is a TMNT comic (TMNT #71) that has the turtles crossing a road, in an "Abbey Road" style. This was the 2017 Montreal Comic Con exclusive. Kevin Eastman creator of the TMNT was signing at the event. I started crying happy tears when I saw this was a featured Comic Con exclusive book, because of my love for the Beatles and Turtles were juxtaposed into one cover. Needless to say I got this comic signed by Kevin Eastman and graded (CGC 9.8) and I will never sell it. Ever. What a serendipitous moment.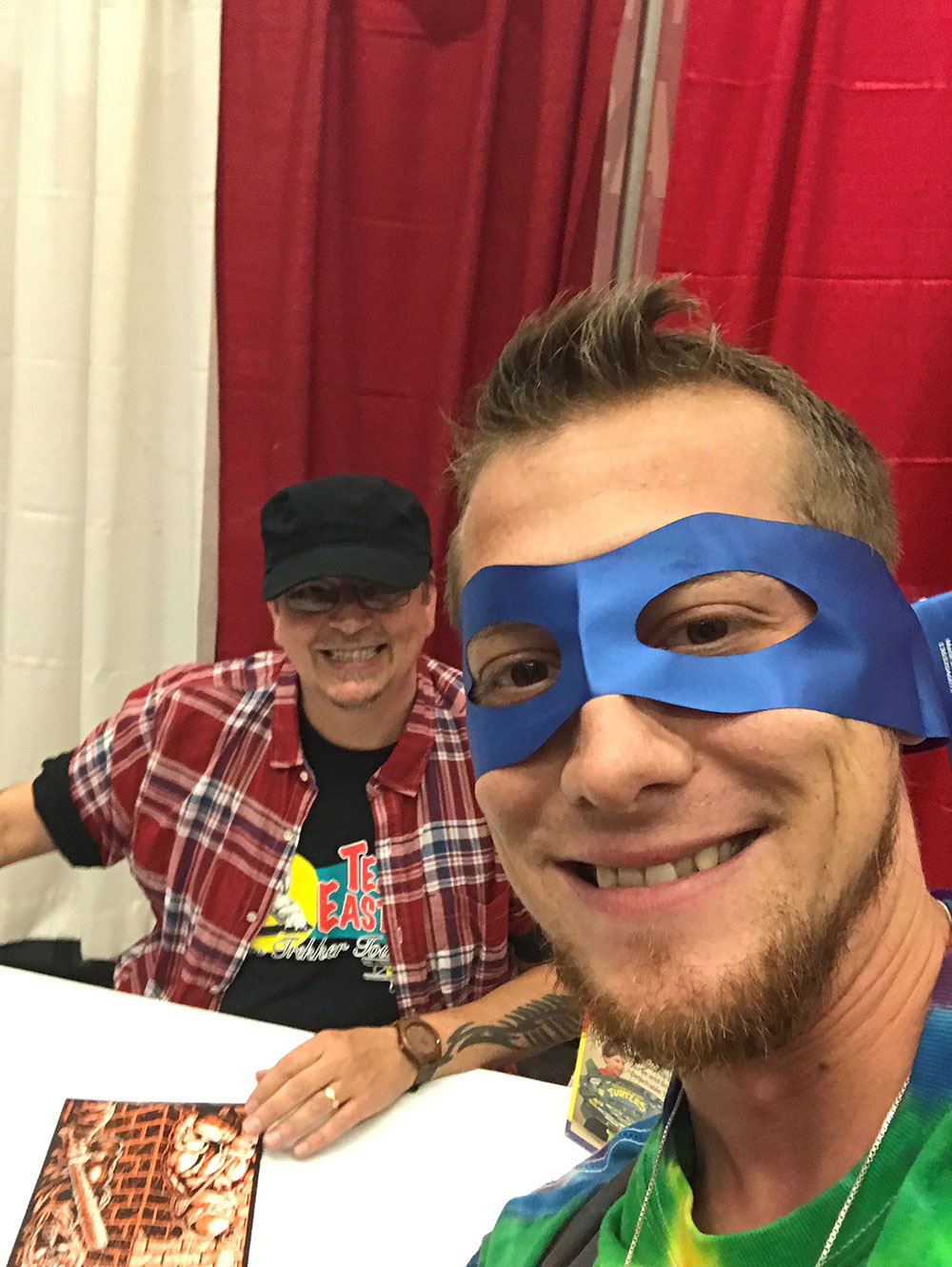 WHAT ADVICE WOULD YOU GIVE TO TOY COLLECTORS?
Have fun, be yourself, show off your collection! Never compromise. If you get that "holy grail", while tempting as it may be to cash out, hold it. Forever. You never know when you'll come across it again. Share your interests with others, make a blog, or a fb group. Gift children some loose figures you may have, so you can maintain the excitement/interest in what you collect. Don't spend more than you're willing to lose. (The list could go on.)
HOW CAN PEOPLE FIND YOU ONLINE?
Search Jeremy Mathsen on Facebook, Instagram, or Twitter!