Get (Un)Lucky with Friday The 13th Toys
Apr 13, 2018
Happy Friday The 13th!
Today's date is synonymous not only with bad luck -- but also with the classic horror films!
PREVIEWS is your go-to source for the best Friday The 13th toys. Head to your local comic shop to pre-order some of the spine-chilling collectibles seen below.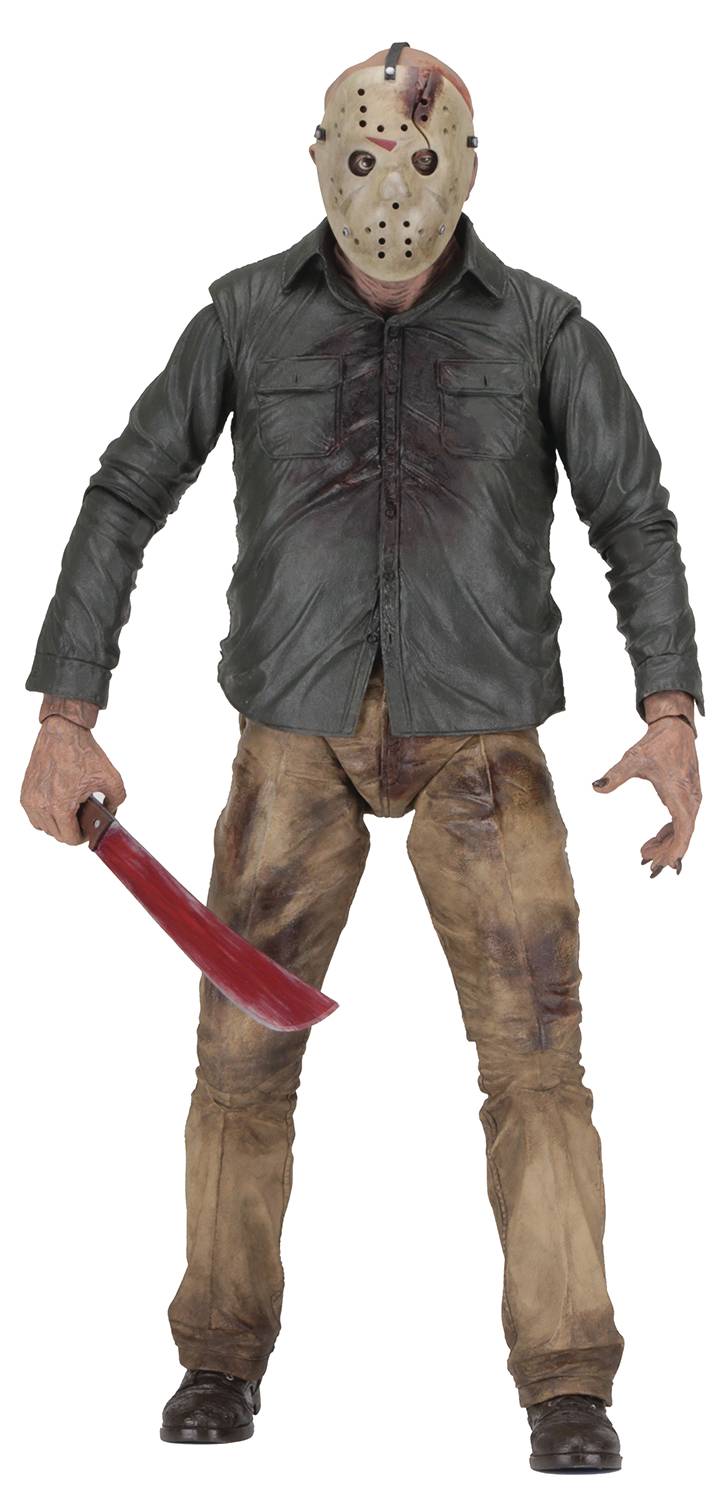 FRIDAY THE 13TH PART IV JASON VOORHEES 1/4 SCALE AF (JAN188444, $142.99)
Jason returns to NECA's quarter scale action figure line! This massive, all new 18" figure is based on his appearance in Friday the 13 Part 4: The Final Chapter and features plenty of gruesome detail. You can even recreate his (not quite) fatal wound by sliding his machete into the side of his head. The figure has over 25 points of articulation and is packed with accessories: removable mask, two interchangeable head sculpts, interchangeable hands, knife, machete, and axe.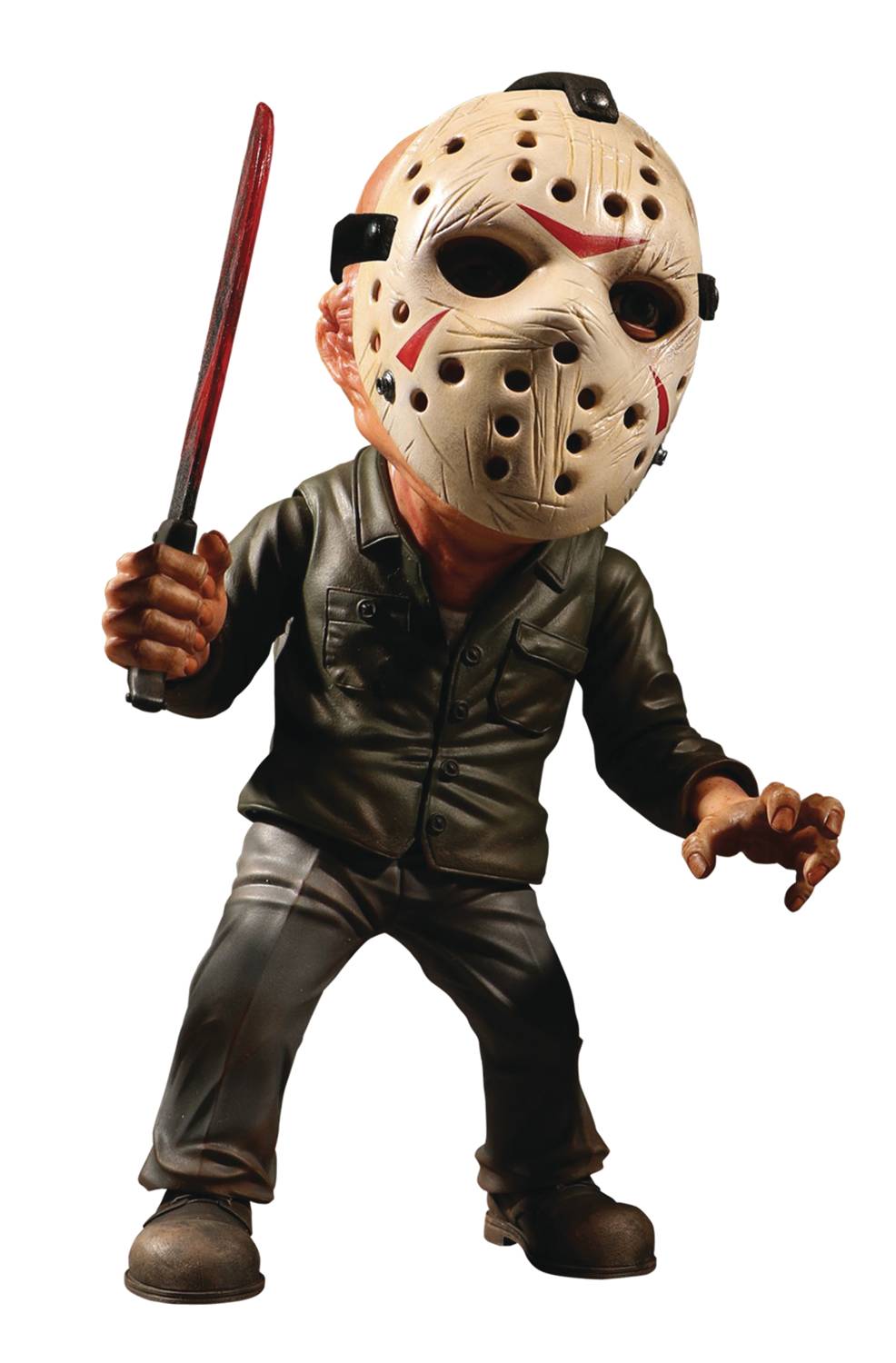 FRIDAY THE 13TH JASON VOORHEES 6IN DELUXE STYLIZED ROTO FIG (JAN188059, $29.00)
Mezco is giving horror's most-feared masked maniac the stylized treatment with a deluxe figure sure to thrill. In addition to having 10 points of articulation, Jason Voorhees comes ready to slay with his signature bloody ax and machete, which have been the end of countless unhappy campers. Jason's trademark hockey mask is removable to reveal a disfigured and scarred face sculpt based on Friday The 13th Part 3. Also included is an alternate left hand to help recreate iconic poses. Standing approximately 6 inches tall, Mezco's Deluxe Stylized Friday the 13th Jason Voorhees Figure comes packaged in a die-cut window box perfect for display in your collection or campsite.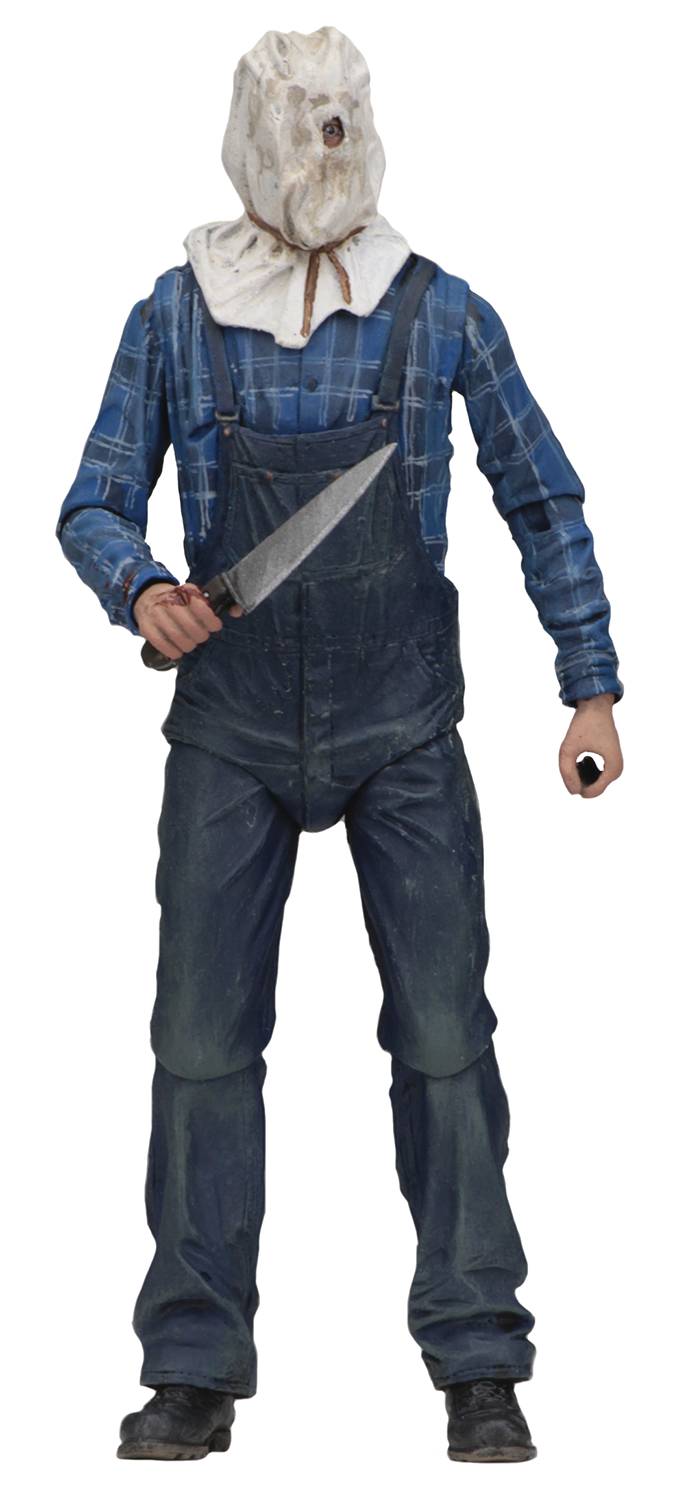 FRIDAY THE 13TH PART II ULTIMATE JASON VOORHEES 7IN AF (JAN188443, $29.99)
From the Friday the 13th film franchise, we present the definitive collector's version of Jason as he appeared in Part 2 - featuring a 100% brand new Ultimate body! This deluxe 7" scale action figure has two interchangeable heads and over 25 points of articulation. It's loaded with accessories, too: campfire, his mother's severed head, machete, knife, pick axe, spear, and pitchfork. Packaged in a collector-friendly deluxe window box.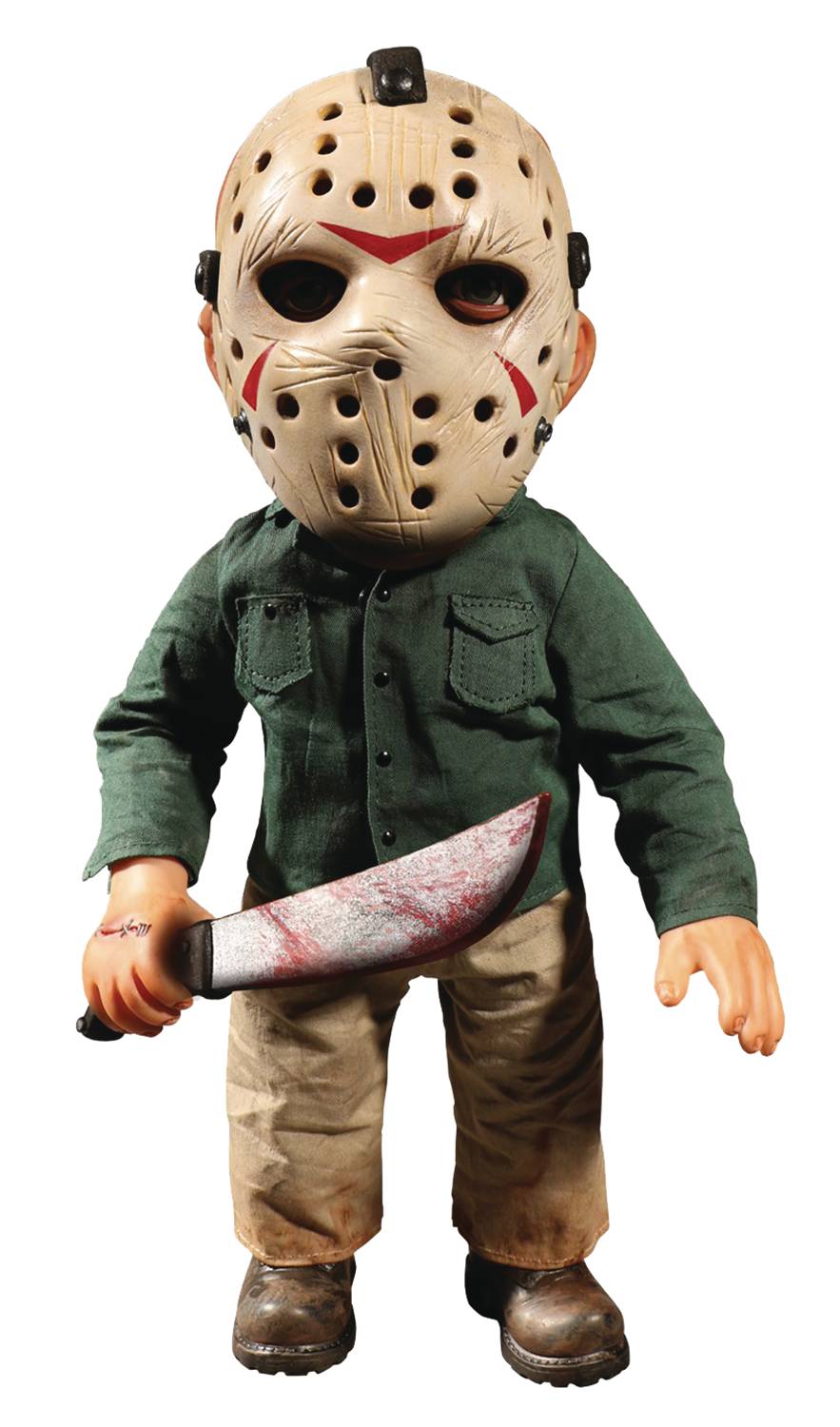 FRIDAY THE 13TH JASON 13IN STYLIZED ROTO FIG W/SOUND (NOV178201, $94.00)
He's terrorized Camp Crystal Lake, the Big Apple, and even the far reaches of space. Now Mezco lets you take the creepy camper-killer home. Introducing Mega Jason from the Friday The 13th horror film series. Standing an imposing 15", this super-sized psycho comes complete with his trademark machete and plays his iconic signature sound effect that let's you know when Jason is near. Jason features 9 points of articulation for dynamic camper menacing poses and comes dressed in real cloth clothing modeled after his appearance in Friday The 13th Part 3. The sound is activated by a discrete button on his back.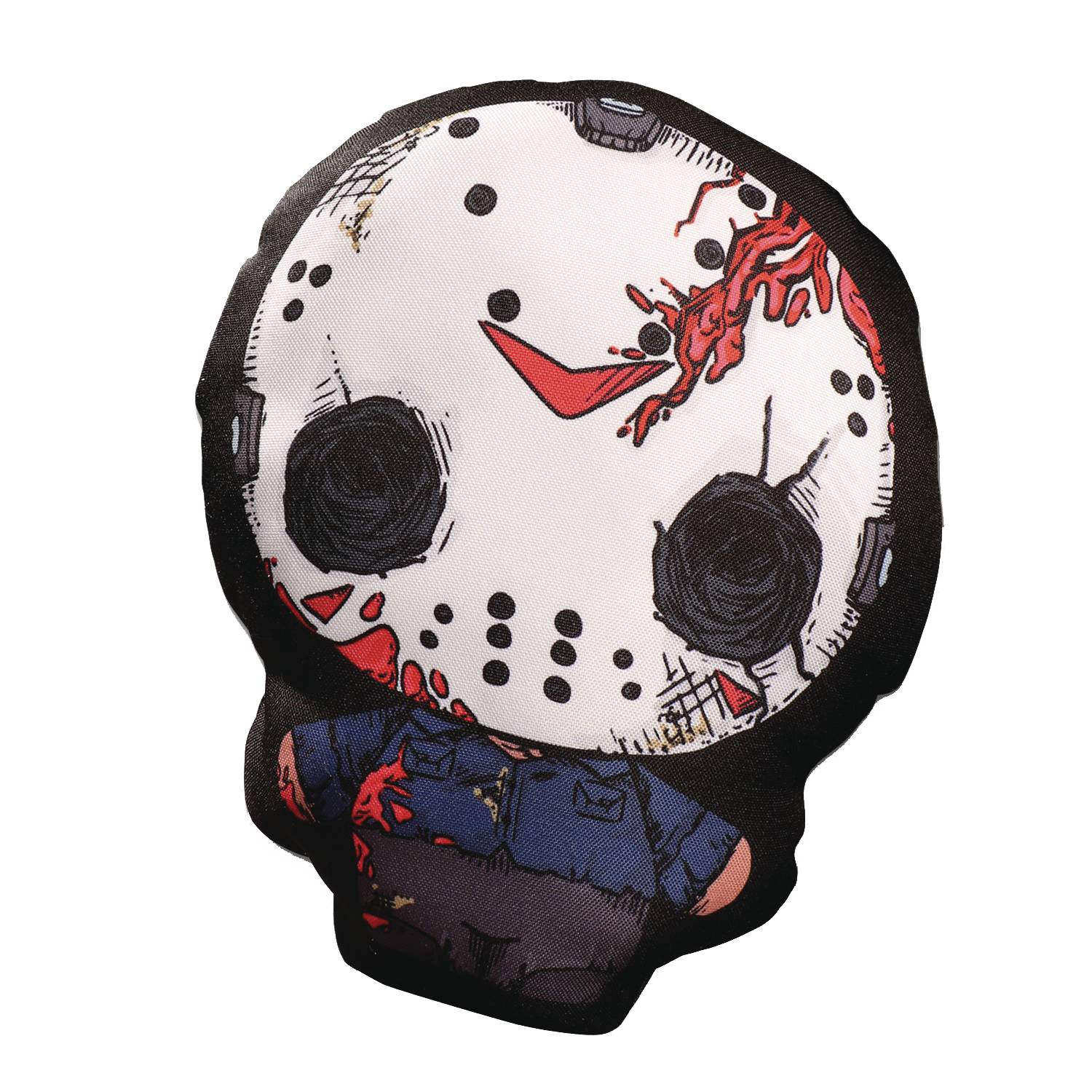 FLATZOS FRIDAY THE 13TH JASON 12IN PLUSH (NOV178182, $14.99)
Mezco Toyz is proud to present Flatzos. A new kind of plush that is great for home decor, to rest your head or just cuddle up with and watch a horror movie. The first three offerings of Flatzos features a trio of horror film icons: Chucky, Freddy,, and Jason! Flatzos plush are a generous 12" tall and feature vibrant full color printing most with oversized button eyes.