The Horror! The Horror!: Blackwood, Freddy Krueger, & Alien Toilet Monsters
Mar 13, 2018
Finally! An ongoing monthly article that makes you face the monsters in the closet. You can run, but you can't hide from our selected ghoulish items in PREVIEWS that will make you flee and scream bloody murder. Horror fiends: let the madness begin! This is the run-down on what ghastly items can be found in this month's PREVIEWS catalog, and if you can't take the chills, TOO BAD! This is where the children of the night gather, and howl at the moon without apology.
Blackwood #1

Multi-Eisner award-winning creator Evan Dorkin is still making comics to this day for a reason. His imagination. It's endless. One minute he's thinking about dairy products gone bad which can walk, talk, and bash you over the head with gin bottles, and the next he's come up with a horror book like Blackwood #1 (MAR180038) with artist Veronica Fish giving flesh to the ideas in this new comic from Dark Horse. This story involves a school for kids that can do special things. But this is not Hogwarts. The teenagers enrolled in this institution are being trained in the occult. The problem is that their supernatural abilities aren't flourishing because of an undead dean's curse. Now throw in a mischievous two-headed mummy-chimp, a plague of mutant insects, and...well, you get the idea. This ain't Scooby Doo. It's not Harry Potter. Welcome to Blackwood, kids. Yes, you checked in. But try to check out...while breathing, that is. Look for Blackwood #1 from Dark Horse Comics in the Premier Comics section of the March PREVIEWS catalog!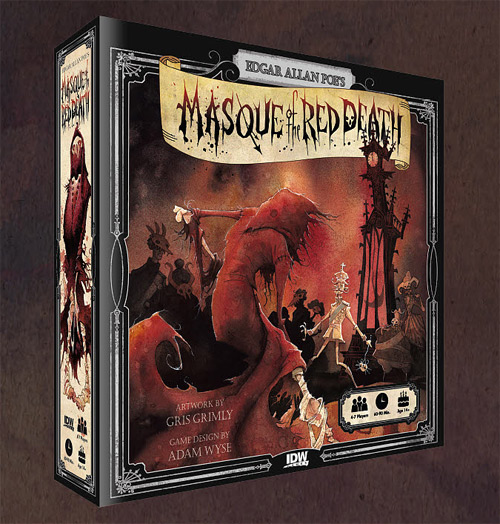 Edgar Alan Poe's Masque Of Red Death Game

He was a Baltimore boy, and he exceled at telling stories tha scared the hell out of people. The classics that flowed from his pen included timeless tales like "The Raven" and "The Tell-Tale Heart," but one story in particular has been turned into a game for IDW Publishing by writer Adam Wyse and artist Gris Grimly. Edgar Alan Poe's Masque Of Red Death Game (MAR180568) is the first board game based on Poe's classic sinister tale! It's a wonderful story because it's about human nature. Specifically, how we're quick to knife each other in the back when we try to curry favor with a person at the expense of others. Yes, treachery runs deep in the human condition, and its ugliness is exposed this story in which you must balance your actions carefully less it be your room that the Red Death will visit. Look for this board game from IDW in the Premier Comics section of the March PREVIEWS catalog!
Walk Through Hell #1

Garth Ennis has some experience writing horror stories during his decades spent in the industry. If you want just one example, check out his inaugural Crossed story. You'll never look at horror comics the same way again after reading it. See, Ennis knows how to reach into the corners of the mind and pull out the truth from people. He figures out what REALLY scares them, and in Walk Through Hell #1 (MAR181064) from Aftershock Comics, he puts his skills to the test when Special Agents Shaw and McGregor visit a Long Beach warehouse. Take a look at the cover image for the book. From the outside, all looks quiet and normal, right? That is what makes horror so powerful: when it's disguised as just another day. When there's never a warning sign. When you walk in the dark and realize...you made a mistake. And it's too late to turn around and leave. Because you can't. Imagine a nightmare that doesn't end. Imagine...a walk through hell. Take the long walk with agents Shaw and McGregor, and pick up this first issue in the Comics & Graphic Novels section of the March PREVIEWS catalog!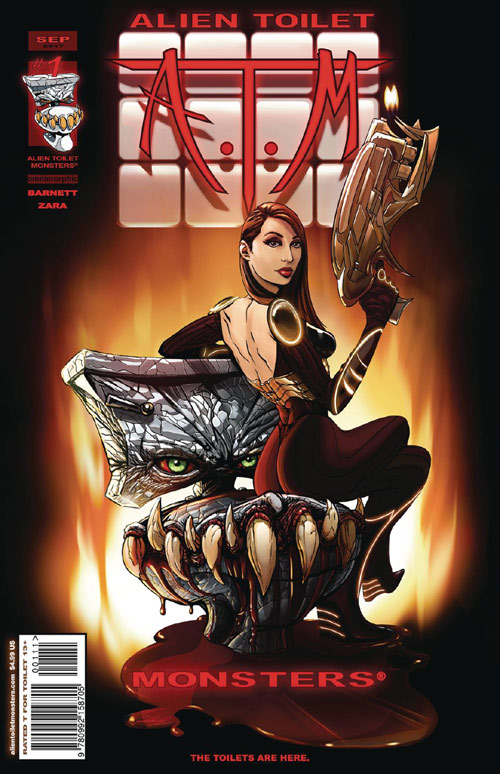 Alien Toilet Monsters #1

Schlocky 80s horror movies your thing? Killer Klowns From Outer Space ring a bell? Sometimes the best enertainment is that which makes you laugh and cringe at the same time. Or even better, when it has you say out loud "What were they thinking?" Well, maybe they weren't. Or better yet, maybe they were thinking for days on end loaded up on coffee, Red Bull, and candy bars...while watching 80s horror moves for 8 days straight. If you're into off-the-wall craziness that comes from minds that go snap, crackle, pop, then check out this new sci-fi comic from Omnimorphic that explores forbidden worlds and circular love triangles. At its core, this is nihilistic satire which shamelessly probes the underside of humanity. But because we're also dealing with monsters that are in the shape of toilets, well, you're going to have to allow for poop jokes, too. It's a given. Sound like good bathroom reading? Then check out the wacky first issue of Alien Toilet Monsters #1 (MAR181783) in the Comics & Graphic Novels section of the March PREVIEWS catalog!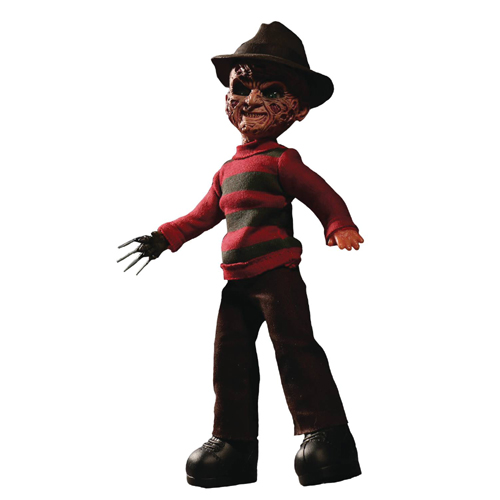 Living Dead Doll: A Nightmare On Elm Street — Freddy Krueger Doll With Sound

Here is is, kiddies: the first-ever licensed talking Living Dead Doll ever produced. What better subject for exploitation than the guy with a face only a mother could love? Yes, Mr. Hamburger Face himself is back to slice and dice unsuspecting teenagers as the Living Dead Doll: A Nightmare On Elm Street — Freddy Krueger Doll With Sound (NOV178648), armed with 7 fiendishly fun film phrases. You'd recognize the phrases if you're a fan. Some, though, may not be appropriate for those with weak constitutions. Complete with his trademark razor glove and his removable hat, Mr. Sunshine here is 10" tall and has 5 points of articulation. The life of the party, even though he's guaranteed to take the lives of every person at the party. You can find Feelgood Freddy in the March PREVIEWS catalog, but we advise you to flip through the pages carefully. Looking for this collectible in particular, you're liable to get more than just a paper cut.
Hope you liked this month's line-up of creepy crawly things. See you here next month for another installment of PREVIEWS' ongoing editorial, The Horror! The Horror!