Women in Comics Month: Interview with Tysha Long
Mar 02, 2018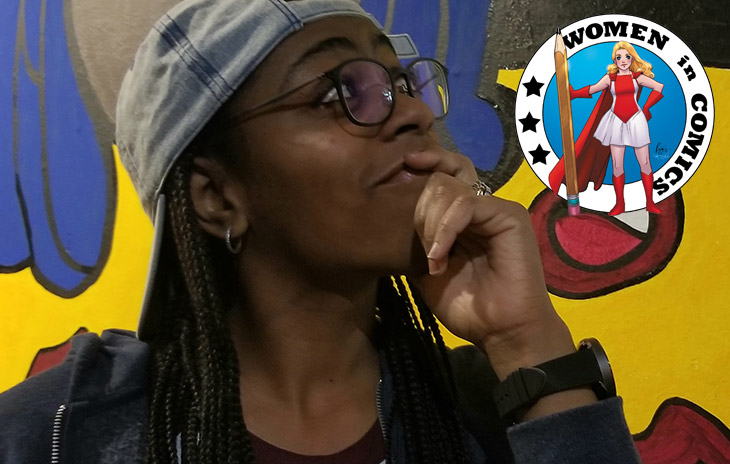 In honor of Women in Comics Month this March, PREVIEWSworld talks with graphic designer Tysha Long!
*************

PREVIEWSworld: Who is your current comics employer?
Tysha Long: Lion Forge, llc.
PREVIEWSworld: What is your primary job title? In a quick phrase or two, could you define your job's key responsibility?

Tysha Long: In house graphic designer. I create visual materials that in turn communicate ideas to inspire, inform, and captivate consumers. Or in a nutshell I create marketing/advertisements concepts using a digital canvas.
PREVIEWSworld: Could you please explain how your work helps make comics a reality? (Connect the dots for us. Where are you in the flow of getting a book into reader hands?)

Tysha Long: Ok going with the flow here: I help make Lf's vision a reality all via the creative briefs and assets I receive. In terms of a comic, I layout the pages all the way down to placement of the word balloons and send the book out for edits prior to going to print. I layout the ads that are displayed in the back of our comics and on other platforms in a design hierarchy system. (Important stuff first!) In addition to print ads, I design title web pages to accompany our website: www.lionforge.com
PREVIEWSworld: What's the part of your job you enjoy the most?

Tysha Long: Aside from the open bar Fridays and the nerf dart battles….I really enjoy the creative atmosphere and the other nerdy folks like me! :D
PREVIEWSworld: What comic titles have you worked on?
Tysha Long: All of the Lion Forge titles to date. My favorite being the Catalyst Prime Universe. That being because it brings something new to the table for superheroes and the diversity within the universe. It covers a large spectrum of the world we live in today. These are not over-powered alien beings, but regular people whom we all can easily relate to.
PREVIEWSworld: While there are loads of professionals in the comics industry, there are only so many folks who get to do what you do! How did you get started? How did you learn all the skills you needed for your position?
Tysha Long: I learned graphic design back in college, but really learned what I know by getting my feet wet . I freelanced around for a bit, then saw that Lion Forge was looking for an in-house designer. Being the blerd who is super into comics, anime, video games, and just about anything art wise I applied. Truth be told I got the job under the negotiation of getting an office pet goldfish named Pickles.
PREVIEWSworld: Talk to us about the heroic people in your comics life. Who do you admire? Who inspires you? Why?

Tysha Long: Dwayne McDuffie heck yeah! He produced some of the realist shows I watched growing up. It wasn't about the powers or the cape. It was the representation of the struggle. Dr. Sheena Howard is also a major influence, because of her strive to shine a light on diversity and gender within comics. Also, we spoke at the CPU writer's retreat and she is super chill.
PREVIEWSworld: Please tell us about the coolest experience you've ever had thanks to your job.

Tysha Long: I know this sounds cheesy, but everyday is a cool experience. 😊
PREVIEWSworld: Do you have an online presence we can link to and share with our readers?
Tysha Long: Yup, you can follow me on IG @Longstorynotshort