Women in Comics Month: Interview with Lisa Sterle
Mar 19, 2018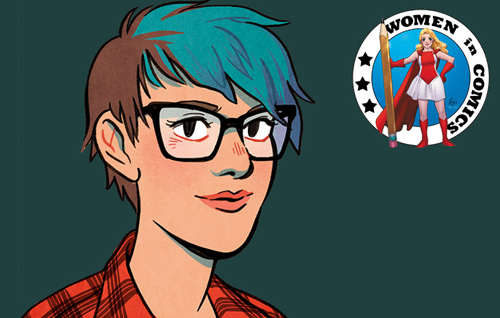 In honor of Women in Comics Month this March, PREVIEWSworld talks with artist Lisa Sterle!
*************
PREVIEWSworld: Who is your current comics employer?
Lisa Sterle: Scout Comics
PREVIEWSworld: What is your primary job title? In a quick phrase or two, could you define your job's key responsibility?
Lisa Sterle: Comic Artist. My current project involves pencils, inks, covers, colors and lettering.
PREVIEWSworld: Could you please explain how your work helps make comics a reality? (Connect the dots for us. Where are you in the flow of getting a book into reader's hands?)
Lisa Sterle: I'm the creative and the production! I love brainstorming stories and characters with writers, and collaborating to create books that excite and inspire readers.
PREVIEWSworld: What's the part of your job you enjoy the most?
Lisa Sterle: Hmm, probably the drafting/pencils stages of the art. I love to direct a scene, figure out new and interesting ways to panel and really challenge myself to come up with a dynamic page.
PREVIEWSworld: What comic titles have you worked on?
Lisa Sterle: Long Lost
PREVIEWSworld: While there are loads of professionals in the comics industry, there are only so many folks who get to do what you do! How did you get started? How did you learn all the skills you needed for your position?
Lisa Sterle: It started with an idea, and the perfect collaborator. Long Lost had been in the concepting stages for a long time (years!) before the writer, Matthew Erman, and I were finally ready to deliver a pitch to publishers. Scout Comics was willing to give us a chance, and it's been a wild ride ever since. For me, it was just this one comic that managed to set everything in motion and push me headfirst into the industry. The skills came with time, practice, and reading all kinds of different comics, from manga to indies, to the big titles. Comics art takes a lot of patience and self-motivation, so it's a mindset I really had to cultivate.
PREVIEWSworld: If you had one comics-related wish—no limits—what would it be?
Lisa Sterle: I want Becky Cloonan to be my mentor. Haha, no seriously, I've made a lot of friends in comics so far that are super inspiring and as a newcomer, I feel so welcome. But it would be surreal and amazing to get advice from an artist I admire so much.
PREVIEWSworld: Do you have an online presence we can link to and share with our readers?
Lisa Sterle: Best way to find me is Twitter: @lisa_sterle. To check out my portfolio, go to lisasterle.com