Women in Comics Month: Interview with Chelsea Roberts
Mar 06, 2018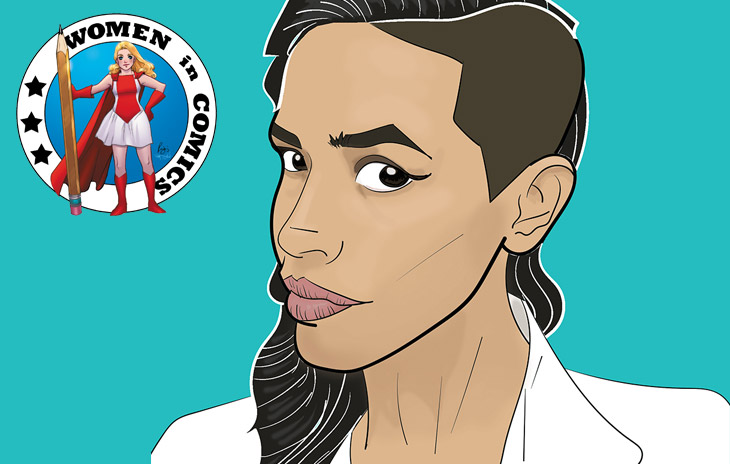 In honor of Women in Comics Month this March, PREVIEWSworld talks with Chelsea Roberts!
*************

PREVIEWSworld: Who is your current comics employer?
Chelsea Roberts: BOOM! Studios
PREVIEWSworld: What is your primary job title? In a quick phrase or two, could you define your job's key responsibility?
Chelsea Roberts: I'm a Production Design Assistant—I make sure all of the inks, colors, and letters that come in are fit to print. I also help design singles and trades.
PREVIEWSworld: Could you please explain how your work helps make comics a reality?
Chelsea Roberts: I'll focus on the "production" part of my job for this question. Once the writers, artists, and letterers of a comic are done with their work, they send the finished pages to Boom! Studios. I get to check those pages to make sure they'll fit into our interior builds, that they're at a high enough resolution, that everything fits within the live area, that the full bleed panels actually stretch all the way to the bleed...you get the idea. If something is wrong with a page, I fix it up in Photoshop or Illustrator. When I'm done with that process, I put the polished files in a network drive so that our Production Design department can grab them and build the actual comics.
PREVIEWSworld: What's the part of your job you enjoy the most?
Chelsea Roberts: I love collaborating with editors and other designers to make a comic the best that it can possibly be. I also love that I get to read the comics before they're even published!
PREVIEWSworld: What comic titles have you worked on?
Chelsea Roberts: I've been a designer on a lot of great titles, but the ones that really stand out are Adventure Time and Adventure Time Comics, Goldie Vance, Klaus, and Giant Days.
PREVIEWSworld: While there are loads of professionals in the comics industry, there are only so many folks who get to do what you do! How did you get started? How did you learn all the skills you needed for your position?
Chelsea Roberts: First of all, I've been reading and drawing comics since I was a kid. My deep passion for art fueled my decision to earn a Bachelor's in Graphic Design from Azusa Pacific University. After I graduated, I became a freelance designer, a Disney parade float painter, a print shop assistant, and a digital media manager for an info-tainment company, among other things. I took every design-related job that came my way to learn as many skills as humanly possible. When I found out that BOOM! Studios was looking for a Production Design Assistant, I was over-prepared—those 6 years between college and BOOM! were filled with insane odd jobs, but they gave me exactly what I needed to break into comics.
PREVIEWSworld: Talk to us about the heroic people in your comics life. Who do you admire? Who inspires you? Why?
Chelsea Roberts: Every single woman in comics inspires me because they overcame every negative stereotype, every old-fashioned attitude, and every disadvantage thrown their way to get to where they are now.
PREVIEWSworld: Please tell us about the coolest experience you've ever had thanks to your job.
Chelsea Roberts: I had attended San Diego Comic-Con since I was ten years old, but in July of 2017, I got to attend as an industry insider. Seeing it from a comic professional's perspective was unreal! Meeting the artists and writers behind my favorite titles was just incredible—the camaraderie enveloping the comics community is very hard to find in any other industry.
PREVIEWSworld: If you had one comics-related wish—no limits—what would it be?
Chelsea Roberts: I would like to shake Neal Adams' hand for advocating for Jerry Siegel and Joe Shuster—and for all of us creative comic people, really.
PREVIEWSworld: Do you have an online presence we can link to and share with our readers?
Chelsea Roberts: http://climbingtreescomic.com/