Women in Comics Month: Interview with Christina "Steenz" Stewart
Mar 01, 2018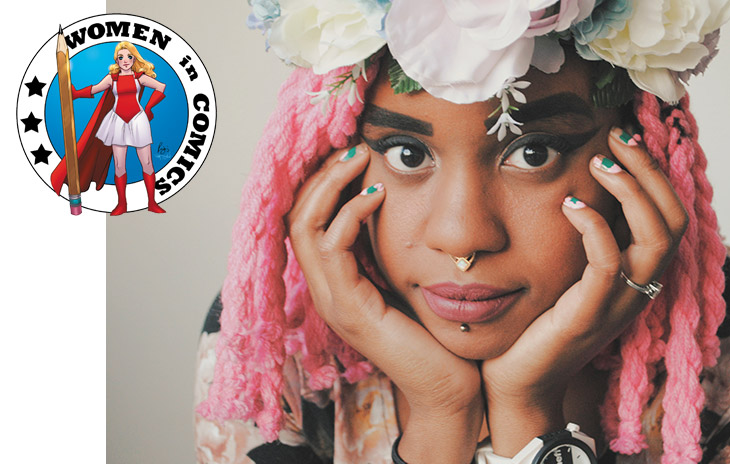 In honor of Women in Comics Month this March, PREVIEWSworld talks with editor and social media manager Christina "Steenz" Stewart!
*************

PREVIEWSworld: Who is your current comics employer?
Steenz Steward: Lion Forge Comics
PREVIEWSworld: What is your primary job title? In a quick phrase or two, could you define your job's key responsibility?
Steenz Stewart:I JUST switched from Social Media and Community Manager to Associate Editor! As we're looking for someone else to take my old position, I will continue to do the work for the SMCM job. I do all of the social media for our three imprints, send out comics to our talent, and work on donations, signings, and marketing for librarians and educators using comics. Among so many other things in the office. And as an Editor I'll be working on editing future titles and being a major part of the acquisitions process.
PREVIEWSworld: Could you please explain how your work helps make comics a reality? (Connect the dots for us. Where are you in the flow of getting a book into reader hands?)
Steenz Stewart: I'm on the marketing team! I make sure that you hear about all the comics coming from Lion Forge. I also work with libraries and educators so that any and every one can get our comics. As an Editor I'll be working with creators to help them get their stories told.
PREVIEWSworld: What's the part of your job you enjoy the most?
Steenz Stewart: Going to conventions and doing on site interviews and programs with talent and staff! It's great to be on the front lines and face our readers!
PREVIEWSworld: What comic titles have you worked on?
Steenz Setwart: Since I do marketing, I have a part in every book Lion Forge produces! I'm pretty proud of the marketing work I've done for Black Comix Returns and the outreach I've done with libraries for Little Red Wolf, Generation, and Lighter Than My Shadow.
PREVIEWSworld: While there are loads of professionals in the comics industry, there are only so many folks who get to do what you do! How did you get started? How did you learn all the skills you needed for your position?
Steenz Stewart: I worked in both comics retail and as a comics focused librarian, so I have plenty of experience with reaching out to the community and making sure they know about all the good comics they need to read! I did a lot of event planning at my last two jobs, so efficiency and organization are my bread and butter. Which is super helpful with social media. I also have a pretty strong brand, myself, as a comics creator! I am an administrator for a few groups for marginalized members of the industry, so I like to pull from those groups to find new talent.
PREVIEWSworld: Talk to us about the heroic people in your comics life. Who do you admire? Who inspires you? Why?
Steenz Stewart: Librarians and Educators! Not everyone can buy comics from their local comic shop or bookstore so being able to get your hands on a variety of titles and expand your knowledge of literature from libraries and from school is really important. I read my first comic book in a library!
PREVIEWSworld: Please tell us about the coolest experience you've ever had thanks to your job!
Steenz Stewart: I went to ALA last year and got to meet Congressman John Lewis!
PREVIEWSworld: Every industry professional has something they absolutely love about comics. Whether it's a particular title or format, audience or tradition, or something else, we're all hooked. What's special about comics for you? Would you be willing to share a treasured memory about it?
Steenz Stewart: I met my creative partner Ivy Noelle Weir through the Valkyries which is a group of women that work in comics retail. From there we both ended up becoming librarians and now we both work in comics publishing! It's kind of amazing the kinds of relationships you make with people in the industry. No matter what you do with comics if you're interested, you're bound to find someone that shares interests!
PREVIEWSworld: If you had one comics-related wish—no limits—what would it be?
Steenz Stewart: Wow, tough question… I'd like for non-comics readers to see comics as a valid and equally important part of literature instead of brushing it off as "not a real book".
PREVIEWSworld: Do you have an online presence we can link to and share with our readers?
Steenz Stewart: Follow me on twitter! @oheysteenz