Women in Comics Month: Interview with Molly Ostertag
Mar 01, 2018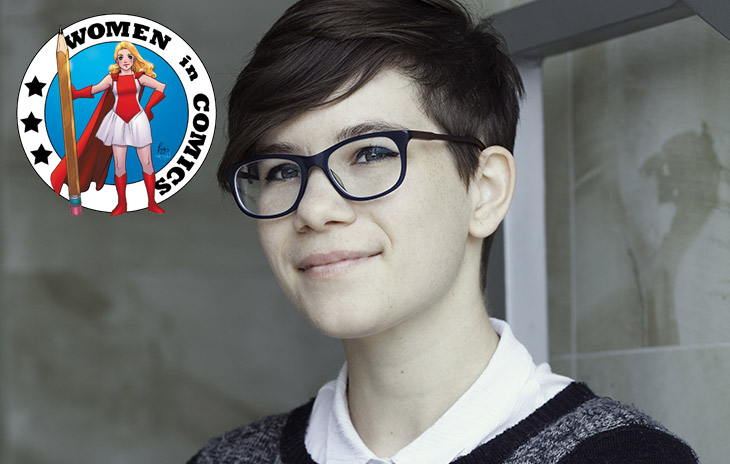 In honor of Women in Comics Month this March, PREVIEWSworld talks with writer and artist Molly Ostertag!
*************
PREVIEWSworld: Who is your current comics employer?
Molly Ostertag: Scholastic: Graphix
PREVIEWSworld: What is your primary job title? In a quick phrase or two, could you define your job's key responsibility?
Molly Ostertag: I'm the writer and artist of two middle-grade graphic novels with Scholastic, and the artist behind the webcomic Strong Female Protagonist and a few other books.
PREVIEWSworld: Could you please explain how your work helps make comics a reality? (Connect the dots for us. Where are you in the flow of getting a book into reader hands?)
Molly Ostertag: I come up with story ideas, pitch them to publishers, and then sit down and draw the whole thing! Right now I've been traveling to lots of shows, bookstores, schools, and libraries to talk about my books and comics in general.
PREVIEWSworld: What's the part of your job you enjoy the most?
Molly Ostertag: It's a tie between drawing the actual comic, and getting the first copies in the mail.
PREVIEWSworld: What comic titles have you worked on?
Molly Ostertag: Writing and drawing: The Witch Boy, The Hidden Witch (upcoming).
Drawing: Strong Female Protagonist: Book One, Strong Female Protagonist: Book Two, The Castoffs, Shattered Warrior, Love is Love anthology.
PREVIEWSworld: While there are loads of professionals in the comics industry, there are only so many folks who get to do what you do! How did you get started? How did you learn all the skills you needed for your position?
Molly Ostertag: I knew I want to be a storyteller, and that I liked drawing, so for college I went to the School of Visual Arts for cartooning and learned a lot about how to draw well and make readable comics. While there, I started the webcomic Strong Female Protagonist with my friend Brennan Lee Mulligan. Its deconstructive take on superheroes and social justice got us noticed by enough readers that by the time I graduated, I could run a successful Kickstarter to print the first book and I got my first published job drawing Shattered Warrior for First Second. Since then, I've been working hard to develop as an artist and a writer, and pursue more projects where I'm the solo creator. I still make the webcomic and other web-based art, but graphic novels have my heart.
PREVIEWSworld: Every industry professional has something they absolutely love about comics. Whether it's a particular title or format, audience or tradition, or something else, we're all hooked. What's special about comics for you? Would you be willing to share a treasured memory about it?
Molly Ostertag: As a creator, comics are a very special medium to me. They're the only visual storytelling medium that can be created entirely by one person (whereas movies and animation need large teams of people). I think this gives comics a unique opportunity to express a really pure artistic vision. I also love that we're still exploring the potential of what comics can be – it feels like there's a vast world to be explored, and all kinds of experiments that haven't happened yet. In particular, I love making middle-grade graphic novels because there's a fierce demand for them, but not a lot of titles that are aimed at that age range (although there's more every year, hooray!). Kids get so excited to read comics! It's really special.
PREVIEWSworld: If you had one comics-related wish—no limits—what would it be?
Molly Ostertag: I truly wish there was a model for cartoonists to make a steady income from the hard work we do. There are a lot of voices that have been silenced or pushed out, not because of a lack of talent or dedication, but because they couldn't afford the lean years.
PREVIEWSworld: Do you have an online presence we can link to and share with our readers?.
Molly Ostertag: Online at www.mollyostertag.com, and on Twitter at @mollyostertag.