Women in Comics Month: Interview with Hope Donovan
Feb 28, 2018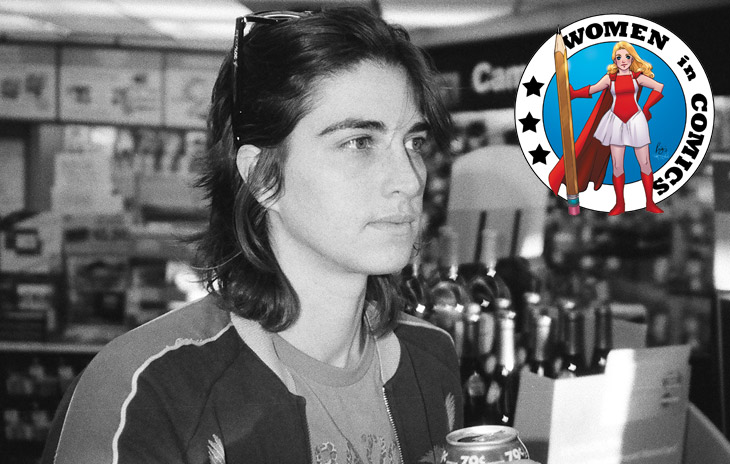 In honor of Women in Comics Month this March, PREVIEWSworld talks with the managing editor at VIZ Media, Hope Donovan!
*************
PREVIEWSworld: Who is your current comics employer?
Hope Donovan: VIZ Media
PREVIEWSworld: What is your primary job title? In a quick phrase or two, could you define your job's key responsibility?
Hope Donovan: Managing Editor- I oversee the editorial department, which is responsible for the localization (translation & lettering) of manga from Japanese to English.
PREVIEWSworld: Could you please explain how your work helps make comics a reality? (Connect the dots for us. Where are you in the flow of getting a book into reader hands?)
Hope Donovan: I start the process off on the acquisitions side by identifying potential series to be licensed from Japan and evaluating them on their merit and sales potential. I then work with other departments like Sales and Finance to approve the acquisition internally, then with the Licensing department to acquire the title. My roles also include supervising the editors and their work, creating the publishing release schedule, proofing every book we release, and editing a few of my own series.
PREVIEWSworld: What's the part of your job you enjoy the most?
Hope Donovan: I enjoy the rush of identifying a series that you know is a good fit for the company to acquire and will do well. Additionally, I still like proofing!
PREVIEWSworld: What comic titles have you worked on?
Hope Donovan: I've been working in manga for 15 years for most of the publishers as an editor, adaptor or letterer. My very first series as an editor was Bird Kiss and one of my current series is Fullmetal Alchemist: Fullmetal Edition. I'm also proud of a number of series I've worked on at VIZ, such as the Death Note: All-In-One Edition, Seraph of the End, Sunny and the Oscar-nominated blanc et noir: Takeshi Obata Illustrations.
PREVIEWSworld: While there are loads of professionals in the comics industry, there are only so many folks who get to do what you do! How did you get started? How did you learn all the skills you needed for your position?
Hope Donovan: Tokyopop took on a lot of interns back during the manga boom, and I was able to get my foot in the door to comics as an intern there. I got the intern position because I had editorial experience as the editor-in-chief of my college's satire magazine, DUIN. So I always like to credit my old editor at DUIN, Joe Lewandowski, for entrusting me with that essential experience.
But beyond that, I learned everything on the job. My first year I was a copyeditor, and absorbed manga. I worked all day and then worked all night as a freelance adaptor. When Tokoypop went under, I learned lettering from a co-worker, James Dashiell, and became a freelance letterer. And in my current position, I have the benefit of an incredible mentor in the indomitable figure of VIZ VP of Publishing, Leyla Aker.
PREVIEWSworld: Talk to us about the heroic people in your comics life. Who do you admire? Who inspires you? Why?
Hope Donovan: Great rewriters, people who can turn a phrase, transforming stilted literal translations into sparkling, natural dialogue, have always inspired me. One of my early models was Jamie S. Rich, and also the work of Annette Roman, who I somehow now have come to supervise!
PREVIEWSworld: Please tell us about the coolest experience you've ever had thanks to your job!
Hope Donovan: When Taiyo Matsumoto was a guest at TCAF, he and I had a discussion about how to localize the sound of a roaring, lively city. For us manga people, those rare interactions with the authors tend to be precious.
PREVIEWSworld: Every industry professional has something they absolutely love about comics. Whether it's a particular title or format, audience or tradition, or something else, we're all hooked. What's special about comics for you? Would you be willing to share a treasured memory about it?
Hope Donovan: I love black and white illustration. To me, manga is the pinnacle of black and white illustration. The linework is just incredibly nuanced and the balance of negative and positive space so sophisticated.
PREVIEWSworld: If you had one comics-related wish—no limits—what would it be?
Hope Donovan: To empower all the people who have stories within them to be able to tell them.