Women in Comics Month: Interview with Audrey Niffenegger
Feb 28, 2018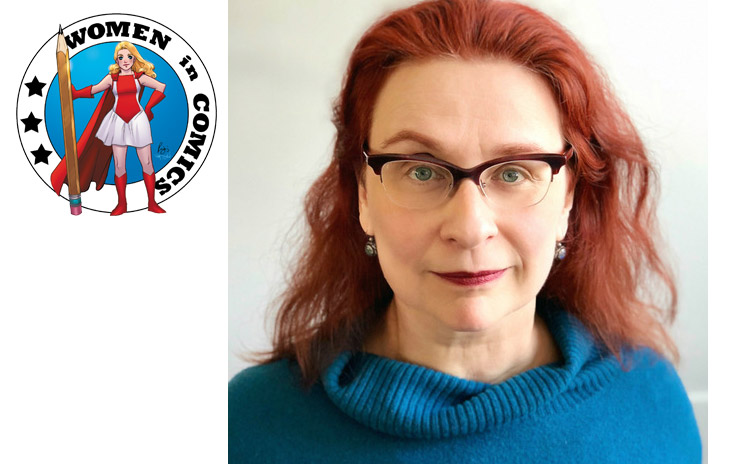 In honor of Women in Comics Month this March, PREVIEWSworld talks with writer and artist, Audrey Niffenegger
*************
PREVIEWSworld: Who is your current comics employer?
Audrey Niffenegger: I'm self-employed.
PREVIEWSworld: What is your primary job title? In a quick phrase or two, could you define your job's key responsibility?
Audrey Niffenegger: Writer and artist. I make stuff up, write it and draw it.
PREVIEWSworld: Could you please explain how your work helps make comics a reality? (Connect the dots for us. Where are you in the flow of getting a book into reader hands?)
Audrey Niffenegger: I'm at the beginning. Because I work for myself, no one is commissioning me; if I have an idea I start working.
PREVIEWSworld: What's the part of your job you enjoy the most?
Audrey Niffenegger: Taking an idea and growing it into something complex and original.
PREVIEWSworld: What comic titles have you worked on?
Audrey Niffenegger: I work on my own stuff: The Night Bookmobile (as both writer and artist) and Bizarre Romance (as the writer with the artist Eddie Campbell). I've also published several illustrated books: Raven Girl, The Three Incestuous Sisters, and The Adventuress, as well as two novels: The Time Traveler's Wife and Her Fearful Symmetry.
PREVIEWSworld: While there are loads of professionals in the comics industry, there are only so many folks who get to do what you do! How did you get started? How did you learn all the skills you needed for your position?
Audrey Niffenegger: I started making comics when I was in high school. I drew editorial cartoons for the school newspaper and had a lot of freedom to express my own opinions and free associate in print. I went to art school (the School of the Art Institute of Chicago) and then grad school (Northwestern University) and studied printmaking, drawing and painting, and book arts.
PREVIEWSworld: Talk to us about the heroic people in your comics life. Who do you admire? Who inspires you? Why?
Audrey Niffenegger: I find Lynda Barry quite inspiring. I started reading Ernie Pook's Comeek when it first began running in the Chicago Reader, way back in the day. She is funny, transgressive and sharp but also, she really wants everyone to just get busy and make drawings; she's a great teacher. She influenced my drawing style and she also makes me think about what it means to make art.
PREVIEWSworld: Please tell us about the coolest experience you've ever had thanks to your job!
Audrey Niffenegger: One of my illustrated books, Raven Girl, was made into a ballet by the choreographer Wayne McGregor for the Royal Opera House Ballet in London. It premiered in 2013 at Covent Garden. Wayne was wonderful to work with, so imaginative and intuitive, and it was amazing to see the dancers embodying my characters. The ballet felt so true to the book, they even managed to render the texture of the aquatints in the set design and used the same typography in the title projections. On opening night, I got to take a bow with the dancers, Wayne, and all the designers and the composer. Standing on that stage next to Sarah Lamb, who danced the Raven Girl, was something I'll not forget.
PREVIEWSworld: Every industry professional has something they absolutely love about comics. Whether it's a particular title or format, audience or tradition, or something else, we're all hooked. What's special about comics for you? Would you be willing to share a treasured memory about it?
Audrey Niffenegger: In 2006 Eddie Campbell sent me a copy of his most recent book, The Fate of the Artist. I had never met Eddie but I was friends with his daughter, Hayley. At the time, Eddie lived in Brisbane, Australia and I lived in Chicago. I remember reading the book and thinking it was amazing and also feeling sad that I'd probably never meet Eddie since we lived as far away from each other as it is possible to be on Earth. Ten years later we got married and now we have made a book together.
PREVIEWSworld: If you had one comics-related wish—no limits—what would it be?
Audrey Niffenegger: I'd like Winsor McCay to come back to life for a while and draw a few more Little Nemo in Slumberland pages. Just a few, I wouldn't want to be greedy.
PREVIEWSworld: Do you have an online presence we can link to and share with our readers?
Audrey Niffenegger: https://www.audreyniffenegger.com