Women in Comics Month: Interview with Ashley Vanacore
Feb 28, 2018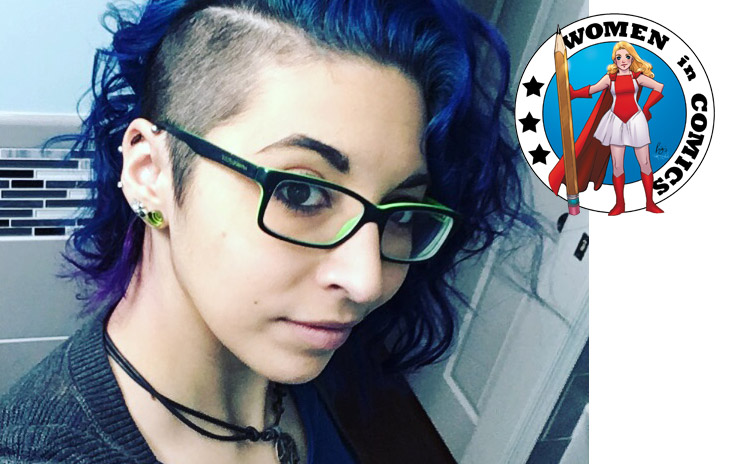 In honor of Women in Comics Month this March, PREVIEWSworld talks with graphic designer Ashley Vanacore!
*************
PREVIEWSworld: Who is your current comics employer?
Ashley Vanacore: Zenescope Entertainment
PREVIEWSworld: What is your primary job title? In a quick phrase or two, could you define your job's key responsibility?
Ashley Vanacore: Graphic Designer. I create materials such as title logos and ads for our comic books. I also help to organize materials and build the books using programs like Adobe InDesign.
PREVIEWSworld: Could you please explain how your work helps make comics a reality? (Connect the dots for us. Where are you in the flow of getting a book into reader hands?)
Ashley Vanacore: While some work takes place in the beginning of production, such as title logo creation, I work mostly in the final stages of production. After the artists, colorists, and letterers finish their work I take over to put the interiors and covers together in one file. Working with the editors, I make whatever adjustments are needed to finalize the book and ready it for print.
PREVIEWSworld: What's the part of your job you enjoy the most?
Ashley Vanacore: Getting to see all the artwork that comes in, it's really inspiring seeing the amazing work our artists create. I also draw so a lot of the artwork that comes across my desk inspires my own artwork.
PREVIEWSworld: What comic titles have you worked on?
Ashley Vanacore: Evil Heroes, Van Helsing vs Robyn Hood, Belle: Beast Hunter, Robyn Hood: the Curse, Grimm Tales of Terror, Grimm Fairy Tales and the Grimm Fairy Tales Coloring Books
PREVIEWSworld: While there are loads of professionals in the comics industry, there are only so many folks who get to do what you do! How did you get started? How did you learn all the skills you needed for your position?
Ashley Vanacore: I've always been interesting in art and have been taking art classes since I could hold a pencil. It wasn't until college that I decided to go into design side of things. I learned basic and advance skills in college and graduate school and continue to develop them everyday.
PREVIEWSworld: Talk to us about the heroic people in your comics life. Who do you admire? Who inspires you? Why?
Ashley Vanacore: There are so many great comic book writers and artist out there, it's hard to pick just one or two. I really admire Bruce Timm, he co-created one of my favorite characters, Harley Quinn. Harley Quinn has stuck with me over the years, seeing her depicted by multiple writers and artist was one of my driving forces for getting into comics. Lately I've also been checking out a lot of Dawn McTeigue's art, she does a lot of livestreams on Facebook and seeing the process from start to finish is really rad.
PREVIEWSworld: Please tell us about the coolest experience you've ever had thanks to your job!
Ashley Vanacore: The coolest experience I've had at Zenescope was when they asked me to create an exclusive SDCC cover for our title Evil Heroes. It was my the first cover I ever created, holding it in my hands and seeing my name printed inside was the most amazing feeling.
PREVIEWSworld: Every industry professional has something they absolutely love about comics. Whether it's a particular title or format, audience or tradition, or something else, we're all hooked. What's special about comics for you? Would you be willing to share a treasured memory about it?
Ashley Vanacore: The fandom revolving around comics is amazing; I love how inclusive it is. Weather you're new to comics or a long time fan, the fandom is always willing to teach you more and accept you.
PREVIEWSworld: Do you have an online presence we can link to and share with our readers?
Ashley Vanacore: You can check out some of my doodles on Instagram @ArtOfBlue88.