Women in Comics Month: Interview with Andrea Colvin
Feb 28, 2018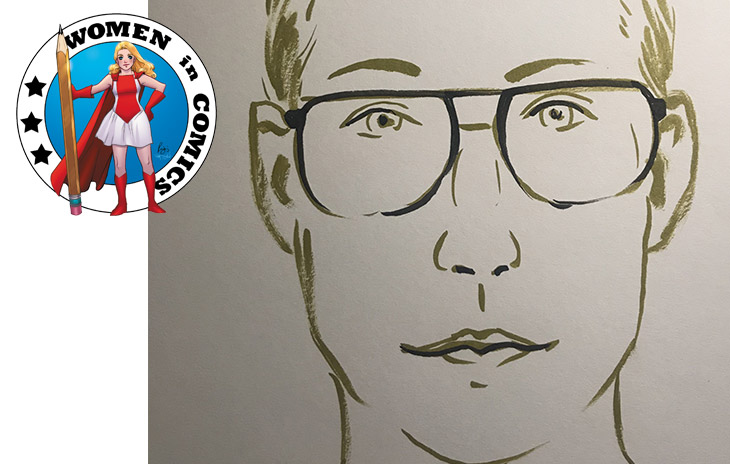 In honor of Women in Comics Month this March, PREVIEWSworld talks with Andrea Colvin, VP, Executive Editor at Lion Forge Comics!
*************
PREVIEWSworld: Who is your current comics employer?
Andrea Colvin: Lion Forge Comics
PREVIEWSworld: What is your primary job title? In a quick phrase or two, could you define your job's key responsibility?
Andrea Colvin: VP, Executive Editor. It's my job to make sure we succeed in our mission of publishing comics for everyone and that the entire editorial staff continues to strive, every day, to publish comics that are of high quality and really, really fun to read.
PREVIEWSworld: Could you please explain how your work helps make comics a reality? (Connect the dots for us. Where are you in the flow of getting a book into reader hands?)
Andrea Colvin: I seek out new ideas and new stories, new writers and artists, and connect with established writers and artists to create new comics. I help talent turn their ideas into comics and graphic novels that are awesome, fun to read, and connect authentically with readers.
PREVIEWSworld: What's the part of your job you enjoy the most?
Andrea Colvin: Um, getting paid to read comics every day!? I really love connecting with comics talent and talking about their ideas and the industry as a whole.
PREVIEWSworld: What comic titles have you worked on?
Andrea Colvin: Lighter Than My Shadow, Wrapped Up, The Castoffs, the upcoming graphic novels Sheets, Glint, Upgrade Soul, and a bunch more I can't wait for everyone to read.
PREVIEWSworld: While there are loads of professionals in the comics industry, there are only so many folks who get to do what you do! How did you get started? How did you learn all the skills you needed for your position?
Andrea Colvin: Like many people in all industries I learned as I went along, by watching what other people did, and by pushing myself to be better at whatever my job was at the time. If you want to be good in any industry, read! Read everything you can about the industry—background, who the big players are, what sells and what doesn't. Knowledge is power! And never be afraid to ask questions.
PREVIEWSworld: Talk to us about the heroic people in your comics life. Who do you admire? Who inspires you? Why?
Andrea Colvin: I "grew up" in the trade publishing world which, though related, is really different from the comics world. I was surprised to discover how, well, sometimes unfriendly this world can be to women (particularly queer women and women of color and anyone else who doesn't identify as hetero male). So my heroes are women in the industry, who've stayed in the industry despite what are sometimes significant odds against them. And more than just women, all the trans, nonbinary, queer, and people of color who are slowly transforming comics into a place that is inclusive and exciting for everyone.
PREVIEWSworld: Please tell us about the coolest experience you've ever had thanks to your job!
Andrea Colvin: This probably isn't thanks to my job but now that I'm at so many cons I've gotten to meet Wendy and Richard Pini a couple of times and I am such a dork about them. I grew up reading Elfquest (and by "reading" I mean "obsessed with") and meeting the people who created it is always amazing.
PREVIEWSworld: Every industry professional has something they absolutely love about comics. Whether it's a particular title or format, audience or tradition, or something else, we're all hooked. What's special about comics for you? Would you be willing to share a treasured memory about it?
Andrea Colvin: Seeing kids and younger readers discover comics as I did at their age is amazing. I was always an avid reader but comics are like movies you get to experience inside your head, if that makes any sense. Gene Yang says comics are unique in that they are the only visual medium the reader gets to control the timing of. Just looking at a panel or two of Elfquest brings me back to my childhood, and for my own kid I know it will be a panel of Smile or Real Friends or El Deafo that has the same effect.
PREVIEWSworld: If you had one comics-related wish—no limits—what would it be?
Andrea Colvin: That people would stop using the terms "regular books" or "real books" to talk about things that aren't comics. That gatekeepers (parents, teachers, retailers) would stop standing in the way—if inadvertently—of new readers discovering the medium.
PREVIEWSworld: Do you have an online presence we can link to and share with our readers?
Andrea Colvin: www.lionforge.com