Women in Comics Month: Interview with Emily C. Martin
Feb 27, 2018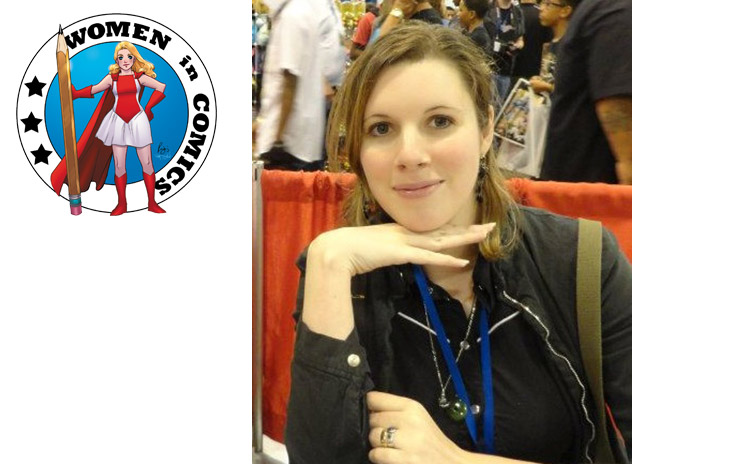 In honor of Women in Comics Month this March, PREVIEWSworld talks with Action Lab Entertainment artist Emily C. Martin!
*************

PREVIEWSworld: What is your primary job title? In a quick phrase or two, could you define your job's key responsibility?
Emily C. Martin: I am the main artist and co-creator for the all-ages fantasy comic, "Princeless." I draw interiors and covers for the main story, and I am the lead design artist for all the "Princeless" characters.
PREVIEWSworld: Could you please explain how your work helps make comics a reality? (Connect the dots for us. Where are you in the flow of getting a book into reader hands?)
Emily C. Martin: As a comic artist, I turn the comic script into the pages you read, with all the characters and details of story provided by the writer. I collaborate with the writer/creator of the comic to bring a shared vision of the story to life. I send in character designs and rough draft pages to my writer and editor, and once approved, I turn them into complete artwork by drawing the pages out on paper, scanning them onto the computer, sharing the files with my inker, colorist and letterer to complete, and then sending them off to the publisher. I also look over the artwork of guest artists for approval.
PREVIEWSworld: What's the part of your job you enjoy the most?
Emily C. Martin: I love the process of making comic pages. It is the most satisfying part of the process to me.
PREVIEWSworld: What comic titles have you worked on?
Emily C. Martin: I have worked on "Princeless," as well as a self-published comic called "Otherkinds."
PREVIEWSworld: How did you get started?
Emily C. Martin: I started with self-publishing, and learned as I went. I tabled at several conventions, and networked with several folks in publishing, and eventually began working with a publisher on "Princeless."
PREVIEWSworld: How did you learn all the skills you needed for your position?
Emily C. Martin: I mostly taught myself, through a lot of practice, patience, and reading a lot of comics.
PREVIEWSworld: Talk to us about the heroic people in your comics life. Who do you admire?
Emily C. Martin: There are countless people in comics whom I admire—some I have met, some I haven't. However I must mention my writer on "Princeless," Jeremy Whitley, as well as writer Gail Simone, writer/artist Becky Cloonan, writer/artist Stan Sakai, and editor Dave Marshall.
PREVIEWSworld: Who inspires you? Why?
Emily C. Martin: There are too many names to list, so if I had to narrow it down, I would go with Bill Watterson, Wendy Pini, among so many others. Calvin & Hobbes was one of the most influential comics for me, and Wendy Pini (with Richard Pini) were pioneers of adult fantasy and self-publishing.
PREVIEWSworld: Please tell us about the coolest experience you've ever had thanks to your job. Every industry professional has something they absolutely love about comics. Whether it's a particular title or format or audience or tradition or something else, we're all hooked. What's special about comics for you? Would you be willing to share a treasured memory about it?
Emily C. Martin: One of my coolest experiences in comics is actually wonderfully consistent: every time I encounter my fans at conventions, and hear the stories about how Princeless has inspired young people.
PREVIEWSworld: If you had one comics-related wish—no limits—what would it be?
Emily C. Martin: I wish I could never stop making comics!
PREVIEWSworld: Do you have an online presence we can link to and share with our readers?
http://www.megamoth.net, @megamoth on twitter and @megamoth on tumblr.