Women in Comics Month: Interview with Amy Chu
Feb 27, 2018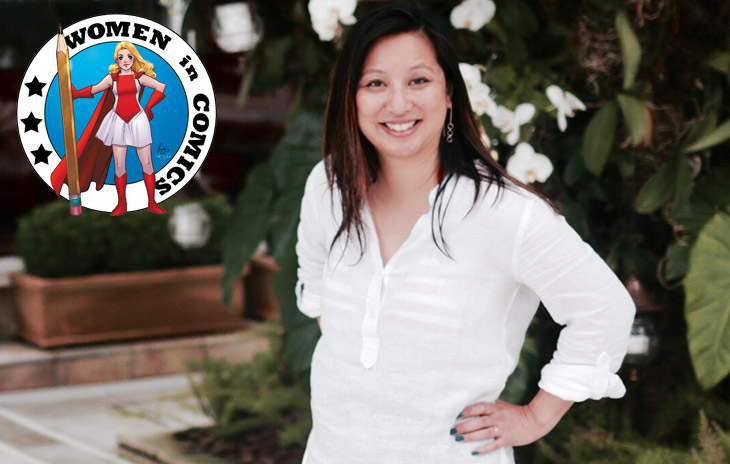 In honor of Women in Comics Month this March, PREVIEWSworld talks with writer Amy Chu!
*************

PREVIEWSworld: Who is your current comics employer?
Amy Chu: Like most writers, I'm a freelancer so I currently write for Dynamite Entertainment and Lion Forge.
PREVIEWSworld: What is your primary job title? In a quick phrase or two, could you define your job's key responsibility?
Writer. I view my job as like a story architect - i create the scripts - the blueprints- that the penciler, inker, colorist and letterer work from.
PREVIEWSworld: Could you please explain how your work helps make comics a reality? (Connect the dots for us. Where are you in the flow of getting a book into reader hands?)
Amy Chu: I essentially create the story structure and framework for the comic - I think many readers don't realize the writer is responsible for the page and panel breakdowns- basically which action happens where, as well as the dialogue and captions.
PREVIEWSworld: What's the part of your job you enjoy the most?
Amy Chu: There is no substitute for meeting a fan at a convention and then finding out your comic is the first comic they've ever read.
PREVIEWSworld: What comic titles have you worked on?
Amy Chu: Poison Ivy, Sensation Comics Wonder Woman, Deadpool Mercs for Money, KISS, Red Sonja, and now Dejah Thoris, Green Hornet and Catalyst Prime SUMMIT.
PREVIEWSworld: While there are loads of professionals in the comics industry, there are only so many folks who get to do what you do! How did you get started? How did you learn all the skills you needed for your position?
Amy Chu: I was helping a girlfriend of mine make her own comic and I just got sucked in. I took online classes on editing, writing, art, coloring, lettering, the whole works. I wanted to learn the whole enchilada.
PREVIEWSworld: Talk to us about the heroic people in your comics life. Who do you admire? Who inspires you? Why?
Amy Chu: Amongst the pros, it's the colorists and letterers. They get handed crazy deadlines and then proceed to save the book every month, and most readers don't even realize it.
PREVIEWSworld: Please tell us about the coolest experience you've ever had thanks to your job.
Amy Chu: Wow, I'm lucky there have been a bunch. A high school classmate reached out to me recently - she volunteers for Wounded Warriors Projects and apparently a number of the vets she works with really enjoy reading my comics. I had no idea! I've learned not to underestimate the impact of comics on people's lives.
PREVIEWSworld: If you had one comics-related wish—no limits—what would it be?
Amy Chu: If at least one person in every household bought and read a comic, what a different world it would be!
PREVIEWSworld: Do you have an online presence we can link to and share with our readers?
Amy Chu: My website is iwritecomics.com and I'm on twitter at @amychu and instagram at @amy_chu.