Enter To Win Our Read Black Panther Giveaway
Feb 08, 2018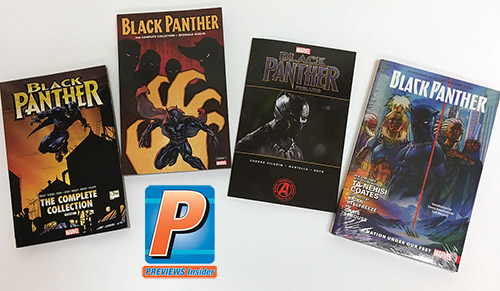 THIS CONTEST HAS ENDED. THANKS TO ALL WHO ENTERED!

The highly anticipated Black Panther movie is almost here and PREVIEWSworld is celebrating by giving away some graphic novels!

Enter now for a chance to win our Read Black Panther Giveaway!

The Read Black Panther Giveaway Prize Pack contains: Black Panther by Christopher Priest: The Complete Collection Vol. 1, Black Panther by Reginald Hudlin: The Complete Collection Vol. 1, Marvel's Black Panther Prelude, and Black Panther Vol. 1 Hardcover: A Nation Under Our Feet!

Just become a PREVIEWS Insider and sign up for our FREE Weekly e-Newsletter! If you are already signed up, then you are already entered. But if not, use the form below to Sign Up Now! Contest ends Monday, February 19th!
(One Winner will be selected at random from all PREVIEWSworld e-Newsletter Subscribers as of 2/19/18 at 11:59PM)

Become a PREVIEWSworld Insider now and sign up below for our FREE Weekly e-Newsletter!
Here's what you can expect from our weekly E-mail:
New Releases: what's on sale now in comic shops!
PREVIEWS Prevues: First look previews of upcoming book releases!
Articles & Interviews: before they're posted anywhere else!
Exclusive Contests & Giveaways: Only for PREVIEWS Insiders!