Product Changes (11/07)
Nov 07, 2017
PREMIERS

DC ENTERTAINMENT

• Batman Annual #2 (SEP170278, $4.99) now features art by Lee Weeks and Michael Lark.

• Injustice 2 Annual #1 (SEP170368, $4.99) is now written by Tom Taylor & K. Perkins with art by Marco Santucci, Jamal Campbell & David Yardin. Also includes a new backup story written by Brian Buccellato with art by Pop Mhan.

• Robin Vol. 5 TP (SEP170422, $24.99) has been subtitled War of the Dragons, increased to 328 pages, and now collects Robin #14-#22, Robin Annual #3 and Detective Comics #685-#686.


IDW PUBLISHING

• The Cover A artist for Scarlett's Strike Force #1 (OCT170420, $3.99) and #2 (NOV170515, $3.99) will be Harvey Tolibao, not Khary Randolph.


IMAGE COMICS

• Mage TP Book 2: The Hero Defined Vol. 3 (OCT170691, $19.99) now runs 208 pages, not 216 pages, with no change in price.

• The Further Adventures of Nick Wilson #1 (Cvrs. A/B: NOV170648 / NOV170649, $3.99 ea.) now runs 32 pages, not 40 pages.


MARVEL COMICS

• Guardians of the Galaxy #150 Artist Variant LEG (OCT170819, $4.99) will now have art by Mike Allred.

• Old Man Logan #31 Artist Variant LEG (SEP170862, $3.99) will now have art by Harvey Tolibao.

• Spider-Man/Deadpool by Kelly & Mcguinness HC (SEP170992, $34.99) will now be 272 pages, not 364 pages.

• Star Wars: Jedi Republic — Mace Windu #4 (Reg./Vars.: SEP170975 / SEP170976 / SEP170977, $3.99 ea.) will now have interior art by Denys Cowan & Edgar Salazar, instead of Cowan alone.

• America #10 LEG (OCT170932, $3.99) will now have interior art by Flaviano Armentaro & Jen Bartel, not Joe Quinones.

• Peter Parker: The Spectacular Spider-Man #298 LEG (OCT170901, $3.99) and #299 (NOV170961, $3.99) will now have interior art by Adam Kubert and Juan Frigeri, not Kubert alone.


COMICS

• BOOM! Entertainment's Hi-Fi Fight Club (#1 Reg./Sub.: JUN171291 / JUN171292; #2: JUL171525; #3: AUG171352; #4: SEP171331; $3.99 ea.) has been retitled Heavy Vinyl.

• The artist for Cover B of Action Lab Entertainment's Miraculous: The Adventures of Ladybug and Cat Noir #6 (NOV171109, $3.99) will be Angie Nasca, not Trevor Grace. The cover art is shown here.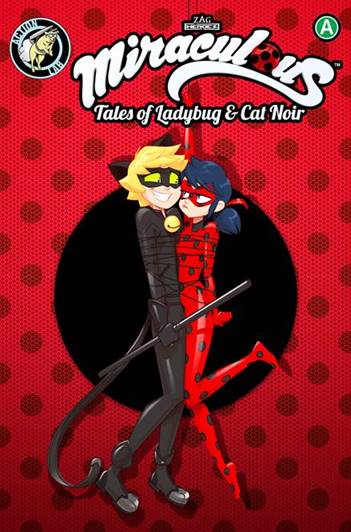 • NBM's The Mercenary: The Definitive Edition HC Vol. 2 (NOV171771, $17.99) was solicited in the November PREVIEWS with the wrong contents. The correct contents are as follows:

Continuing the full reprint of the classic series in breathtaking reproduction and handsome keepsake quarterbound editions. The graphic novel series that set comics on a new path! The Mercenary embarks on one of his most perilous journeys ever as he tries to stop an unscrupulous alchemist who has stolen a highly dangerous mysterious formula. Each volume is complemented with articles at the back about the history and the making of this series over its gloried decades-long history.