Product Changes (10/03)
Oct 03, 2017
PREMIERS

DC ENTERTAINMENT

• Action Comics #991 Variant Edition (AUG170190, $2.99) now features a Justice League Movie cover by Ryan Sook.

• Blue Beetle #14 (AUG170205 / AUG170206, $3.99 ea.) now features art by Scott Kolins.

• The Flash #33 (AUG170180 / AUG170181, $2.99 ea.) is a Metal tie-in has been retitled "Bats Out of Hell" Part One and now features the first of a 4-part connecting cover by Ethan Van Sciver.

• Gotham City Garage #2 (AUG170277, $3.99) now runs 32 pages at a lower price of $2.99.

• Hal Jordan and the Green Lantern Corps #31 Variant Edition (AUG170222, $2.99) now features a cover by Barry Kitson.

• Suicide Squad#28 (AUG170247, $2.99) now features a cover by Tony Daniel and Danny Miki.

• House of Secrets: The Bronze Age Omnibus HC (JUL170478) now carries a price of $125.


IDW PUBLISHING

• Samurai Jack: Quantum Jack #2 Cover A (AUG170398, $3.99) will have cover art by Michael Avon Oeming, not James Stokoe, as erroneously solicited.


IMAGE COMICS

• Deadly Class #31 Cover B (MAY170676, $3.99) will now have cover art by Andrew Robinson, not Daniel Warren Johnson.

• The Walking Dead Tribute Cover for Angelic #2Covers B (AUG170604, $3.99) & C (JUL178874, $3.99) will be based on the cover of The Walking Dead #2, not #50


MARVEL COMICS

• The Amazing Spider-Man #790 LEG (AUG170784, $3.99) will now be written by Dan Slott and Christos Gage, instead of Slott alone.

• Generations: Captain Americas #1 2nd Ptg. Renaud Variant (AUG178499, $4.99) will now have coverart by Olivier Coipel.

• Marvel Stamp Collector Album (Bundle of 25) (JUL178378) will now be retitled Marvel Value Stamp Collector Album.

• Nick Fury TP Vol. 1: Deep Cover Capers (AUG171033, $17.99) will no longer carry the Volume 1 designation.

• The Astonishing X-Men #5 Character Variant (SEP170959, $3.99) will now have art by Greg Land.

• Marvel Graphic Comic Boxes (SEP171027) will now be retitled Marvel Graphic Comic Boxes: Phoenix.

• In addition to G. Gurihiru and Jay P. Fosgitt, Not Brand Echh #14 LEG (SEP170886 / SEP170887 / SEP170888, $3.99) will now have art by Chip Zdarsky, Erica Henderson, Katie Cook and Scott Koblish.

• Spider-Man: Miles Morales TP Vol. 3 (JUL171214, $19.99) will now be 160 pages, instead of 152. pages.


COMICS

• Lion Forge's Superb TP Vol. 1: Life After the Fallout (OCT171690F, $14.99) will now run 152 pages, not 144 pages, and will also have new cover art, shown here.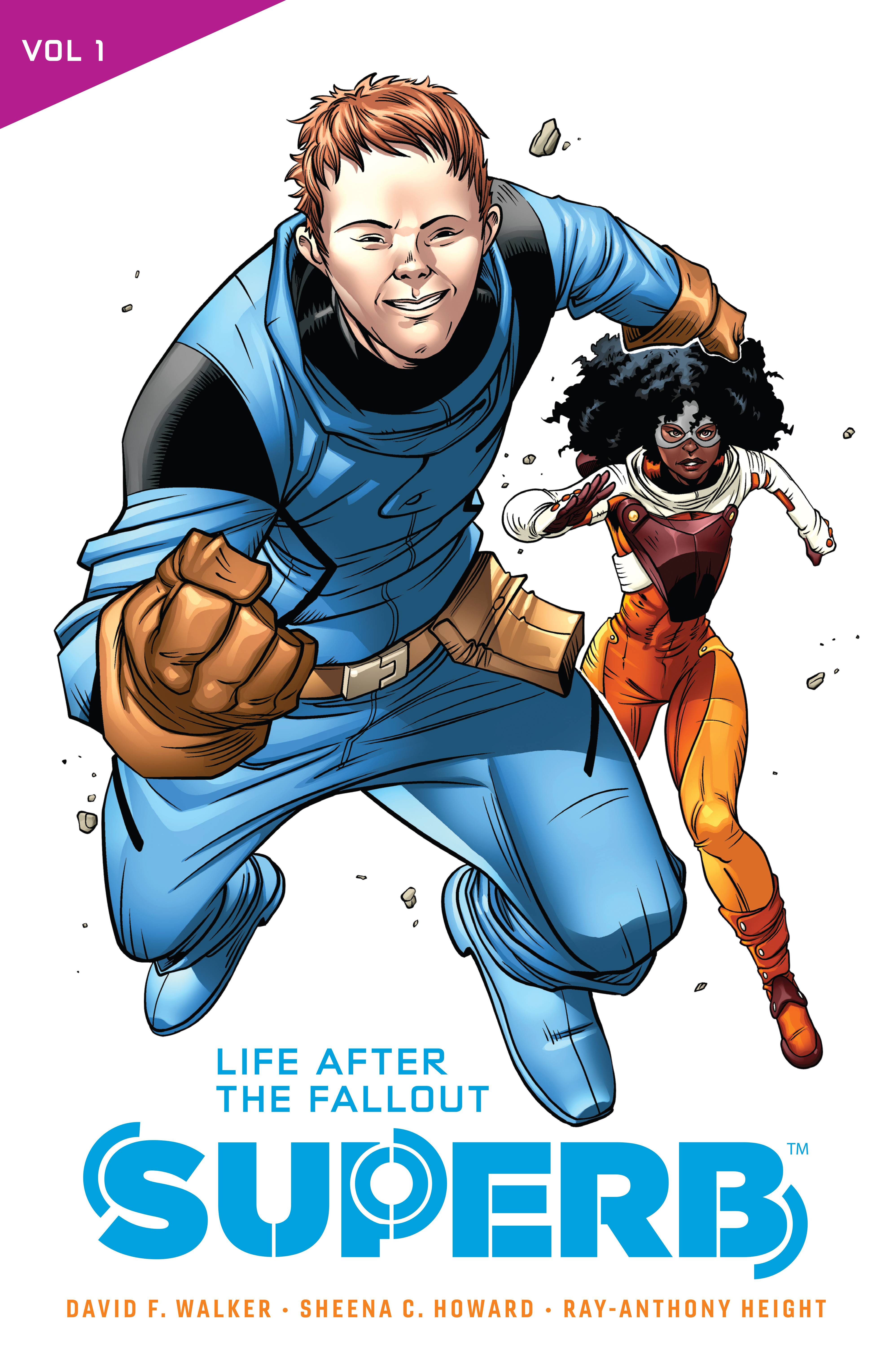 • Oni Press' Local Comic Shop Day 2017 Tales from Johnny Wander (AUG178065E) — solicited as a regular comic with a $3.99 SRP — will, in fact, be a special Limited Collector's Edition with a card stock cover. Due to the format upgrade and the limited availability of the comic, it will now carry a $10 SRP.

• Archie Comic Publications' Riverdale (Ongoing) #7 (Cvrs. A/B: AUG171222 / AUG171223, $3.99 ea.) will now feature pencils & inks by Thomas Pitilli, coloring by Andre Szymanowicz and lettering by Janice Chiang.


IMPORT TOYS & MODELS

• Bandai Hobby's Star Wars Episode VIII: The Last Jedi Resistance Vehicle 2-pk. Model Kit Set (JUL178913) is now a 3-pack.