Start Here: Five New Comics For June 21st
Jun 19, 2017
by Andrea Purcell

If you're looking for a fresh new series or a jumping-on point to an ongoing comic, you can Start Here. This week Bill and Ted take on the universe in an all new mini-series, Batman battles the Joker and Riddler in an extra sized anniversary issue, Gail Simone and Cat Staggs make their Image debut, and more!
Every week we'll collect five titles with new number ones or fresh story arcs perfect for readers looking to jump into new series. These new releases are available at your local comic shop and feature comics from any genre or publisher.
Don't hesitate, these series are ready for new readers to enjoy - all you have to do is Start Here.
---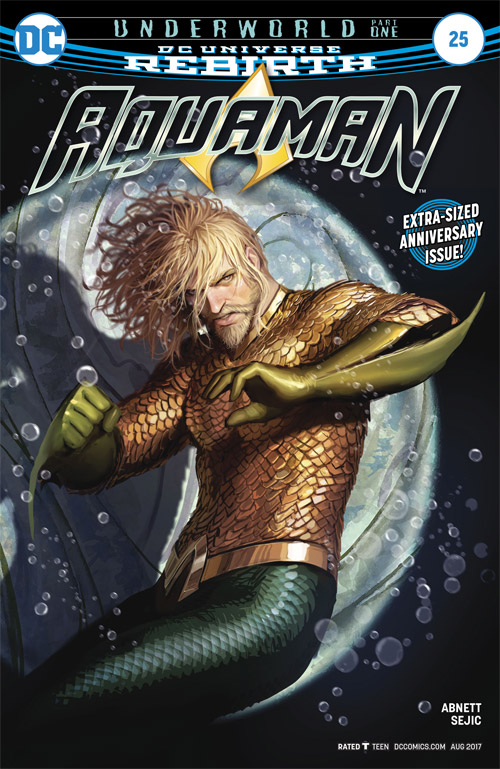 Aquaman #25
Dan Abnett and Stjepan Sejic are taking Arthur on his boldest and most harrowing adventure yet as a new era for the fan-favorite character begins in Aquaman #25 (APR170271). This extra sized anniversary issue starts with "Underworld" as Arthur is beset on all sides by terrorists, crime lords, and the malicious King Rath. But all is not lost - as persistent whispers of a rebel in the slums of Atlantis make their way to the King, a rebel with the potential to change the world.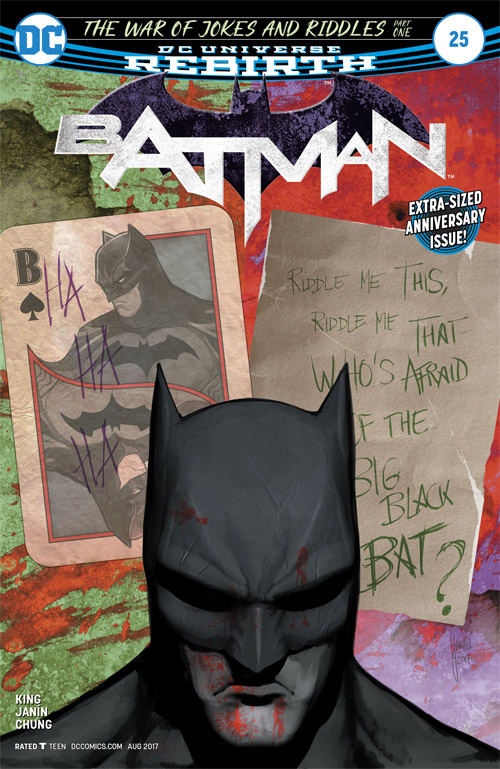 Batman #25
It's the start of a new story arc in Batman #25 (APR170281) as Tom King and Mikel Janin begin "The War of Jokes and Riddles." This oversized anniversary issue beckons back to the spirit of Year One and The Long Halloween as the never-before-told story of the Dark Knight's greatest failure unravels. Narrated by Bruce Wayne himself, this tale of horrors is truly a classic Batman epic in the making. As he becomes stuck between the Joker and the Riddler, Batman is forced to make a choice that will haunt him for the rest of his life.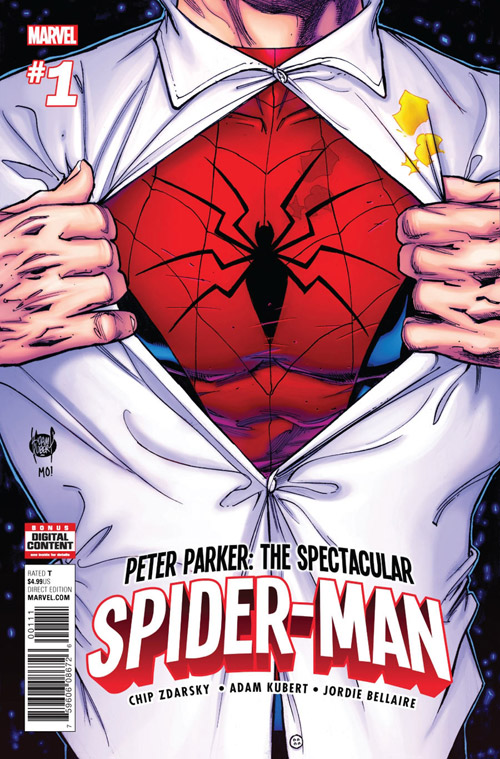 Peter Parker: The Spectacular Spider-Man #1
Spider-Man returns to his light-hearted roots in an all new series from Chip Zdarsky and Adam Kubert – perfect for new and old fans alike! Peter Parker: The Spectacular Spider-Man #1 (APR170970) is a companion series to the best-selling The Amazing Spider-Man that finds Peter going back to basics in the Big Apple. The wise-cracking webslinger is taking foes old and new while he struggles to juggle his everyday life with his heroic alter-ego. Perfect for readers looking for a light hearted take on the beloved Web-Head or for fans of the upcoming Spider-Man Homecoming film looking for an easy entry point into the Marvel mythos.
Crosswind #1
Award-winning writer Gail Simone and fan-favorite artist Cat Staggs are making their Image Comics debut with a new series that mixes gender politics with crime statistics in Crosswind #1 (APR170674). As an unforeseen and inexplicably strange event intertwines the lives of a hardboiled Chicago hit-man and a clever but downtrodden Seattle housewife they must work together to survive – and hopefully find a way to switch back! A body-swapping crime combo that's sure to prove a bombshell hit, fans of mobster movies and body swap comedies won't want to miss out. Read our interview with Gail Simone and Cat Staggs to learn more!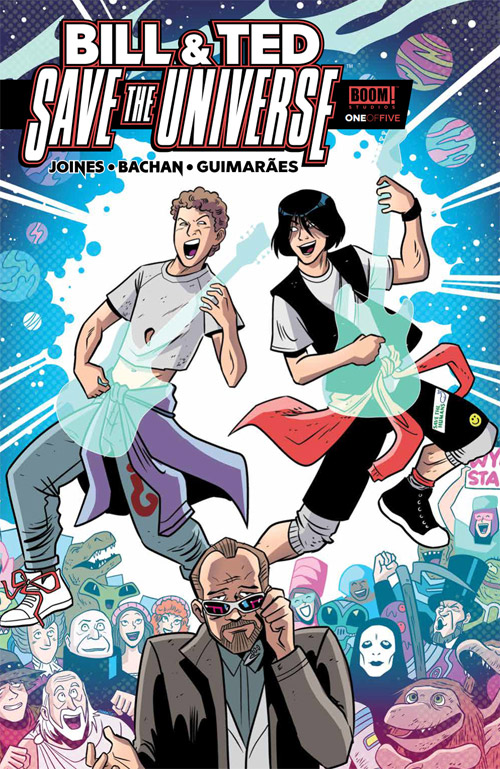 Bill and Ted Save the Universe #1
Break out your finest 80's gear as BOOM! Studios brings The Wyld Stallyns back in an all new five issue mini-series that finds the band traveling across the whole universe! Writer Brian Joines and artist Bachan are teaming up for another bodacious adventure in Bill and Ted Save the Universe #1 (APR171382). The totally tubular twosome have been kidnapped by a gnarly alien who hands them over to their long lost family. It's up to Bill and Ted to find out what their families what with them and what this means for the future of the world and The Wyld Stallyns!
Find more of this week's new releases here!
**********
Andrea Purcell is a Web Content Writer for PREVIEWSworld.com and a part-time assistant to busy comic creators. Her favorite past times are singing karaoke at comic conventions and memorizing obscure trivia about random pop culture.