Product Changes (12/27)
Dec 27, 2016
FREE COMIC BOOK DAY

• The cover artist for Humanoids' Free Comic Book Day 2017: The Incal (JAN170031) was incorrectly credited in PREVIEWS as U-Jin. The correct cover artist is Moebius.


PREMIERS

IMAGE COMICS

• The creators for Island #14 (OCT160617, $7.99) have changed and now include Farel Dalrymple, Jess Polard, Remy Boydell & Michelle Pérez, Troy Nixey, Ana Galvan and M.L. MacDonald.

• Seven to Eternity TP Vol. 1 (DEC160767, $9.99) will now run 128 pages, not 120 pages, with no change in price.

• CORRECTION: Injection #11 (JAN170699 / JAN170700) was erroneously solicited in the January PREVIEWS at a price of $2.99. The issue's correct price is $3.99.


COMICS

• Archie Comic Publications has released updated cover art for Jughead TP Volume 2 (DEC161261, $17.99), shown here.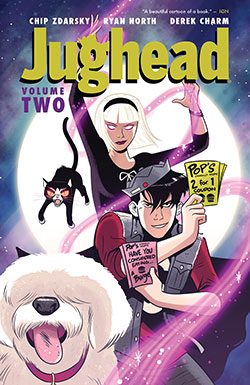 MAGAZINES

• Due to the passing of horror icon John "The Cool Ghoul" Zacherle, Monster Bash Magazine #29 (NOV162138, $8.99) will be retitled Monster Bash Magazine Special: Zacherle. There will be no change in price or page count for the issue.