Now The Kids Are Champions
Oct 02, 2016
The old adage goes something like this: "meet the new boss, same as the old boss." You can hear it from all walks of life, from all kinds of people from all kinds of backgrounds. You'll even hear it in "Won't Get Fooled Again" by The Who. Much like the thinking that went into that song title, so, too, do the wheels go spinning round and round for some young guns in the Marvel Universe. Who says we have to listen to the new boss if he or she is outdated? In this PREVIEWSworld Exclusive interview with Marvel Editor Tom Brevoort, we get an inside look at what has motivated some costumed heroes to don a decades-old team name buried deep in the back-issue boxes. Meet the new kids on the block, ladies and gentlemen. They're alright, and they're in Marvel NOW!'s Champions #1 (AUG160733) from Mark Waid and Humberto Ramos.

Get it on October 5th at your local comic shop!
**********
PREVIEWSworld: In a "Divided We Stand" future, artist Humberto Ramos and writer Mark Waid are making new magic with a Champions comic book series this October. What's the back story on why some former Avengers are now suddenly flying under a banner that goes back to the 1970s?
Tom Brevoort: The title was a fortuitous happenstance, given that it's both a good, strong super hero team name and a title that has some history for long-time Marvel readers. So we were lucky that things worked out this way, as we only had a list of second-rate options for the team name if they had not. In terms of the characters, without giving too much of the series away, during Civil War II these young heroes have discovered firsthand that the more seasoned heroes that they had idolized themselves have feet of clay, and so they're driven like any young person to re-examine what kinds of super heroes they want to be, rather than simply following directly in their adult inspirations' footsteps.
PREVIEWSworld: With the generational gap firmly in place between the Avengers and the newly-formed Champions, what kind of cultural differences might come up as obstacles between the "old guard" and the "young guns"?
Tom Brevoort: Not that there won't be conflict, but the Champions aren't Anti-Avengers per se. Their decisions are based on self-actualizing what they want to be. But there's still plenty of mutual respect between the younger heroes and the more established ones. That said, the Champions are more likely to try to get involved with issues that are going on in the world today, and also more likely to make a few mistakes while doing so. Their passion won't always be a good substitute for experience, and sometimes the situations they get involved in won't be black and white, they'll be messy.
PREVIEWSworld: A power struggle seems to already be in the making between certain members of the team. Who's getting in whose face? And who is most likely to first reach for the long knives?
Tom Brevoort: The group is together because they want to be, because they choose to be, so we're a ways from any long knives, at least at the outset. There'll definitely be a tug-of-war to see who becomes the dominant voice in the team, because at least half of the characters would naturally come to the fore as leaders. In terms of volatility, I would think that the Hulk might be the character to watch in that regard — he's the Hulk, after all!
PREVIEWSworld: A question could arise that asks why these young heroes should be labeled "Champions." With relatively short résumés between them, could "Champions" be a loaded term for these heroes that may still be working out the kinks in their teamwork?
Tom Brevoort: "Champions" isn't the name they choose, but the name they're given by the world, and by circumstance. But it's a very valid reflection of what they're trying to be, so it's a good fit. And there'll certainly be some rough patches for any number of these characters in the book, it won't all be smooth sailing. Still, the name "Champion" brings with it less baggage than the name Avengers in the Marvel Universe — the Champions are going to define the name, and the term through their actions.
PREVIEWSworld: From what we've heard here at the office, this book is one of many new titles that we can expect from Marvel NOW. Could you give us a preview of what other NOW books might be rolling out soon from the House of Ideas?
Tom Brevoort: You've seen the previews we've been doing, there are so many — more than I can comprehensively list here. But among the new series that are coming out in my area in the months ahead under the NOW banner, we've got Infamous Iron Man, U.S. Avengers, Occupy Avengers, Great Lakes Avengers, Jessica Jones, The Unstoppable Wasp and, of course, the long-awaited release of Cage! Plus Mosaic, among others, from other editorial offices.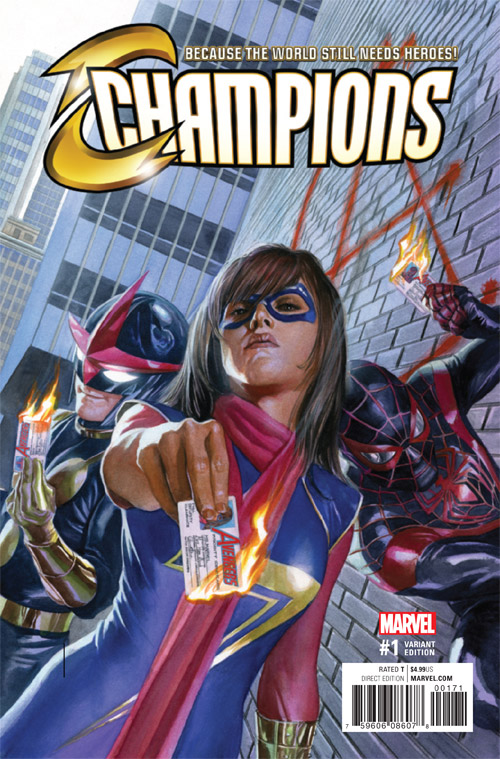 CHAMPIONS #1 (AUG160733)
Written by MARK WAID
Art & Cover by HUMBERTO RAMOS
Party Variant by JAY FOSGITT (AUG160748)
Variant Covers by ALEX ROSS (AUG160734) & SKOTTIE YOUNG (AUG160735)
Champions Variant by MARK BROOKS (AUG160739)
Classic Ghost Rider Action Figure Variant by JOHN TYLER CHRISTOPHER (AUG160737)
Miles & Hulk Action Figure Variant by JOHN TYLER CHRISTOPHER (AUG160736)
Hip-Hop Variant by RAHZZAH (AUG160740)
Captain America 75th Anniversary Variant Also Available (AUG160738)
Blank Cover Available (AUG160741)