Indie Edge October 2016: Adam Glass
Sep 22, 2016
Please tell us a bit about yourself!
Though NYC will always be home, Adam resides in Los Angeles and is a TV Writer/Executive Producer of such shows as Supernatural, Cold Case and currently Criminal Minds: Beyond Borders on CBS. When Adam is not writing for TV or films, he's writing graphic novels. Some of these titles include: Marvel Comics' Deadpool: Suicide Kings (Deadpool Classics Vol. 14 / SEP150875) and DC Comics' Suicide Squad (Vol. 1: Kicked in the Teeth / APR120250) — all of which were NY Times bestsellers. Other books Adam has written or co-written for Marvel are Deadpool: Pulp, Luke Cage: Noir, Deadpool Team-Up and Luke Cage: Origins. And for DC, JLA Annual and the Flashpoint series, Legion of Doom. Most recently, Adam finished an original 6-part graphic novel for Oni Press called Brik (Issue #1 / MAY161667), about a boy and his Golem, and Rough Riders for Aftershock Comics, a reimaging of Teddy Roosevelt's involvement in the Spanish American War, which is being collected into a trade paperback this month.
What are your favorite projects you've contributed to over the past decade?
Wow, I've been very fortunate to be part of some pretty cool stuff. Putting Harley Quinn, who I love, into Suicide Squad is top of my list. But I loved doing Luke Cage: Noir and Deadpool: Suicide Kings also.
What are you currently working on?
I'm working on the second chapter of my AftershockComics title Rough Riders. This book is a dream come true for me, I so love writing it! At the same time, I'm also writing/executive producing and co-running the Criminal Minds spin-off series on CBS called Beyond Borders.
What fun titles are you reading?
Saga (Vol. 1 Dlx. HC / SEP140591): Brian K. Vaughan walks the thin line between reality and absolute madness in Saga. I remember watching Star Wars as a nefarious youth wondering what the their drugs, crime and murders looked like... Street Star Wars, if you will. Saga does this beautifully, at times creating moments of complete insanity while counteracting it with what I consider to be the best family story currently in comic books.
Alters (See Page 261): My sixteen-year-old daughter uses the word "Fluid" a lot to describe her friend's sexuality and overall personality, and that is exactly what I love about Alters. It's Fluid and has the familiar foundation of an X-Men book, but the fresh twist is that it's about real people, in a real world, dealing with real problems. It's a book that feels more about now than anything else out there. It's the book I didn't know I needed.
The Bunker (Vol. 1 / MAR141297): Joshua Fialkov made time travel badass. Through taking standard time travel tropes and placing them in an apocalypse / horror setting, we feel as if we're living in a new Twilight Zone episode. Situation trumps character and makes for an eerie read. With ample twists and looming mass extinction, one would imagine The Bunker to be a hard and unsympathetic read, which in some senses it is. But its bleak creativity makes it hard to put down!
EDGE ESSENTIALS
Pick up these books to learn more about Adam Glass' Indie Edge style!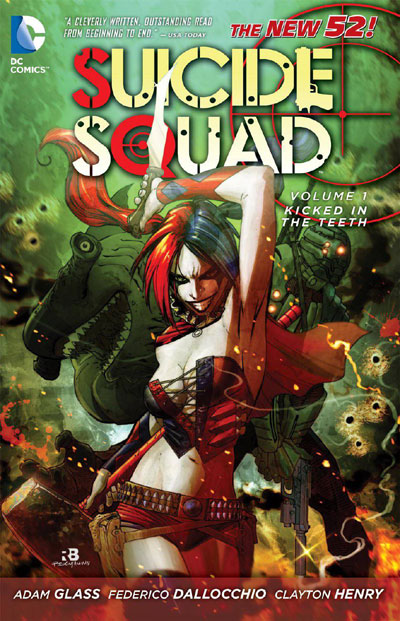 Suicide Squad Vol. 1: Kicked in the Teeth (APR120250)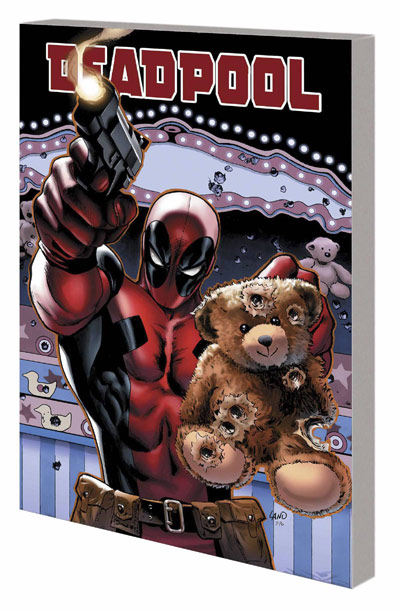 Deadpool Classics Vol. 14: Suicide Kings (SEP150875)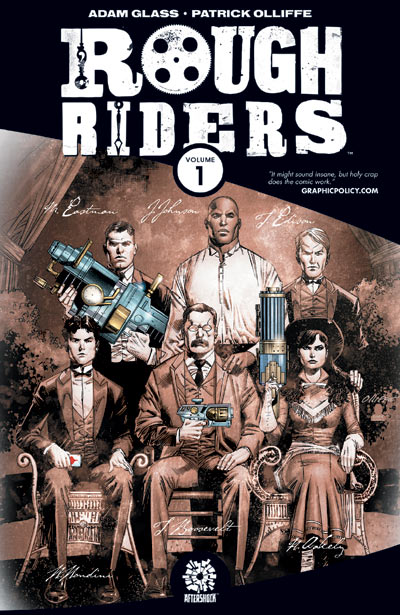 Rough Riders Vol. 1 (OCT161101)