Product Changes (08/16)
Aug 16, 2016
PREMIERS

DC ENTERTAINMENT
• The figures in the DC Rebirth: Justice League of America Action Figure Seven-Pack (AUG160372, $100) will measure 6" each, not 6-3/4".

• The back-up story for Suicide Squad #2 (JUL160346 / JUL160347, $2.99 ea.) will be "Captain Boomerang: Agent of Oz," in which Amanda Waller digs deep into the implausibly impressive origins of the Suicide Squad's most loathsome member to discover the truth the world has been asking for: just who made Boomerang a captain anyway? This seven-page backup story is written by Rob Williams with art by Ivan Reis and Oclair Albert!


MARVEL COMICS

• George Romero's Empire of the Dead HC (JUL161064, $50) now has a new cover, shown here.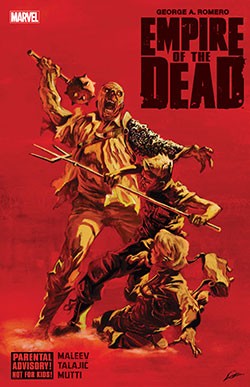 • Marvel Tsum Tsum #2 Variant (JUL160966, $3.99) will have cover art by Gustavo Duarte.

• All New Inhumans #11 (JUL160989, $3.99) will have interior art by Rhoald Marcellius, not Stefano Caselli.

• Black Panther #6 Defenders Variant (JUL161004, $3.99) will have cover art by Pasqual Ferry.

• Deadpool #18 CW2 (Reg./Vars.: JUL160946 / JUL160947 / JUL160948, $3.99 ea.) will have interior art by Brian Level along with Mike Hawthorne.

• Uncanny Inhumans #13 CW (JUN160798 / JUN160799, $3.99 ea.) will have interior art by Aaron Kim Jacinto as well as Carlos Pacheco.

• Agents of S.H.I.E.L.D. #9 CW2 (JUL160927, $3.99) will have interior art by Ario Anindito, not German Peralta.

• The Amazing Spider-Man #18 Defenders Variant BDNM (JUL160971, $3.99) will have cover art byDale Keown.

• The Mighty Thor #11 Prostate Cancer Awareness Variant (JUL160960, $3.99) will have cover art by Pasqual Ferry.

• Patsy Walker AKA Hellcat #10 Jarrell Defenders Variant (JUL161012, $3.99) will now have cover art by Joyce Chin.

• Deadpool Annual #1 (JUL161029 / JUL161030 / JUL161031, $4.99 ea.) will also have Adam Warren as a writer/artist along with writers Gerry Duggan & Brian Posehn and artist Scott Koblish.

• NOW Champions #1 Christopher NOW Action Figure Variant (AUG160736, $4.99) will now feature Viv Vision, not Miles Hulk.

• Spider-Man/Deadpool #9 Story Thus Far Variant (JUL160973, $3.99) will have cover art by Julian Tedesco.

• NOW Great Lakes Avengers #1 Hip Hop Variant (AUG160785, $3.99) will have cover art by Damion Scott.

• Captain America Epic Collection TP: The Coming of Falcon (JUN160977, $39.99) will be 496 pages, not 480 pages.

• Power Man and Iron Fist TP Vol. 1: The Boys are Back in Town (JUN160961D) will be 112 pages and $15.99, not 136 pages and $17.99, with no content change.

• Star Wars: Journey to Star Wars: The Force Awakens — Shattered Empire HC (with Digital Code, SDOS) (MAY160921, $24.99) was printed without instructions for the digital redemption code, which was affixed to a page with sketch art on it. Readers should go to www.marvel.com/redeem to redeem the code.


TOYS/STATUES & MODELS

• The Ninja Gaiden 3: Ayane 13" Statue (JUN168964, $324.99) includes integrated LED lights and includes a custom collector-friendly box, a 5v 0.5A USB cable, and a standard 100-240V AC adapter, features that were not included in its original solicitation.