Product Changes (05/24)
May 24, 2016
PREMIERS

DC ENTERTAINMENT

• Poison Ivy: Cycle of Life and Death #6 (APR160361, $2.99) now features art by Al Barrionuevo, Sandu Florea & Scott Hanna.

• Scooby Apocalypse #2 (APR160370 / APR160371) was erroneously listed in the April PREVIEWS Order Form at a price of $2.99. Its correct price, as solicited in DC Comics Previews, is $3.99.

• FOC CHANGE: Suicide Squad Vol. 4: The Janus Directive TP (APR160402), solicited as a hardcover at a price of $39.99, is now a TP priced at $19.99.

• Teen Titans Go Vol. 2 TP (APR160400, $12.99) is now subtitled Welcome to the Pizza Dome.


IMAGE COMICS

• Monstress TP Vol. 1 (MR) (APR160803, $9.99) now runs 208 pages, not 192 pages, with no change in price.

• The Legacy of Luther Strode TP Vol. 3 (MR) (APR160834, $17.99) will now run 176 pages, not 184 pages, with no change in price.


MARVEL COMICS

• Black Panther #2 Stelfreeze 2nd Ptg. Variant (MAR169134, $3.99) will now have a cover by Rahzzah.

• Nova #8 Civil War Reenactment Variant CW2 (APR160904, $3.99) will have cover art byTom Raney.

• Star Wars: Han Solo #1Variant (APR161037, $3.99) will have cover art byMike Allred.

• Inhumans/X-Men: War of Kings Omnibus HC (APR161068, $125) will now be retitledWar of Kings Omnibus HC.

• Scarlet Witch #7 Story Thus Far Variant (APR160928, $3.99) will have cover art by Nimit Malavia.

• Star Wars: Obi-Wan and Anakin TP (APR161092, $16.99) will be 120 pages, not 112 pages.


APPAREL

• Fifth Sun's DC: Harley Smiles T-shirt (SM-XL: MAR162197 / MAR162198 / MAR162199 / MAR162200, $19.99 ea.; XXL: MAR162201, $21.99) – solicited as a white shirt – will now be a red shirt. The design is unchanged. The revised art is shown here.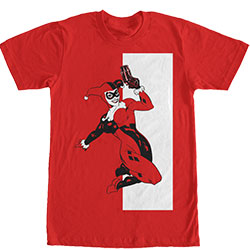 TOYS

• The price of Diamond Select Toys' Alice Through the Looking Glass: Gallery Alice PVC Figure (JUN162362) is listed incorrectly as $24.99 in the June PREVIEWS Order Form. In fact, the figure's correct price is $45, as solicited in the catalog.


COLLECTIBLES & NOVELTIES

• Unavailable at the time PREVIEWS went to press, the dimensions of each Comic Tile in Cryptozoic Entertainment's DC ComicsMini Comic Tile Collection 1 (FEB168264/MAY162914, $100) are 1.5" wide x 3" tall. Additionally, the metal spinner rack stands approximately 13" tall.