Product Changes (10/20)
Oct 20, 2015


PREMIERS

DARK HORSE COMICS

• Dark Horse has released final cover art for its Local Comic Shop Day 2015 Call of Duty Black Ops III #1 (AUG158578, $3.99), shown here.


DC ENTERTAINMENT

• The titles of Justice League: Lex Luthor #1 (AUG150172, $3.99) and Justice League: SHAZAM! #1 (AUG150173, $3.99) are now subtitled "Darkseid War".


IMAGE COMICS

• Cover A (SEP150529, $3.99) of Goddamned #1 will be by R. M. Guera, not by Guera & Guilia Brusco.

• Image has released the art for The Wicked + The Divine Cover B (SEP150550, $3.50), shown here.



• Saga #30 (NOV150635, $2.99) was solicited with the wrong cover. The correct cover art is shown here.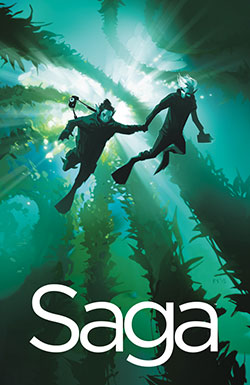 MARVEL COMICS

• All New All Different Avengers #1 (SEP150651 / SEP150652 / SEP150653 / SEP150654 / SEP150655 / SEP150656 / SEP150657 / SEP150658 / SEP150659, $4.99 ea.) will be 48 pages, not 40 pages. There will be no content change.

• Secret Wars #7 (JUL150718 / JUL150719 / JUL150720 / JUL150721 / JUL150722 / JUL150723, $3.99 ea.) will be 32 pages, not 40 pages, with no change in content.

• All New X-Men #1 Kirby MonsterVariant (SEP150669, $3.99) will have cover art by Jack Kirby.

• Moon Girl and Devil Dinosaur #1Variant (SEP150729, $3.99) will have cover art by TrevorVon Eeden, and will be retitled Moon Girl and Devil Dinosaur #1 Von EedenVariant.

• Secret Wars #8 Bianchi Variant SWA (AUG150654, $3.99) will have cover art by Tomm Coker, not Simone Bianchi, and will be retitled Secret Wars #8 CokerVariant SWA.

• Secret Wars #8 PichelliVariant SWA (AUG150656, $3.99) will have cover art by Siya Oum, not Sara Pichelli, and will be retitled Secret Wars #8 OumVariant SWA.

• Star Wars: Vader Down #1 Variant VDOWN (SEP150829, $4.99) will have cover art by Joelle Jones and will be retitled Star Wars: Vader Down #1 Jones Variant VDOWN.

• Ultimates #1 Cassaday Variant (SEP150765, $3.99) will have cover art by Arthur Adams and will be retitledUltimates #1 Art Adams Variant.

• S.H.I.E.L.D. #12 (SEP150824, $3.99) will have interior art by Joe Bennett, not Mike Perkins.

• The Unbeatable Squirrel Girl TP Vol. 2: Squirrel You Know It's True (SEP150872, $14.99) will be 120 pages, not 112 pages.

• The Avengers by Jonathan Hickman HC Vol. 3 (AUG150893, $34.99) will be 288 pages, not 272 pages.


COMICS

• The artists for Valiant Entertainment's Imperium #10 (Cvrs. A/B: SEP151673 / SEP151674, $3.99 ea.) will now be CAFU and Juan Jose Ryp.

• The artist for Valiant's Unity #24 (Cvrs. A/B: SEP151676 / SEP151677, $3.99 ea.) will now be Karl Moline