Product Changes (07/07)
Jul 07, 2015
PREMIERS

DARK HORSE COMICS

• Due to the adult content contained in Grindhouse: Drive In, Bleed Out #7 (MAY150096, $3.99), this issue will be shrink-wrapped.


DC ENTERTAINMENT

• Batgirl Annual #3 (MAY150195, $4.99) now features art by Bengal, David Lafuente, Ming Doyle and Mingjue Helen Chen

• Effigy Vol. 1: Idle Worship TP (MAY150262, $14.99) now collects #1-#7, with an increased page count of 160.

• G.I. Zombie: A Star-Spangled War Story TP (MAY150246, $16.99) now runs 208 pages.

• Justice League Dark Vol. 6 TP (MAY150242, $16.99) now carries the subtitle Lost in Forever and runs 200 pages.


IMAGE COMICS

• All profits from the Southern Bastards #10 Cover B Charleston Charity Variant (MAY158264, $3.99), created by series artist Jason Latour, will be donated in full to charity to help pay for the funerals of the victims of the Charleston, South Carolina shooting and to provide other assistance to their families. Please Note: The variant will be limited to one print run. The cover to the variant is shown here.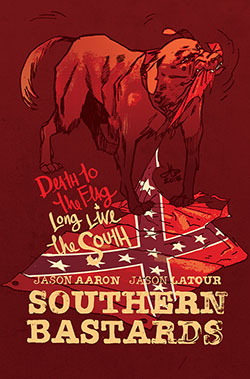 • The page count for Casanova: Acedia #3 (MR) (JAN150673, $3.99) has changed from 32 to 40 pages.


MARVEL COMICS

• Age of Apocalypse #2 Variant SWA (MAY150698, $3.99) will have cover art by Humberto Ramos, and will be retitledAge of Apocalypse #2 RamosVariant SWA.

• Infinity Gauntlet #3 Variant SWA (MAY150752, $3.99) will have cover art by Simone Bianchi, and will be retitledInfinity Gauntlet #3 Bianchi Variant SWA.

• The Korvac Saga #3VariantSWA (JUN150747, $3.99) will have cover art by Yasmine Putri, and will be retitledThe Korvac Saga #3 Putri Variant SWA.

• Secret Wars #5 CampbellVariantSWA (MAY150647, $3.99) was incorrectly solicited in Marvel Previews with "Sophie Campbell" as the artist. The correct cover artist is J. Scott Campbell.

• Secret Wars #5 Ribic Variant SWA (MAY150645, $3.99) will have cover art by Tomm Coker, not Esad Ribic, and will be retitledSecret Wars #5 CokerVariant SWA.

• E is for Extinction #3 Variant SWA (JUN150764, $3.99) will have cover art by Erica Henderson, and will be retitledE is for Extinction #3 HendersonVariant SWA.

• The following Marvel All New All Different (ANAD) Posters have been retitled:
| | |
| --- | --- |
| Original Title | New Title |
| Poster A (JUL150853, $8.99) | Amazing Spider-Man #1 by Ross Poster |
| Poster B (JUL150854, $8.99) | Doctor Strange #1 by Bachalo Poster |
| Poster C (JUL150855, $8.99) | Spider-Gwen #1 by Rodriguez Poster |
| Poster D (JUL150856, $8.99) | Extraordinary X-Men #1 by Ramos Poster |

• Magneto TP Vol. 4: Last Days (JUL150832) will be $15.99, not $12.99.

• Secret Warriors Complete Collection TP Vol. 2 (MAY150838, $34.99) will be 352 pages, not 360 pages, with no change in content.

• The Unbeatable Squirrel Girl TP Vol. 1: Squirrel Power (MAY150824, $15.99) will be 128 pages, not 112 pages.

• Please note that Star Wars #1 Cassaday 6th Ptg. Variant (APR158515, $4.99) was printed with the 1st printing cover on the outside and the 6th printing cover underneath, giving it two complete covers, one wrapping over the other.

• Spider-Man: Big Time TP Vol. 1 Ultimate Collection (MAR120678, $39.99) will be reprinted with the new title Spider-Man: Big Time TP Vol. 1 Complete Collection.


COMICS

• The solicitation for Dynamite Entertainment's The Art of Jose Gonzalez HC (JUL151216, $39.99) states that you may order "the cover of your choice". In fact, the book will be published with only one cover.