Product Changes (02/17)
Feb 17, 2015
PREMIERS

DARK HORSE COMICS

• Ghost Fleet #5 (JAN150117, $3.99), #6 (FEB150022, $3.99) and #7 (MAR150023, $3.99) have been cancelled. Please Note: The contents of these issues, plus issue #8, will be collected into a trade paperback to be solicited at a later date.


DC ENTERTAINMENT

• The contents of Vertigo's Fables Deluxe Edition Book 10 HC (JAN150396, $29.99) have been updated to include Fables #83-#85, Jack of Fables #33-#35 and The Literals #1-#3, plus the graphic novel Fables: Werewolves of the Heartland.


IDW PUBLISHING

• Avengers Micro Comic Fun Packs (JAN152235) will not contain one of 8 collectible temporary tattoos in each pack, as erroneously solicited.


MARVEL COMICS

• Nova Annual #1 Variant (JAN150801, $4.99) will have cover art by Humberto Ramos, and will be retitledNova Annual #1 Ramos Variant.

• Marvel Universe: Guardians of the Galaxy #2 (JAN150795, $2.99) will have interior art by Adam Archer, and will be written by Mairghread Scott, not Joe Caramagna.

• Guardians 3000 #6 (Reg./Var.: JAN150796D / JAN150797, $3.99) will have interior art by an artist to be announced, not Gerardo Sandoval.

• New Avengers #32 TRO (JAN150814, $3.99) will have interior art by Mike Deodato & Carlos Pacheco.

• Uncanny Avengers #3 (Reg./Vars.: JAN150809 / JAN150810 / JAN150811, $3.99) will be written by Rick Remender and Gerry Duggan.

• Howard the Duck #2 Jewels Variant (FEB150776, $3.99) has a new cover, shown here.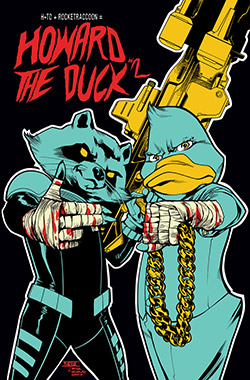 • Thor, God of Thunder HC Vol. 2 (FEB150854, $34.99) will be 320 pages, not 328 pages.

• Bucky Barnes: Winter Soldier TP Vol. 1: Man on the Wall (FEB150868, $12.99) has a new cover, shown here.



• Hawkeye TP Vol. 4: Rio Bravo (OCT140937, $17.99) has a new cover, shown here.



• Nova #25 by Adams Poster (JAN150914, $8.99) has been cancelled and will not be resolicited.

• Weirdworld TP (JAN150892, $34.99) will be retitled Weirdworld TP: Warriors of the Shadow Realm.