Product Changes (01/20)
Jan 20, 2015
PREMIERS
DC ENTERTAINMENT

• Mortal Kombat X #2 (DEC140367, $3.99) is now suggested for Mature Readers.

• Convergence #0 now carries a Variant Cover by Tony S. Daniel (JAN150220, $4.99) that replaces the 1:25 variant cover originally solicited. In addition, this issue (Reg./Vars.: JAN150218 / JAN150219 / JAN150220 / JAN150221 / JAN150222, $4.99) will now run 48 pages with a 30-page lead story plus 10 pages of supplemental material at no change to its cover price.


MARVEL COMICS

• Amazing X-Men #17 (DEC140936, $3.99) will be written by Christopher Yost only, not by Yost and Craig Kyle.

• The Superior Iron Man #5 (DEC140885, $3.99) will have interior art by Laura Braga, not Yildiray Cinar.

• Wolverines #8 (DEC140843, $3.99) will have cover art by Simone Bianchi, shown here.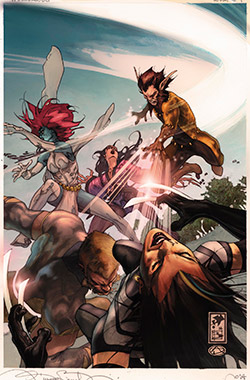 • Howardthe Duck #1 Pichelli Variant (JAN150773, $3.99) will have cover art by Erica Henderson, not Sara Pichelli, and has been retitled Howard the Duck #1 Henderson Variant.

• Death of Wolverine TP: Weapon X Program (DEC140980, $19.99) will be 144 pages, not 136 pages, with no change to content or price.

• Hawkeye vs. Deadpool TP (DEC140975, $16.99) will collect issues #0-#4, and will be 120 pages, not 112 pages, with no change in price.


COMICS

• Titan Comics' Anathema GN Vol. 1 (MR) (DEC141668), originally solicited as a hardcover at a price of $16.99, will now be a softcover at a price of $12.99.