A Penny For Your Thoughts…Which Might Involve Dragons
Aug 28, 2014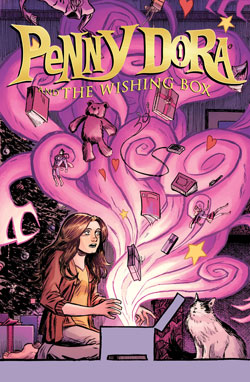 by Vince Brusio
Imagine what happens when a young girl finds a box on her doorstep the day before Christmas. She, of course, takes the package inside and is quick to want to open it as (obviously) she has a secret Santa. But what if the present inside makes life go…sideways? In the new all-ages book Penny Dora and the Wishing Box #1 (SEP140583) from Image Comics, that's how things play out, and writer Michael Stock answered a few questions for us in this exclusive PREVIEWS world interview.
Penny Dora and the Wishing Box #1 (SEP140583) is in stores November 5th!
Download a preview of Penny Dora and The Wishing Box #1 here.
*****

PREVIEWSworld: For those who may not have been keeping up with news about this project, what can you tell us about the upcoming Penny Dora and the Wishing Box #1?
Michael Stock: The book is basically an all-ages update of the Pandora's Box myth. Only this time it's a 10-year old girl named Penny Dora who finds the box on her front doorstep on the day before Christmas. This is very literally an ALL AGES book, which I think will appeal equally to adult readers of books like Saga and The Sandman and younger readers of books like Coraline and Courtney Crumrin.
PREVIEWSworld: What was the genesis for this project? Has this book been in the making for a long time, or is it something that hit the ground running?
Michael Stock: The 1st issue is based on a short story my daughter, Nico, wrote for her school paper when she was 8. (She's now 13 and YES we will be running her original story in the back pages at some point!). It was a story that we talked about quite a bit back then in our long LA drives to her school in the morning. And she even read it over the air on my radio show at one point. Since then I still get calls from listeners time to time asking 'Whatever happened to that story Nico wrote? Whatever happened to the little girl and her wishing box?" So while the story has been on my mind for a long time, the comic book version pretty much hit the ground running last spring. Literally almost the moment I first told [artist] Sina Grace the idea.
PREVIEWSworld: What was the creative process between you, your daughter, and Sina Grace while developing this series? Did you come to the story from different angles, and try and find compromise? Or was it smooth sailing the minute you left port?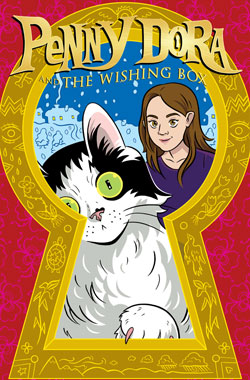 Michael Stock: The story and its world is something I've built with my daughter, Nico. We'll talk about it in the car on the way to school. Then, over dinner I'll tell her what I came up with while she was at school, or just let her read the pages. Usually this will inspire giggles or wide eyes and many times she will then add: 'well what if this happened...?' The next step in the process involves me sending Sina a lot of photos of Nico (who Penny is based on). And Nico sending Sina even more photos of Iggy, the cat in the book (aka Iggy). From there, it's been very smooth sailing as Sina emails me the blue lines for approval first, then inks, and eventually the colored pages...all of which has proceeded with hardly any need for changes. That's how clearly Sina has seen the world on the page and brought it to life!
PREVIEWSworld: Without spoiling the book, what sub-plots or scene(s) would you most likely want to blog about to tout as being most representative of the work overall?
Michael Stock: Well, really the only limits The Wishing Box has are the limits of the imagination. And since our two main characters in the first arc are 10 years old (Penny Dora and a girl named Elizabeth who may or may not be her best friend by the end), we're basically talking NO limits at all. So, while the wishes start off very small, once Penny's friend Elizabeth takes control of the box...well...that's where the serious BIG wishes start happening (and the BIG trouble really begins). And if readers need more of a hint, let me just add one word: DRAGONS.
PREVIEWSworld: If people want to talk to you more about this project, are you able to correspond with them through any social media sites?
Michael Stock: Of course! The best place to get a hold of us is on Twitter: https://twitter.com/MichaelStockPTP AND https://twitter.com/SinaGrace. Or, of course, you can tune into the Part Time Punks radio show Thursdays 3-6pm PST on KXLU 88.9FM in LA and/or www.kxlu.com everywhere else and call in on the listener line.