Writers In Line to Tell The Legacy of Logan
Aug 04, 2014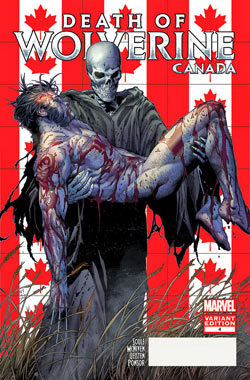 Characters dying in comics isn't new, but seeing how well people cope with the news of Wolverine's passing is a new kind of headline. The focus of Death of Wolverine: The Logan Legacy #1 (AUG140748) are those contemporaries who are directly affected by Logan's death, and what they have to do with their lives now that the feral Canadian can no longer bring his claws to the bargaining table.
The timeline you want to be paying attention to starts with Death of Wolverine, which leads into this seven-part series. Writer Charles Soule — who is writing not only the Death of Wolverine series but the first and final issues of The Logan Legacy as well — picks up after Marvel heroes say their final farewell to the pint-sized X-Man. The story that unfolds is one that has different artists interpreting members of the X-Men family as they're dealing with their personal grief. While details are hard to find about future plots, news that is circulating tells us some writers that frequent both DC and Marvel camps are stepping up to take a crack at telling The Logan Legacy. Writers tapped for such a chore include James Tynion IV and Marguerite Bennett.
Look for Death of Wolverine: The Logan Legacy #1 (AUG140748) from Marvel Comics in the Premier section of the August PREVIEWS catalog!