Avengers & X-Men Take On Red Onslaught
Jul 17, 2014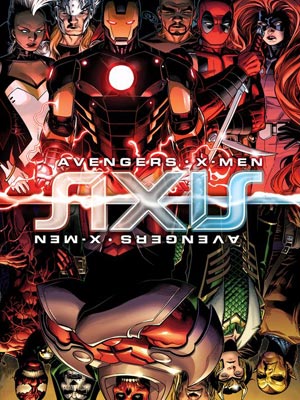 In his effort to stop Cyclops and the Phoenix Five from destroying the world during the events of Avengers Vs. X-Men, Charles Xavier lost his life. Xavier's body, unfortunately, did not receive a respectful burial; instead, it fell into the hands of the Red Skull who removed Xavier's brain and performed unholy experiments upon it to control the immense telepathic powers Xavier wielded. Now, with his schemes at fruition and his mastery of Xavier's mind complete, the Red Skull unleashes hell on the Marvel Universe in October's Avengers & X-Men: Axis #1 (AUG140718)— and even the combined powers of the Avengers and the X-Men may be powerless to stop him!
With the power of Xavier's mind, the Red Skull has become the Red Onslaught, and he has utilized Xavier's telepathic powers to incite humanity to hatred and ruin, triggering World War Hate. With humanity tearing itself apart, the Avengers have lost one of their own — Iron Man — when he makes a discovery that upends his own life, while Magneto's mission to protect mutantkind at all costs has had grave consequences as he unwittingly unleashes a terrible evil upon the world. Only the combined power of the Avengers and X-Men can stem the chaos, yet the fate of the world will fall to only two — Rogue and the Scarlet Witch!
The culmination of years-long story arcs, Avengers & X-Men: Axis from Rick Remender and artists Andy Kubert, Leinil Francis Yu, Terry Dodson, and Jim Cheung draws on plotlines from Avengers Vs. X-Men and Uncanny Avengers to craft a series that shows the Marvel Universe's darkest hour. Civilization teeters on the brink, heroes are rendered powerless to cope with the encroaching darkness, and what hope remains falls upon a few. Could this be the hour when the heroes fall and evil triumphs?
The Marvel Universe faces its darkest chapter in Avengers & X-Men: Axis #1 (AUG140718), and the Marvel Universe will be reeling from its effects for years to come. Get in on the ground floor with the first issue from Remender and Kubert this October!