Roche Limit: What Is, And What Will Never Be
Jun 26, 2014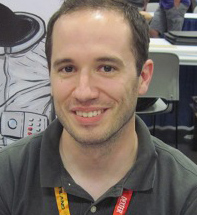 by Vince Brusio

Michael Moreci has garnered a lot of attention for his X-Files-esque series Hoax Hunters. But don't think that series is his whole purpose in life. A sci-fi buff who champions Dark City as much as he does Blade Runner, Moreci now has Roche Limit (JUL140435) coming out from Image Comics. It is a story of what is, and what will never be.
**********
PREVIESworld: So what gives with the new series? Did you put Hoax Hunters on hiatus for the indefinite future?
Michael Moreci: Haha, oh no, not at all. In fact, I just finished writing issue #2 of what will be the second season of Hoax Hunters. If you enjoy the series, you'll really like what's to come. As for hiatus...hmmm. I have to word this carefully — there's going to be some news regarding the series coming soon, and once that's out there, I think the break will make more sense.
In the meantime, I've definitely been busy. One of these projects is Roche Limit, a book I feel like I've been waiting my whole life to tell. It's a sci-fi trilogy that — if I can be so bold to say — is the most ambitious thing I've ever done, in scope, theme, story, everything.
PREVIESworld: What's up with Roche Limit? Tell us about the new series. So far the buzz is that it's a hardboiled sci-fi noir story.
Michael Moreci: I think that's pretty fitting, though maybe not hardboiled. I think that tradition incorporates a lot of tropes — "tougher than nails" men, femme fatales — that are pretty absent in Roche Limit. Still, it does blend sci-fi and noir pretty gingerly, which has been a lot of fun.
Basically, the premise is this: we find this habitable planet (that is coupled with a mysterious energy anomaly orbiting overhead), way far away, and a billionaire idealist dumped all his money into colonizing it and using it as a station to go even deeper into space. Of course, that doesn't happen. The wealthy started using it as Club Med in space, and the population of workers, servants, etc., eventually grew large enough to overrun the colony with a criminal underworld. The story revolves around a missing girl, Bekkah, and the search to find her. It becomes an odyssey into the heart of the colony's darkness as a group of characters, all searching for Bekkah for different reasons, come to realize some strange things about Roche Limit and the truth behind what the anomaly really is.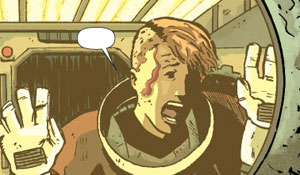 PREVIESworld: So "Blade Runner" is a go-to reference for giving people a visual to work with for this book. What other sci-fi works could you say helped you to conceptualize Roche Limit?
Michael Moreci: You know, I'd love to liberally toss around Dark City as liberally as I do Blade Runner. Don't get me wrong, Blade Runner is a huge influence and one of my favorite movies ever. But I drew just as much inspiration from Dark City, which might be one of the most underrated movies ever (according to me). Sadly, hardly anyone knows what the heck Dark City is.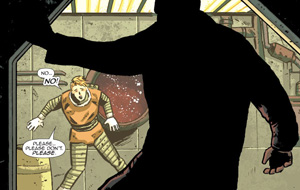 Both movies blend elements of sci-fi and noir, but what's more salient is this exploration of human identity and the soul, who we are, and what we mean to ourselves, each other, and the cosmos. That's what Roche Limit is really exploring, at its core. Like I said, I wanted to do something grand in scope: big themes, a far-reaching story that — after all three parts are done — will stretch across year and years.
PREVIESworld: In looking at some of the preview pages that have made their way onto the Net, you seem to be exploring a timeless theme: we made something, and it got away from us. People have turned it into something unrecognizable. Does that sound about right?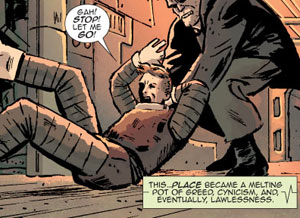 Michael Moreci: For sure, that's a great insight. I think it's a fairly important message, especially in light of our political climate.
I feel like many of us, myself included, are living in the aftermath of hope failing.
When Obama took office, I had pretty big hopes for what his tenure would look like. Unfortunately, most of those ambitions went unrealized. Don't get me wrong, this isn't a knock on Obama. Our entire system failed, completely, showing how incapable we are of getting along and bonding together to achieve essential goals.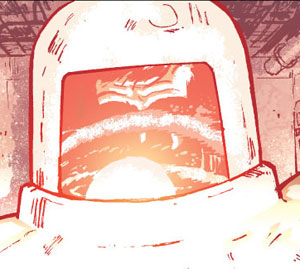 I think the transition was realizing not only did certain things fail to happen, but they never will. Not with how things are. So, yeah, there's that transformation you mention. I had an idea of the Obama presidency, and what we ended up with — for a number of reasons — is unrecognizable to the message.
This happens over and over again. Fiction does a great job of exploring this truth, this conflict of our dreams versus our reality.
PREVIESworld: Michael, are you by chance hitting the summer convention circuit? If so, what shows will you be attending and how should people follow your schedule should they want to meet you at a show?
Michael Moreci: I'm usually a road warrior, but I have a very pregnant wife at home, so my traveling is limited. And by limited, I mean not at all. I'll be back on the road in the fall though, hitting some shops and shows in support of Roche Limit and other stuff I have coming out. The shop appearances haven't been nailed down yet, but I'll be at NYCC, for sure, in October.