Peter Milligan Is Taking Names
Jun 26, 2014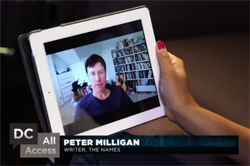 DC's Vertigo readers know that one of the most enticing things about the imprint is its commitment to putting out original stories that pave new highways. This has been reinforced with the listing of The Names in the July issue of the PREVIEWS catalog. Written by longtime legendary scribe Peter Milligan with art by Leandro Fernandez, the new gasoline-fueled series is one that may give us whiplash as its 8 issues of backstabbing hedge fun-crashing fun.
The setting is New York City, and the wife of a trader is left to read the tea leaves after the apparent suicide of her husband. What has been described as The Wolf of Wall Street meets Kill Bill was the subject of further scrutiny in a recent episode of DC All Access, where Peter Milligan weighed in on his new creation, and gave us further insight into the story where its discovered that the world's richest people are also the world's sickest. Check out the video, and advance the scroller to "5:10" to pick up where Milligan talks from his home about the new series!
Look for The Names (JUL140266) from DC/Vertigo in the July issue of the PREVIEWS catalog.