Screams In Space From Aliens And Prometheus
Jun 24, 2014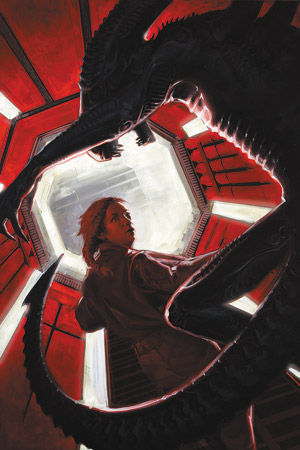 We live in a universe not made for us. Space is unforgiving. The black chasms between the stars are inimical to terrestrial life. Distant planets may harbor life unlike any we can imagine, life that followed different paths due to different evolutionary pressures. Planets are common, but planets that can support human life may be exceedingly rare. Humanity has been at the top of Earth's food chain for a million years. When we venture into the dark, we may soon discover that we are no longer at the pinnacle.
This autumn, Dark Horse Comics and 20th-Century Fox take readers back into the realm of interstellar horror with Aliens: Fire and Stone and Prometheus: Fire and Stone. Based on the Aliens franchise and Ridley Scott's Prometheus, these series tie together the worlds of Aliens and Prometheus directly in two parallel series.
In Paul Tobin and Juan Ferreyra's Prometheus: Fire and Stone, in the wake of the disappearance of the Prometheus, a mission is dispatched to LV-223 to uncover the ship's fate. This new team of explorers could not imagine what they would find there, and they will soon discover the unforgiving nature of the universe!
Aliens: Fire and Stone by Chris Roberson and Patric Reynolds sees a group of colonists abandon their home when their colony is overrun by Xenomorphs, but any hope of safety is quickly dashed when their escape vessel crashes onto an unknown planet filled with unimaginable horrors.
Return to the worlds of Aliens and Prometheus this September, and watch as two new groups of heroes learn an important lesson — the universe is not made for us!
| | | |
| --- | --- | --- |
| ITEM CODE | TITLE | PRICE |
| JUL140054 | ALIENS FIRE AND STONE #1 | SRP: $3.50 |
| JUL140052 | PROMETHEUS FIRE AND STONE #1 | SRP: $3.50 |