The Edge of the Web: A Superior Introduction
Jun 04, 2014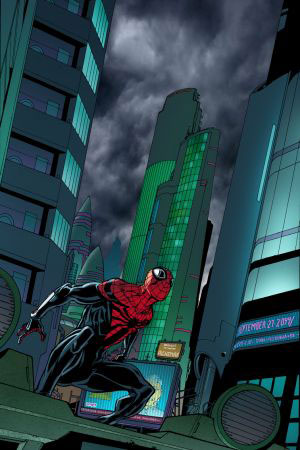 Since C2E2, the 'Net's been burning up with chatter about Dan Slott coming back to write Superior Spider-Man. And now it's official with the Superior Spider-Man #32 (JUN140643) listed in June issue of the PREVIEWS catalog.
What, you thought the death of Otto and his purging from poor Peter's mind was the end of Dan Slott's carnival ride? Think again. This is comics. Anything goes. It allows the writers like Christos Gage to make light of the power that they wield, and say things like "Is this an untold chapter of the past, a tale of the future, or both?"
Curse those men and their pens leading us into the future! They know we are slaves to the teasers. And yet they rub it in!
But all is not totally under the secrecy of night, as Superior editor Nick Lowe has offered that this new story arc will "kick off the edge of Spider-Verse." And what that means fellow webheads is that Superior Spider-Man #32 is the primer to what's coming to Amazing Spider-Man this Fall when every incarnation of Spider-Man reports for duty.
Head spinning yet?
Look for Superior Spider-Man #32 in this month's Marvel PREVIEWS!