Product Changes (05/27)
May 27, 2014
PREMIERS

DARK HORSE COMICS

• The Goon: Occasion of Revenge (#1: MAY140010; #2: JUN140019D; $3.50 ea.), solicited as an eight-issue miniseries, will now be a four-issue miniseries.


DC ENTERTAINMENT

• Correcting its solicitation, Worlds' Finest #26 (JUN140190, $2.99) is not the final issue of the series.

• Batman/Superman #11 (MAR140205, $3.99) now contains updated creator credits & contents. In this story, written by Greg Pak with art by Karl Kerschl, Tom Derenick, Daniel Sampere and others and a cover by Jae Lee (shown here), Superman has turned himself in to the authorities – and now, it's up to Batman, Wonder Woman, Steel and Krypto to plunge into the Phantom Zone and discover Doomsday's origins. But something has happened to this endless void – Mongul, the despot leader of Warworld, and the Kryptonian Non are out to kill anyone else that trespasses their area. Within the deepest part of the Phantom Zone lurks someone else who will either help the team or doom them!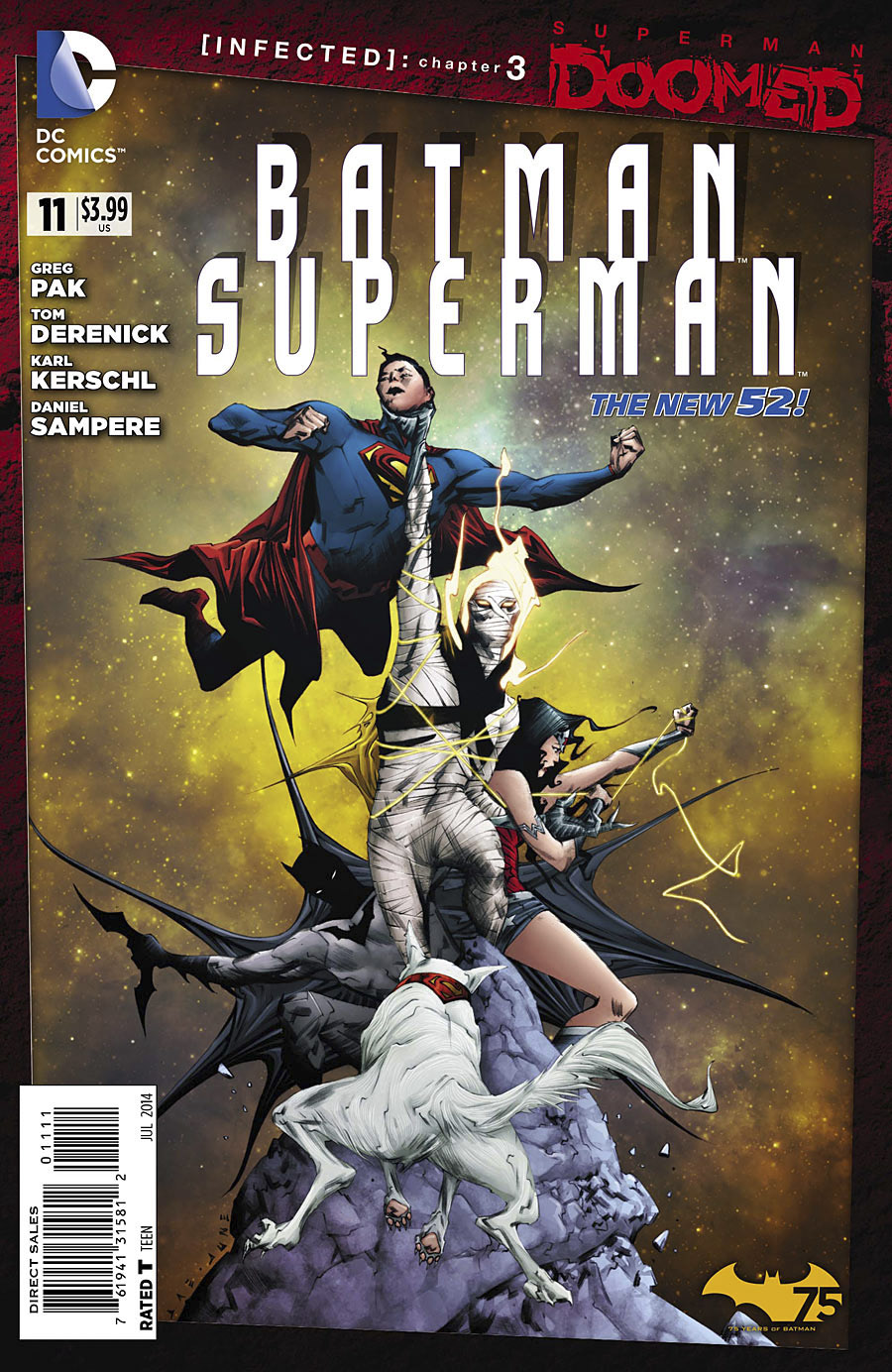 IMAGE COMICS

• Image has added two variant covers to MPH #2, both by Leinil Francis Yu. Variant Cover C (APR148239, $2.99) and Variant Cover D (APR148240, $2.99) are shown here.




• Image has revealed Bryan Lee O'Malley's art for Cover C of The Wicked + The Divine #1 (FEB148314, $3.50), shown here.


• Image has announced the contents and revealed the covers to Starlight #5, which was not solicited in PREVIEWS but is now available for initial order through its Final Order Cut-off Date of Monday, June 16. Cover A (APR148208, $2.99) will be by Tommy Lee Edwards, while Cover B (APR148209, $2.99) will be a variant by Rob Liefeld. Both covers are shown here.
| | |
| --- | --- |
| | |
In issue #5, Duke and Space-Boy are hiding out in the jungles of Tantalus with the rebels, under the command of Tilda Starr, the former head of the Queen's Imperial Guard. Their aim: to retake the capital and free the people from the Brotean invaders! But their numbers are tiny, their hope is running low, and new secrets are coming out about the tragedies of Space-Boy's past.


MARVEL COMICS

• Nova #18 Teaser Variant SIN (APR140637, $3.99) will have Mirco Pierfederici as the cover artist, and will be retitled Nova #18 Pierfederici Teaser Variant SIN.

• Original Sins #2 (APR140639, $3.99) will have Ryan North, Frank Tieri, and Ty Templeton as writers.

• The solicitation for She-Hulk #6 (MAY140869, $2.99) misidentified the artist. The artist's correct name is Ronald John Wimberly.

COMICS

• Action Lab Entertainment has updated the covers & cover artists to Vamplets: Undead Pet Society#1. The Main Cover (FEB140874, $3.99) will now be by Amanda Coronado, while the Alternate Cover (FEB140875, $3.99) will be by Gayle Middleton. Art for both covers is shown here.
| | |
| --- | --- |
| | |
| Coronado Cover | Middleton Cover |


MAGAZINES

• The Starfire Chess Piece that is included with DC Chess Collection Magazine #66 (JUN141683, $16) was incorrectly noted as being a Black Pawn. It is, in fact, a White Pawn.