Product Changes (05/05)
May 06, 2014
PREMIERS

DC ENTERTAINMENT

• Nightwing #30 (FEB140159, $3.99) now features a story written by Tim Seeley & Tom King, with art by Javier Garron, Mikel Janin & Guillermo Ortego, and Jorge Lucas.

• Superman Vol. 4: Psi-War HC (APR140267, $24.99) now includes Action Comics #24.

• With the advance-solicitation of September Futures End comics in 3-D Motion cover and 2-D Standard editions, none of the monthly ongoing DC Comics – The New 52 titles will publish in September. The July PREVIEWS will include solicitations for DC Comics titles Multiversity #2, The New 52 – Futures End #18-#21 and Batman Eternal #22-#25. The monthly DC Comics – The New 52 titles will return in October and will be solicited in the August PREVIEWS.


MARVEL COMICS

• In addition to Chris Samnee, Dean Haspiel, Jerry Ordway and Leonard Kirk, Fantastic Four #5 (Reg./Var.: MAR140724 / MAR140725, $4.99) will now have art by Paul Rivoche, James Starlin, June Brigman, Michael Allred and Paul Smith. Furthermore, the Variant will now have cover art by Jonathan Hickman, and will be retitledFantastic Four #5 Hickman Variant.

• Original Sins #1 (APR140638, $3.99) will now have art by Ramon Villalobos.

• Secret Avengers #4 Shalvey Variant ANMN (APR140668, $3.99) will now have cover art by Declan Shalvey not Michael Walsh, as previously solicited in Marvel Previews.

• Uncanny X-Men Special #1 Interlocking Variant (APR140719, $4.99) will not have cover art by Lee Bermejo. The new artist will be announced at a later date.

• Cyclops #3 Jimenez Variant (MAY140901, $3.99) will now have cover art by Paul Renaud and will be retitled Cyclops #3 Renaud Variant.

• Jeph Loeb and Tim Sale HC: Yellow, Blue and Gray (MAR140754, $75) will be 504 pages, not 540 pages.


TOYS

• The art accompanying the solicitation for Diamond Select Toys' Marvel Minimates Series 58: Days of Future Past (MAY142223) incorrectly shows a Future Rogue Minimate. This figure will not be included. A Future Storm Minimate, as noted in the solicitation, will be included. Revised art showing the Future Storm figure is shown here.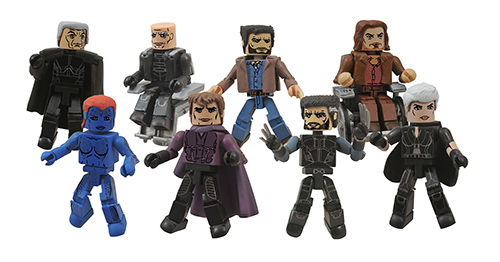 • CLARIFICATION: NECA's Godzilla 24" Modern Version Action Figure (APR142024, $59.99) measures 24" in length and stands 12" in height.


IMPORT TOYS & MODELS

• Please note that BIG Chief Studios' Doctor Who: 11th Doctor Dynamix Vinyl Figure (MAY142549, $60), is a PREVIEWSExclusive. The designation was erroneously omitted from its listing in the May PREVIEWS.


APPAREL

• Due to a typographical error, the Harley Quinn: Heartbreak Youth T-shirt solicited under item code MAY141960U was listed in the May PREVIEWS Order Form as being Small. The T-shirt offered under this item code is, in fact, a Medium.