Product Changes (04/22)
Apr 22, 2014
PREMIERS

DARK HORSE COMICS

• The Mass Effect 3D Litho (MAR140105) has been cancelled.


IDW PUBLISHING

• The writer and interior artist for Black Dynamite #2 (Reg./Sub.: AUG130375 / AUG130376, $3.99 ea.) have changed. Yassir Lester will co-write the issue with Brian Ash, while Marcelo Ferreira replaces Sal Buscema and Jamal Ingle as interior artist. Cover artists remain unchanged.


MARVEL COMICS

• Iron Man #25 Perkins Variant (MAR140719, $3.99) will now have cover art by PaulRenaud and will be retitled Iron Man #25 Renaud Variant.

• United States of Murder Inc. #1 (MR) (Reg./Vars.: MAR140750 / MAR140751 / MAR140752 / MAR140753, $3.99 ea.) will be 48 pages, not 32 pages, with no change in price.

• Miracleman #6 Granov Variant (MAR140682, $4.99) will now have cover art byJulian Totino Tedesco and will be retitled Miracleman #6 Tedesco Variant.

• In addition to Leonard Kirk, Fantastic Four #5 (Reg./Var.: MAR140724 / MAR140725, $4.99) will have art by Chris Samnee, Dean Haspiel, and Jerry Ordway.

• Iron Man #26 (MAR140720, $3.99) will have art by Joe Bennett & Cliff Richards, not Luke Ross.

• Mighty Avengers #10 Teaser Variant SIN (MAR140635, $3.99) will have cover art by Francesco Francavilla, and will be retitled Mighty Avengers #10 Francavilla Teaser Variant SIN.

• Amazing Spider-Man #1.2 Art Adams Variant ANMN (APR140682, $3.99) will now have cover art by Pasqual Ferry and will be retitledAmazing Spider-Man #1.2 Ferry Variant.

• Cyclops #1 Variant ANMN (MAR140646, $3.99) will have cover art by Greg Land – shown here -- and will now be retitled Cyclops #1 Land Variant ANMN.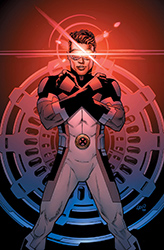 COMICS

• Ordering information for Dynamite Entertainment's New Vampirella #1 Stephanie Buscema Exclusive Subscription Cover was omitted from the April PREVIEWS Order Form. The cover may be ordered via item code MAR148026E at a price of $3.99.