The Goon Returns to Battle the Armies of the Zombie Priest
May 01, 2014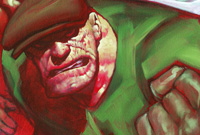 Eric Powell's supernatural bruiser The Goon returns this summer in a brand-new mini-series, The Goon: Occasion of Revenge (MAY140010)!

The Goon has driven off the Zombie Priest and his forces of evil, but now the witches that were once under the Zombie Priest's command rise to strike at The Goon and the town under his protection. Can The Goon save his town? And, more importantly, can he save himself from the nightmares that torment him?

Supernatural action with a light touch, The Goon is an acclaimed, Eisner Award-winning experience, and The Goon: Occasion of Revenge is the biggest Goon story in years. If you've never read The Goon, pick up the first issue this summer and discover the series now!
Check out these Goon trade paperbacks available to order from your local comic shop!
| | | |
| --- | --- | --- |
| ITEM CODE | TITLE | PRICE |
| MAY140011 | GOON TP VOL 00 ROUGH STUFF REVISED ED (NEW PTG) | $16.99 |
| MAY140012 | GOON TP VOL 01 NOTHIN BUT MISERY CURR PTG | $16.99 |
| MAY140013 | GOON TP VOL 02 MY MURDEROUS CHILDHOOD NEW PTG | $16.99 |
| MAY140014 | GOON TP VOL 03 HEAPS OF RUINATION 2ND ED (MAY110035) | $16.99 |
| MAY140015 | GOON TP VOL 04 VIRTUE & GRIM CONSEQUENCES NEW PTG | $16.99 |
| MAY140016 | GOON TP VOL 05 WICKED INCLINATIONS 2ND ED (JUL110028) | $16.99 |
| MAY140017 | GOON TP VOL 06 CHINATOWN & MYSTERY MR WICKER (NEW PTG) | $15.99 |
| MAY140018 | GOON TP VOL 07 PLACE OF HEARTACHE & GRIEF NEW PTG | $15.99 |
| MAY140019 | GOON TP VOL 08 THOSE THAT IS DAMNED NEW PTG | $15.99 |
| MAY140020 | GOON TP VOL 09 CALAMITY OF CONSCIENCE NEW PTG | $15.99 |
| MAY140021 | GOON TP VOL 10 DEATHS GREEDY COMEUPPANCE | $16.99 |
| MAY140022 | GOON TP VOL 11 DEFORMED BODY & DEVIOUS MIND | $16.99 |
| MAY140023 | GOON TP VOL 12 THEM THAT RAISED US LAMENT | $16.99 |