Product Changes (02/18)
Feb 18, 2014
PREMIERS

DARK HORSE COMICS

• The Eltingville Club #1 (FEB140088, $3.99) & #2 (MAR140097, $3.99) – solicited as one-shots – actually comprise both parts of a two-part miniseries.


MARVEL COMICS

• A Plus X #18 (JAN140751, $3.99) will now be written by Gerry Duggan and a co-writer to be announced (not Brian Michael Bendis), and will have interior art by David Yardin andanother artist to be announced (not Kevin Nowlan).

• Indestructible Hulk #20 (JAN140772, $3.99) will now have art breakdowns by Joe Bennett, not Jheremy Raapack.

• Superior Spider-Man #30 ANMN (JAN140722, $3.99) will now be co-written by Dan Slott and Christos Gage, rather than by Slott alone.

• Moon Knight #2 ANMN (Reg./Var.: FEB140743 / FEB140744, $3.99 ea.) will now be Rated Parental Advisory, not T+.

• Daredevil #1 by Ross Poster (JAN140815, $8.99) will now be retitled Daredevil #1 75th Anniversary by Ross Poster.


COMICS

•Antarctic Press' Zombie Fairy Tales One-shot (JAN140855, $3.99) was erroneously solicited as an Offered Again item in the January PREVIEWS. The title of the actual new book carrying this item code is Zombie Fairy Tales: Deadlands One-shot.


BOOKS

• Quirk Books has released updated cover art for William Shakespeare's The Empire Striketh Back HC (JAN141522, $14.95), shown here.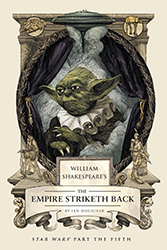 COLLECTIBLES & NOVELTIES

• The TMNT: Leonardo Back Pal Back Pack (FEB142497, $36.99) is erroneously listed in the February PREVIEWS as the Michelangelo Back Pal Back Pack. Orders placed under the FEB142497 item code will be filled with the Leonardo Back Pal Back Pack.