Product Changes (01/28)
Jan 28, 2014
PREMIERS

DC ENTERTAINMENT

• Animal Man Volume 5: The Meaning of Flesh TP (OCT130282, $24.99) was solicited with incorrect information. This title is written by Tom Veitch, with art by Steve Dillon, Tom Mandrake, Brett Ewins, Steve Pugh and others. In these stories from Animal Man #38-#50, Buddy Baker must make a cross-country drive to reunite with his family in Vermont, but along the way he encounters dangers including the Bear King, a super-human poacher, and an army of robotic soldiers created by S.T.A.R. labs. Plus: The Penalizer leaps from the pages of a popular comic book into action as a real-life vigilante!


IDW PUBLISHING

• The cover artist for Powerpuff Girls #6 Subscription Variant (DEC130450, $3.99) has changed from Mimi Yoon to Derek Charm..


MARVEL COMICS

• Wolverine #2 Variant ANMN (DEC130615, $3.99) will have cover artbyAdi Granov and has been retitled Wolverine #2 Granov Variant ANMN.

• Hawkeye #17 (DEC130741, $2.99) will now feature interior art by Chris Eliopoulos, not David Aja.

• Hawkeye #18 (JAN140771, $2.99) will now feature interior art by Annie Wu, not Chris Eliopoulos.

• Iron Man: Fatal Frontier HC (FEB140831, $34.99) will now run 200 pages, not 168 pages, and will contain Iron Man: Fatal Frontier Infinite Comic #1-#13 and Iron Man Annual #1.

• The series X-Men Legacy #1 (Reg./Vars.: FEB140691 / FEB140692 / FEB140693, $2.99 ea.) has been retitled Nightcrawler #1.

• What If?: Age of Ultron #3 Doyle Variant (FEB140764, $3.99) will have cover art byDeclan Shalvey, not Ming Doyle, and has been retitled What If?: Age of Ultron #3 Shalvey Variant.

• Hawkeye #19 (FEB140793, $2.99) will now feature interior art by David Aja, not Annie Wu.

• She-Hulk #1 Manara Variant ANMN (DEC130636, $2.99) has been cancelled and will not be resolicited.


COMICS

• Avatar Press inadvertently solicited God is Dead #11: End of Days Cover (FEB140999, $3.99) with the art for the End of Days cover to issue #10. The correct art for Issue #11's End of Days cover is shown here.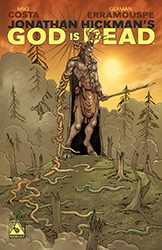 • Humanoids Publishing has released the final cover image to the Benito Mambo Deluxe HC (FEB141320, $34.95), shown here.




APPAREL

• Doctor Who Keep Calm & TARDIS Boxer 2-pack (SM-XL: JAN141897 / JAN141898 / JAN141899 / JAN141900U) was erroneously solicited at a price of $15.99. The correct price of the 2-pack is $28.99.