Product Changes (5/28)
May 28, 2013
PREMIERS

IMAGE COMICS

• Hack/Slash TP Volume 13: Final (APR130450D, $18.99) will run 152 pages, not 160 pages.

MARVEL COMICS

• A Plus X #9 NOW (APR130666, $3.99) will be written by Nathan Edmondson andDavid Lapham with art by Humberto Ramos and David Lapham. Gerry Duggan, Salvador Larroca and Adam Warren will no longer be providing stories for this issue.

• The Tower Chronicles Premiere HC: Geisthawk (APR130707, $34.99) will now be named The Tower Chronicles Book One Premiere HC: Geisthawk.

• Uncanny Avengers #9 NOW (APR130596, $3.99) has a new cover, shown here.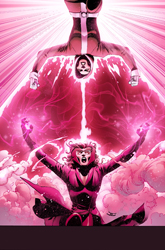 • Age of Ultron #10UC (Reg./Var.: MAY130593 / MAY130594, $3.99 ea.) has been retitled Hunger #1, and has updated solicitation text, which was previously classified:

Writer: Joshua Fialkov
Art: Leonard Kirk
Cover: Adi Granov
• The fallout from Age of Ultron rips open a dangerous rift in the universe!
• Prepare for a hunger so strong, that no universe is safe.
• Is this the beginning of the end?
• All the details will be revealed when Age of Ultron #10 hits stands everywhere!

• Uncanny X-Force #9 NOW (MAY130695, $3.99) has a new cover, shown here, which was previously solicited for issue #10. Issue #10's new cover will be shown in the coming weeks.

• Marvel Masterworks: Marvel Two-in-One HC Volume 1 (Reg./DM Var.: JUN130668 / JUN130669, $69.99) will be Rated T, not All Ages.

• New Avengers Premiere HC Volume 1: Everything Dies NOW (APR130719, $24.99) will be 152 pages, not 144 pages.

• Savage Wolverine #6 X-Men 50th Anniversary Variant NOW (APR130614, $3.99) has a new cover, shown here.




COMICS

• CORRECTION: Please note that, due to a typographical error, the June PREVIEWS Order Form incorrectly lists Arcana Studio's Hero Happy Hour TP Volume 2: On the Rocks (JUN130753, $12.95) as Happy Hour Hero TP.

• CORRECTION: Archie Comic Publications' Archie #646 (Reg./Pepoy Var.: MAY130806 / MAY130807, $2.99 ea.) will run 32 pages, not 48 pages, as erroneously solicited.