Product Changes (4/16)
Apr 16, 2013
PREMIERS

DARK HORSE COMICS

• Empowered Special #4 Animal Style (MR) (APR130036, $3.99), solicited as being published in black-&-white, will be published in full-color.

IMAGE COMICS

• Peter Panzerfaust TP Volume 2: Hooked (JAN130511, $14.99), solicited as being 128 pages, will now run 136 pages.

MARVEL COMICS

• Age of Ultron #10 (APR130589D, $3.99) is now 34 pages in length. Eight of those pages will be repurposed from Avengers #12.1.

• Powers Bureau #4 (MR) (MAR130711, $3.95) will be 32 pages, not 40 pages.

• Superior Spider-Man #10 NOW (MAR130617, $3.99) will have art by Ryan Stegman, not Giuseppe Camuncoli.

• X-Men Legacy #11 NOW2 (MAR130642, $2.99) will have art by Paul Davidson, not Tan Eng Huat.

• Beast by Bradshaw Poster (MAR130751, $8.99) has been cancelled and will not be resolicited.


COMICS

• Action Lab Entertainment's Night of the '80s Undead #1 (MR) (APR130760, $3.99), solicited as shipping with multiple covers, will now ship with only one cover, shown here.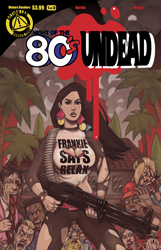 • Please note that Fantagraphics Books' Bread and Wine HC (JAN131168, $14.99) now carries an Adult designation.