Audureau Celebrates the Video Game Icon in Pix'n N Love Publishing's The History of Mario TP
Nov 23, 2012
With more than 30 years of adventures under his tool belt, few video game icons are as enduring or as popular as Nintendo's Mario, and his millions of fans should cheer when Les Editions Pix'n Love pays homage to him in The History of Mario TP Volume 1: 1981-1991 – The Rise of an Icon from Myths to Reality (NOV121501, $39.99), offered in the November PREVIEWS.

Author and video game expert William Audureau paused to chat about his entertaining, in-depth study of the video game world's most resourceful handyman.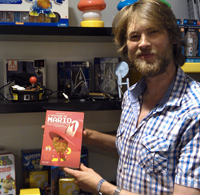 PREVIEWSworld: What can the reader expect to learn from this book?
William Audureau: Well, let's make this clear: this is NOT a book about how Peach gets kidnapped by Bowser! Not that it wouldn't have been fun to make, but I'm not sure there would have been much to say!
Actually, this book focuses on Mario as a cultural product. The main question is as simple as that: When Donkey Kong appears in 1981, it's obvious for everyone that the main character isn't the little guy with his overalls, but the big, impressive gorilla at the top of the screen. If you look at magazines from the early '80s, nobody knows who Mario is! But ten years later, when Hollywood gets to make the first video game based movie, now the main characters are Mario and Luigi, not DK. So what happened in only 10 years? How come Nintendo switched from one mascot to another one? Why does Super Mario Bros. feature the Mario brothers and not DK or DK Junior? And how is that possible that a little, unnoticed carpenter came to be hugely popular all of a sudden? This is what the book is about. Telling the real history behind Mario's success. And it deals with game design aspects, as well as cultural, economical and juridical matters.
PREVIEWSworld: What kind of research did you do to write this book?
Audureau: What I wanted to do was to write the most comprehensive story about Mario's history. I browsed over 400 articles, interviews, features and documentaries, some of them being quite recent, some others dating from the early '80s. So the idea was to offer a historical book, with a real added value, not a simple ripoff of what everybody already knows just by googling Mario. I also interviewed people from the '80s video game industry to get some further insight.
PREVIEWSworld: Is the book focused more on Mario the character, or the games and their history and popularity?
Audureau: It's hard to write on Mario without explaining how the character came to be and how he evolved. But it's also impossible to explain its success without paying any regard to the games he gives his name to. So the good answer would be: both, captain! The book tries to follow the birth of the Mario-mania in the 80s as a whole, from the shadows of Donkey Kong in 1981 to the impressive popularity of Super Mario Bros 3 and World in the early '90s. Sometimes the treatment of the character is very important, like in marketing process, sometimes that's the games that really make the difference. But they quite always come togather.
PREVIEWSworld: What will surprise readers about the popular character?
Audureau: To begin with, I'm not sure everybody really knows where Mario came from. Of course we all knows that Shigeru Miyamoto created him with technical limitations in mind, and that explains his final design. But it's not the first character Miyamoto created ... and he draws influence from some different and very unexpected American characters. The book also gives some indepth insight in the making of the different Mario games, including the most debated Super Mario Bros 2, but I'd say the most instructive story, from my point of view, is the making of Super Mario Land, for it's quite an unexpected digression. For obvious reasons, it's not seen as a regular, standard Mario game, but once you know how it was created, I think you have a very comprehensive vision of the overall philosophy behind every Mario game.
PREVIEWSworld: Do you have a favorite Mario game? What makes this one your favorite?
Audureau: Super Mario Bros. was my first game, so it has always been important to me. Nonetheless, it wasn't my favorite because it came first, I had nothing to compare it with! And actually, one point about writing this book was to try explain to the child that still lies in me why it was such a revolutionnary game, I obviously couldn't understand at the time. As of today, my favorite Mario game has to be Super Mario 64, for it really made a difference between what I had always been used to - the 2D Mario games - and something completely new. And I'm still waiting for the turtle shells surfing to be promoted as an Olympic sport!

Pre-order now at your local comic shop! Go to http://www.comicshoplocator.com or call 1-888-COMIC-BOOK!