Product Changes (10/9)
Oct 09, 2012
PREMIERS
IDW PUBLISHING
• Judge Dredd #1 (SEP120280, $3.99) will now ship with four covers in anapproximate 1:1 ratio. The covers will be by Zach Howard, Jim Starlin, Whilce Portacio, and Nick Runge. Note that the Runge cover – shown here — replaces the solicited Ashley Wood cover.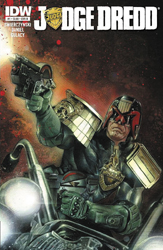 IMAGE COMICS
• The rating on Multiple Warheads: Alphabet to Infinity #1 (AUG120463, $3.99) has changed from T+ to Mature, and now carries an (MR) designation.

MARVEL COMICS
• Deadpool #1 NOW (Reg./Vars.: SEP120598 / SEP120599 / SEP120600 / SEP120601 / SEP120602, $2.99) and Deadpool #2 NOW (Reg./Vars.: SEP120603 / SEP120604, $2.99 ea.) are rated Parental Advisory, not T+.

• New Avengers: Breakout Prose Novel HC (SEP120689, $24.99) is 272 pages, not 352 pages.

• Kick-Ass 2 Prelude: Hit-Girl Premiere HC (MR) (OCT120679, $24.99) is 136 pages, not 120 pages.

• X-Men Legacy #3 Variant NOW (OCT120602, $2.99) will have cover art by Adrian Alphona, and has been retitled X-Men Legacy #3 Alphona Variant NOW.

• Fear Itself TP Hulk/Dracula (AUG120732, $24.99) is 176 pages, not 184 pages. The eight pages that have been removed did not contain story content.

BOOKS & MAGAZINES
• Heavy Metal September 2012 PREVIEWS Exclusive Edition (MAY121176, $7.95) has been cancelled by the publisher. Only the Newsstand Edition, shown here, will be available.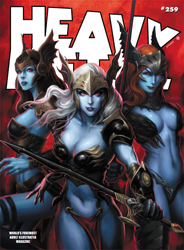 COMICS
• CORRECTION: Due to a typographical error, the title from Action Lab Entertainment solicited in the October PREVIEWS was incorrectly listed in the catalog and order form as Private Eye One Shot. Its correct title, as shown in the cover art accompanying the solicitation, is Pirate Eye One Shot (OCT120722, $3.99).

• BOOM! Studios' Hellraiser: The Road Below(#1: AUG120911; #2: SEP120895; #3: OCT120899; $3.99 ea., solicited with interior art by Ibraim Roberson, will now have interior art by Haemi Jang.