Product Changes (5/22)
May 22, 2012
PREMIERS
DC ENTERTAINMENT
• Superboy #10 (APR120187, $2.99) now features art by Sebastian Fiumara.

MARVEL COMICS
• Please note the following cover artist changes to these Marvel titles. (Cover artists for all issues were unannounced when solicited.)


| | | |
| --- | --- | --- |
| Title | Item Code/Price | New Artist(s) |
| Avengers Assemble #4 ASM in Motion Variant | APR120595, $3.99 | Cover by Stephen Segovia; retitled Segovia Variant |
| Captain America #13 ASM in Motion Variant | APR120625, $3.99 | Cover by Larry Stroman; retitled Stroman Variant |
| Incredible Hulk #9 ASM in Motion Variant | APR120640, $3.99 | Cover by Khoi Pham; retitled Pham Variant |
| X-Men Legacy #268 ASM in Motion Variant | APR120586, $2.99 | Cover by Pasqual Ferry; retitled Ferry Variant |
| Fantastic Four #607 ASM in Motion Variant | APR120643, $2.99 | Cover by Khoi Pham; retitled Pham Variant |
| Mighty Thor #15 ASM in Motion Variant | APR120632, $3.99 | Cover art by John Tyler Christopher; retitled Christopher Variant |
| Venom #19 ASM in Motion Variant | APR120619, $2.99 | Cover art by Sean Chen; retitled Chen Variant |
| Wolverine #308 ASM in Motion Variant | APR120671, $3.99 | Cover art by Paco Medina; retitled Medina Variant |
| FF #19 ASM in Motion Variant | APR120645, $2.99 | Cover art by Mike Deodato; retitled Deodato Variant. |
| Journey into Mystery #639 ASM in Motion Variant | APR120635, $2.99 | Cover art by Tom Raney; retitled Raney Variant |

• Supercrooks #4 (MR) (APR120683), solicited at 32 pages for $2.99, will now run 48 pages for $4.99.

• Casanova: Avaritia TP (MR) (MAY120733, $14.99) has been retitled Casanova TP Vol. 3: Avaritia (MR).

• Daredevil #17 (JUN120656, $2.99) will have interior art and cover by Mike Allred, not Paolo Rivera as solicited in the upcoming June Marvel Previews. The Allred cover is shown here.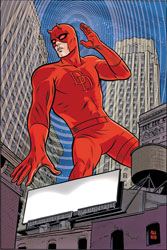 • Effective with items carrying an on-sale date of July 4, all 32-page Marvel Universe comics, including those that contain a digital code, will be printed with 50# Coated interiors and will be Self-Cover.

• The Stand Omnibus HC Slipcase (APR120687, $150) will be 1064 pages, not 1120 pages.

• The Amazing Spider-Man Movie TP (APR120718, $9.99) will be 112 pages, not 104 pages.

• Secret Service, solicited as a seven-issue limited series, will now run six issues.

COMICS
• Ape Entertainment's Kung Fu Panda TP Vol. 1: Everyone is Kung Fu Fighting (MAY120830) was incorrectly solicited at $14.99. Its correct price is $19.99.

COLLECTIBLES & NOVELTIES
• Due to increased production costs, the Star Trek Pizza Cutter (JUN111969) – solicited at an SRP of $24.99 — now carries an SRP of $29.99.