Product Changes (10/4)
Oct 04, 2011
PREVIEWS
• Please note that the images for the Star Wars: The Clone Wars — Senate Security SDCC 2008 Action Figure and the Star Wars: Stormtrooper Commander SDCC 2009 Action Figure on page 384 of the October PREVIEWS are shown in the wrong order. The image on the left side of the column belongs with the text for the Stormtrooper Commander on the right, and vice versa. PREVIEWS regrets the error.

PREMIERS
IDW PUBLISHING
• Godzilla Legends #1 (SEP110286, $3.99) will now ship with three regular covers in a 2:2:1 ratio, with two Art Adams Covers and two Bob Eggleton Covers for every Matt Frank Cover.

IMAGE COMICS
• Please note that a special Comic-Con International Exclusive Variant of Top Cow Productions' Witchblade #146 was solicited in the September PREVIEWS but was not listed in the September PREVIEWS Order Form because it was withdrawn after the catalog went to press. Top Cow will solicit this edition in the November PREVIEWS.

• The page count for Image Comics' The Walking Dead Survivor's Guide TP (AUG110455) has changed from 112 pages to 96 pages. As a result, the price of the book has changed from $14.99 to $12.99.

• The title of the Deadlands: Hopeless Roads One-shot (JUL110518, $2.99) has changed to Deadlands: Black Water One-shot.

MARVEL COMICS
• Each issue of Avengers: Solo (#1 Reg./Var.:AUG110609 / AUG110610, FOC 10/03/11; #2 Reg/Var.: SEP110531 / SEP110532; #3 Reg./Var.: OCT110602 / OCT110603, $3.99) will now run 40 pages, not 32 pages. Also, please note that the price of issue #2 has changed from $2.99 to $3.99.

• Ultimate Comics DOSM Fallout Premiere HC (Reg.: SEP110655, Var.: SEP110656, $24.99 ea.) will be 144 pages, not 136 pages.

• Spider-Man: Origin of The Hobgoblin TP (SEP110680) will be 256 pages at a price of $29.99, not 200 pages for $24.99.

• Disney/Pixar Presents Toy Story (AUG110631, $5.99) will feature two movie adaptation stories and not two all-new stories.

• Marvel has changed its rating of Dream Logic #4 (FEB110638, $5.99) from Mature to Explicit Content.

COMICS
• BOOM! Studios has released an updated cover image for Key of Z #1 (AUG110892, $3.99). The wraparound cover by Nathan Fox is shown here.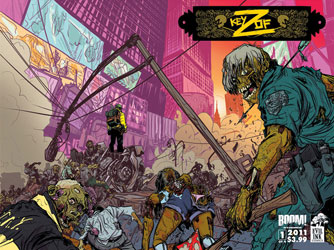 • Archaia Entertainment's A Tale of Sand HC (JUL110825, $29.95) will now be packaged in a soft faux leather journal binding with elastic band to mimic the protagonist's travel journal. The book's price has changed from $24.95 to $29.95.

• Pure Imagination Publishing has increased the print run for its Betty Pages Annual SC Vol. 1 (MR) (JUL111210, $25) from 500 copies to 800 copies.

APPAREL
• Please note that the Godzilla: Final Wars EDF Logo 1 Black PREVIEWS Exclusive T-Shirt (M-XXL: OCT111388U / OCT111389U / OCT111390, $18.99 ea.; OCT111391, $20.99) is available only in the U.S., U.S. Territories and Canada.

IMPORT TOYS & MODELS
• Kotobukiya's Mass Effect: Liara Tsoni Bishoujo Statue (OCT111754, $59.99) was cancelled after the October PREVIEWS went to press, but is still listed on the October PREVIEWS Order Form. The statue will be resolicited in November.