Product Changes (8/2)
Aug 02, 2011
PREMIERS
IMAGE COMICS
• Due to an error on Diamond's part, qualifying retailers will not receive their free incentive copies of Severed #1 (JUN110488D) when the title ships this week. Orders for the free copies will be filled in the coming weeks as stock becomes available. Diamond regrets any inconvenience created by the error.
MARVEL COMICS
• In addition to Max Fiumara, Spider-Island: I Love New York City #1 SPI (JUL110628) will also have pencils by Chuck BB, and will run 40 pages at a price of $3.99, not the solicited 32 pages at $2.99.
 
• New Avengers Annual #1 (Reg.: JUL110630, Vars.: JUL110631/ JUL110632, $4.99 ea.) will be rated T, not T+.
 
• Annihilators: Earthfall #1 (Reg.: JUL110669D, Var.: JUL110670, $3.99) will be 32 pages (with 25 editorial pages), not 40 pages.
 
• Castle Premiere HC: Richard Castle's Deadly Storm (JUL110726, $19.99) will be Rated 13 & Up, not T+.

COMICS
• The issue number of Bongo Comics' Simpsons Classics (AUG110884, $3.99) was listed incorrectly in PREVIEWS and the August PREVIEWS Order Form. It is issue #30, not issue #29.

MAGAZINES
• Little Shoppe of Horrors #27 (AUG111361, $8.95) will now contain an interview with director Roman Polanski on the making of Dance of the Vampires, a.k.a. The Fearless Vampire Killers. The issue will also contain a feature article on Fearless Vampire Killers star Sharon Tate, created with the assistance of the late actress's family, and an image of Tate by Hollywood artist/painter Jim Salvation on the back cover, shown here.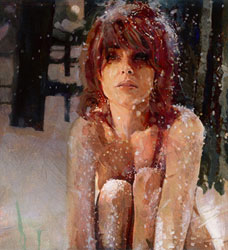 • Due to a change in the production schedule, DeAgostini UK has announced changes to the issue numbering and/or vehicle line-up for several issues of Star Wars: The Official Starship & Vehicles Collection Magazine. Issue numbers and/or vehicles that have changed are shown in boldface in the table below, which is organized by issue numbers as originally solicited.


| | | |
| --- | --- | --- |
| Item Code | Solicited Issue Number/Vehicle | New Issue Number/Vehicle |
| | #68 Catamaran | #68 Landing Ship |
| | #69 Sebulba's Podracer | #69 AT PT Transport |
| | #70 Landing Ship | #78 Catamaran |
| | #71 AT PT Transport | #79 Sebulba's Podracer |
| | #72 Anakin's Podracer | #80 Anakin's Podracer |
| | #73 Commerce Guild Support Ship | #77 Commerce Guild Support Ship |
| | #74 UT-AT | #75 UT-AT |
| | #75 Dooku's Solar Sailer | #71 Dooku's Solar Sailer |
| | #76 Neimoidian Shuttle | #70 Neimoidian Shuttle |
| | #77 AT-OT | #72 AT-OT |
| | #78 Home One | #73 Home One |
| | #79 Techno Union Ship | #76 Techno Union Ship |
| | #80 Ewok Hang Glider | #74 Ewok Hang Glider |