BOOM! Studios Reveals Joss Whedon's "Angel: Legacy Edition"
May 13, 2019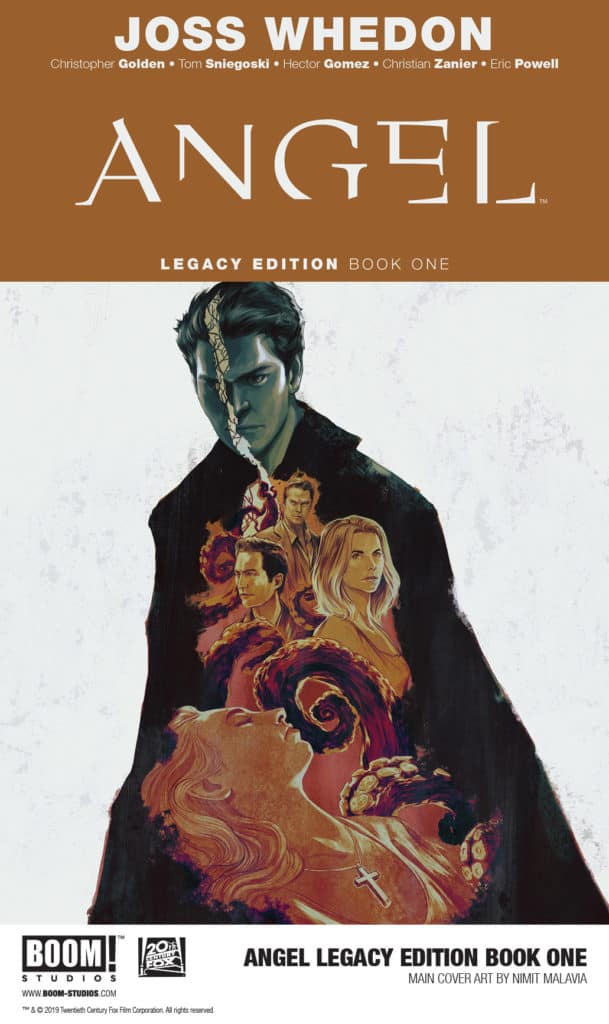 BOOM! Studios, in partnership with 20th Century Fox Consumer Products, today announced a new graphic novel program collecting out-of-print and rare stories officially continuing the world of Joss Whedon's hit television series Angel. Beginning with ANGEL: LEGACY EDITION BOOK ONE in October 2019, BOOM! Studios will collect every issue of Angel from previous publishers in chronological order, including hard to find and out of print stories in the value-priced Legacy Edition format.
Created by visionary writer and director Joss Whedon (Marvel's The Avengers film franchise), Angel premiered on the WB Network on October 5th, 1999 and was a spin-off from Buffy The Vampire Slayer. The series ran for five seasons from 1999-2004, starring David Boreanaz as "Angel," the tortured vampire destined to walk the earth with a soul who moved to LA to set up shop as a supernatural private investigator. Despite Angel's best efforts to deal with the sins of his past all by himself, Angel Investigations soon became home to other lost souls searching for redemption and willing to fight by his side.
Set during Season 1 and Season 2 of the Angel television series, Angel Investigations is dedicated to its mission of helping the helpless…and putting a stop to a seemingly never-ending demon horde intent on destroying first Hollywood, and then the world! This volume features works by the Emmy Award-winning writer of Angel David Fury, New York Times Best-Selling author Christopher Golden, and five-time Eisner Award-winning artist Eric Powell, and is a must-have for long time fans and new readers alike!
ANGEL: LEGACY EDITION BOOK ONE features an all-new cover by Nimit Malavia (Firefly: Legacy Edition).
"Angel is one of the most beloved television series of the last twenty years and has an incredible comic book legacy that we're excited to honor with these collections," said Jeanine Schaefer, Executive Editor, BOOM! Studios. "Even if you're a long time fan of the broody vampire-with-a-soul like me, you're going to find that each volume of ANGEL: LEGACY EDITION contains a story you might never have read – or been able to track down."